WILMINGTON – April Showers bring Wilmington Flower Market
May 14, 2019
"Last year's market raised $130,000 and all the proceeds were donated to those children involved in up to 60 different organizations!"
By: Briana Harris | @brikeey
April's showers really did bring May's flowers as The Wilmington Flower Market returned to Rockford Park this past weekend. The festival has been a community staple for the past 99 years, making it one of Wilmington's oldest and most cherished traditions. While most Delawareans look forward to the coming together of green thumbs, musicians, charities, artists, and neighbors alike, the volunteers spend the months leading up to the event dedicating their time and efforts to putting smiles on the faces of the community's youngest members; the children. While the Flower Market provides free family fun-filled events for Mother's Day, it also aims to pay homage to the rich history that paved the way for such a massive charitable event.
Founded in 1921, the Wilmington Flower Market started with humble beginnings as its founder Mrs. A. Felix duPont took interest in a local children's hospital. She found joy in visiting and giving back but knew that if she wanted to do more for the children she'd have to recruit help. In the spirit of giving Mrs. DuPont and about 25 of her friends gathered to donate any and everything they could from plants and flowers, to pets and baked goods. As the community took notice, others kindly donated raising more than $1,500. This was the organization's first monetary contribution, but certainly not it's last.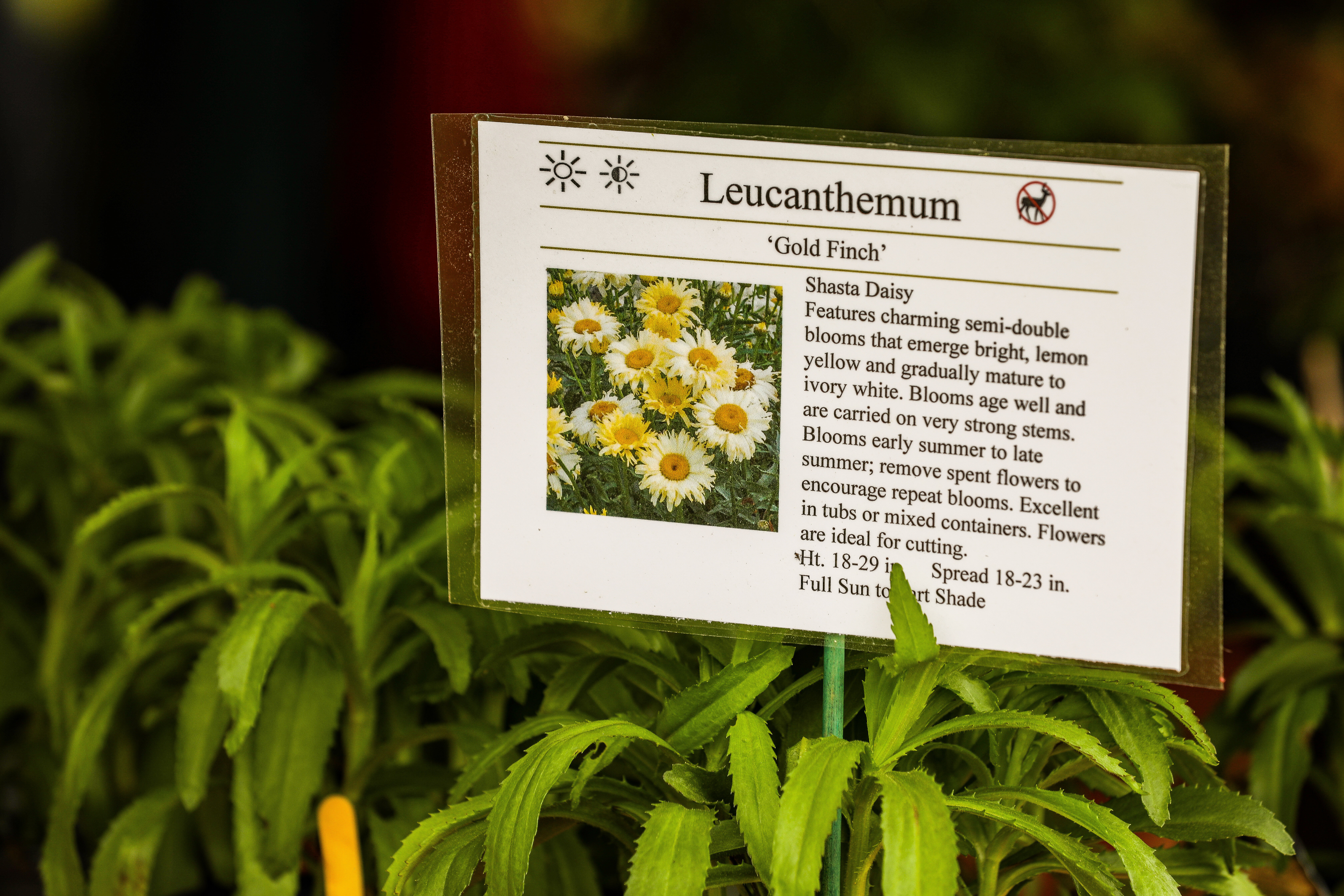 Sights from the 99th Annual Flower Market held May 9th -11th at Rockford Park in WIlmington, DE
Over the years the Market has grown tremendously in popularity. Within 10 years it managed to catch the attention of the press. This type of mass media coverage resulted in an influx of visitors; but more importantly increased the number of volunteers that extended a helping hand, and also introduced the idea of incorporating children's entertainment, food vendors, local shops (Market Merchants), and lucrative businesses; making it easier to raise enough money to fill the needs of its now many beneficiaries.
"Last year's market raised $130,000 and all the proceeds were donated to those children involved in up to 60 different organizations!" said Karin Meis, Beneficiary Chair for the Wilmington Flower Market Inc.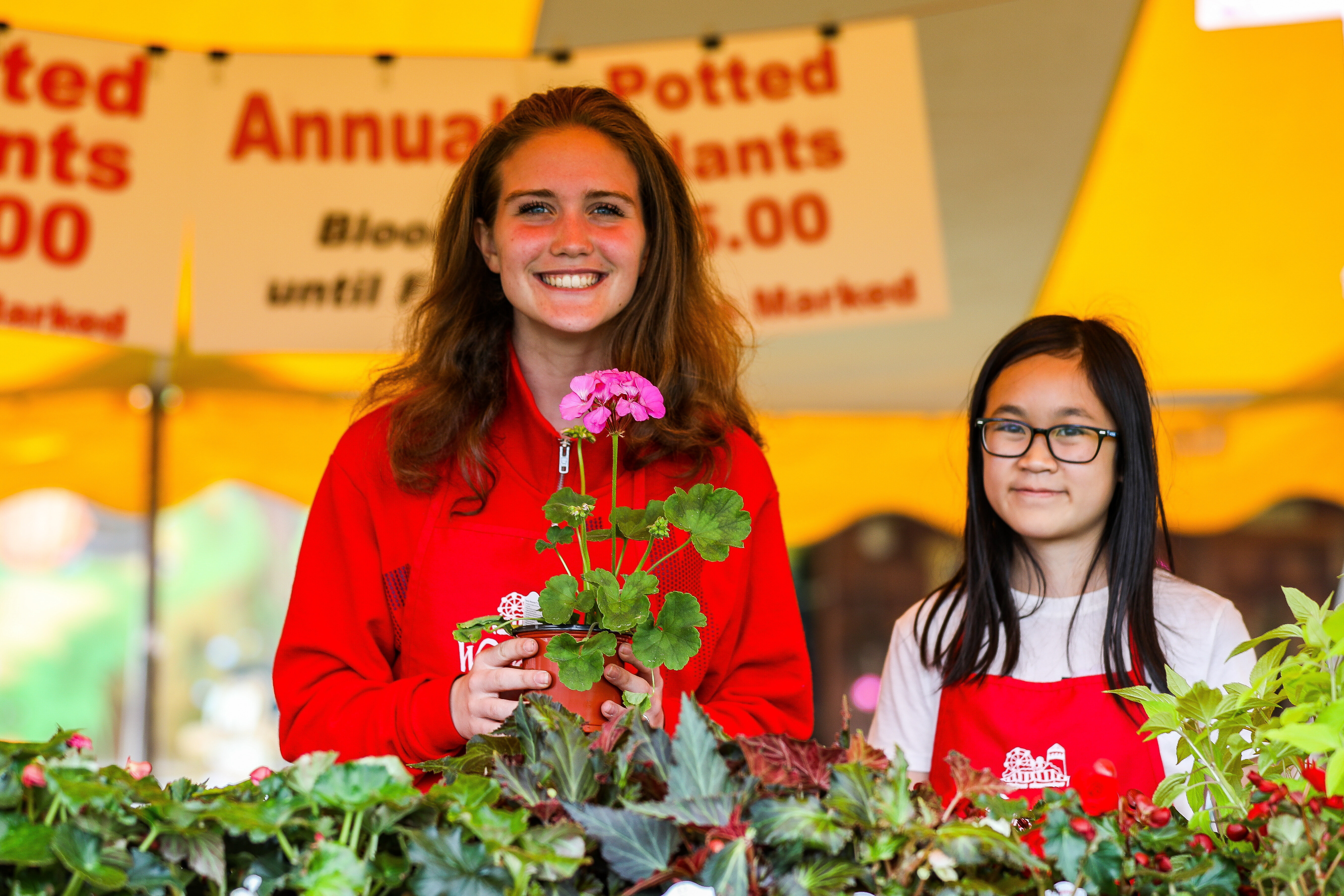 Sights from the 99th Annual Flower Market held May 9th -11th at Rockford Park in WIlmington, DE
This year the organization hoped to get children directly involved in the festivities by hosting an art contest. "This is the first year our organization is hosting an art contest that was promoted to organizations that receive grants from us via the moneys raised over a span of three days here at the market. We asked adolescent members from organizations such as the Serviam Girls Academy, Wilmington Head Start, Tennis Rocks, Deep Roots, YMCA of Delaware, etc. who've benefited from this event, to submit artwork reflecting what the flower market means to them and their association. The winner receives a $1,000  scholarship to go towards any enriching activity like camp and maybe even music lessons, for this upcoming summer" Meis explained as she pointed over at the Tastykake soundstage across the park.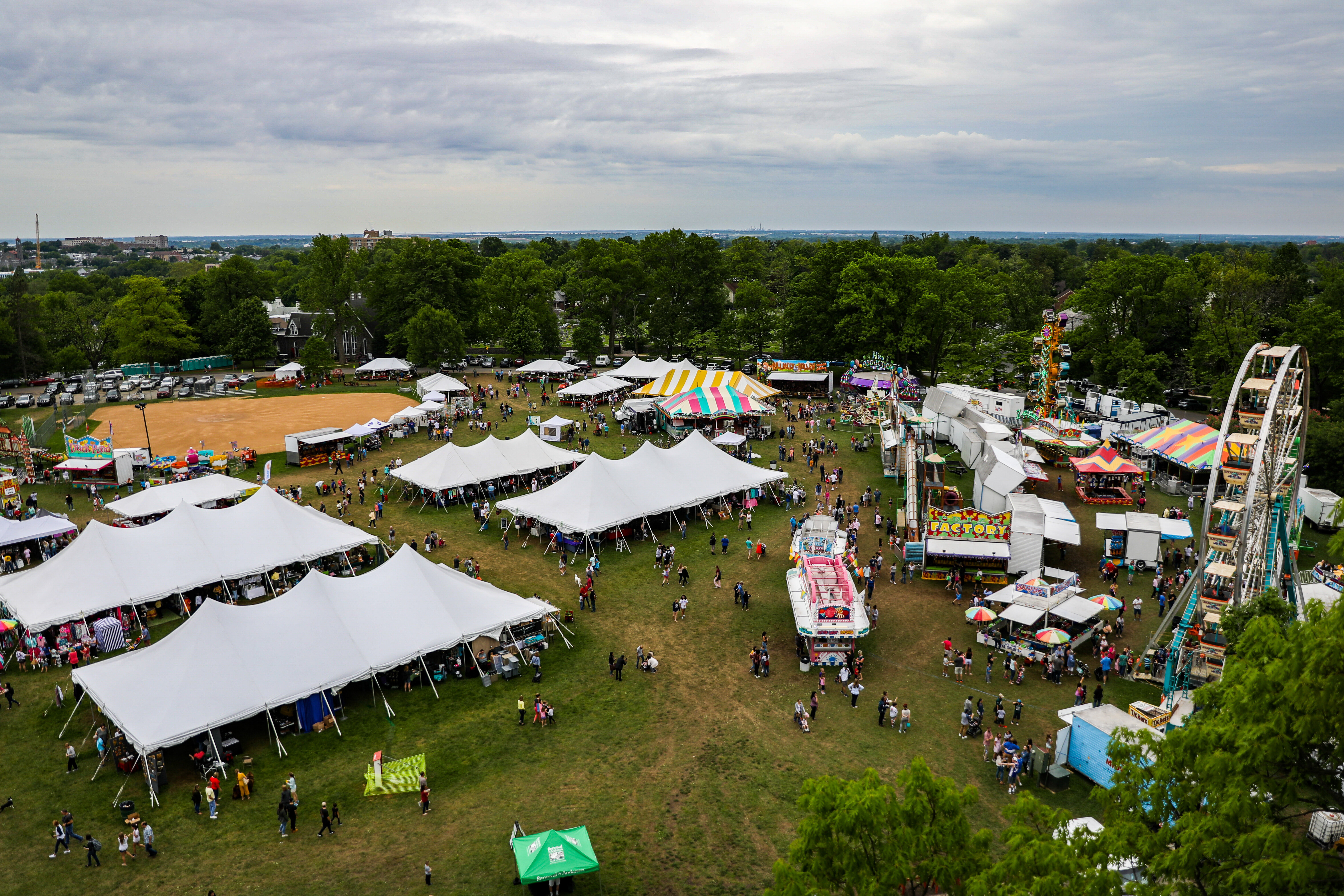 Sights from the 99th Annual Flower Market held May 9th -11th at Rockford Park in WIlmington, DE
Every year Wilmington's local radio stations 93.7 WSTW and WDEL 101.7 FM bring the element of entertainment to the festival, and this year they didn't disappoint providing live performances from popular artists like country-pop singer Andy Grammer, as well a few up-and-coming Delaware-grown musicians. Guests appeared to be having a great time, as parents indulged in shopping and beer-tastings, while children gladly waited in line for carnival rides and henna tattoos. Food vendors such as Mick's Gourmet Soup, seemed to be a huge hit with the locals. The aroma of warm crab soup, clam chowder, and lobster bisque attracted a slew of customers all hoping to get a taste of the Maryland restaurant's noteworthy seafood. "Delaware and Maryland share a similar history, so we figured it'd be nice to bring a taste of the DMV up to Delaware for everyone to enjoy" said Lauren Pinder, a Mick's distributor. "People like us come every year from near and far just to celebrate for such a great cause," continued her partner Dale Pinter.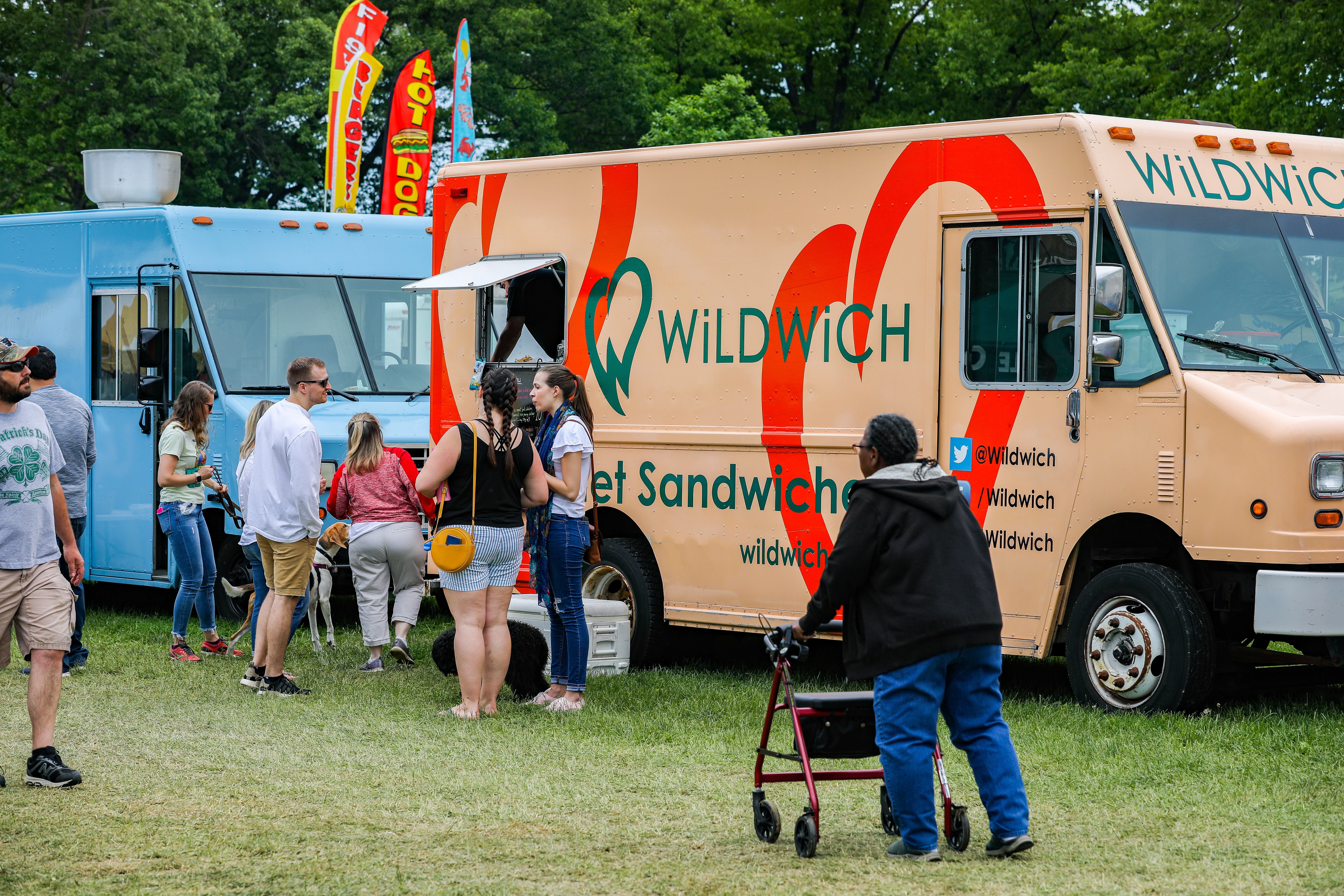 Sights from the 99th Annual Flower Market held May 9th -11th at Rockford Park in WIlmington, DE
Even with so much activity surrounding the Flower Market, a stone tower in the distance acted as the festivals true centerpiece. The historic stone water tower is situated between wooded areas and green hills perfect for hikes and picnics. "We're standing in front of Rockford Tower, which was built in 1900, a time when the city was rapidly expanding," said Melissa Russell-Payne, the President of Friends of Wilmington Parks. "We support the five Delaware state parks in the city of Wilmington and the 68-acre Rockford Park is one of them. This 75-foot tower is the highest point in Wilmington and serves two purposes; the first is as a water tower, which to this day works and actively provides fresh water to all of Wilmington, and the second is as an observation deck that overlooks the entire city," Russell-Payne added.
Starting in mid-June, and stretching throughout August, Rockford Park hosts free concerts on it's grounds every Monday. They even open the tower for tours during major community events like the Wilmington Flower Market, that's held here annually and always runs over the course of three days in conjunction with Mother's Day weekend.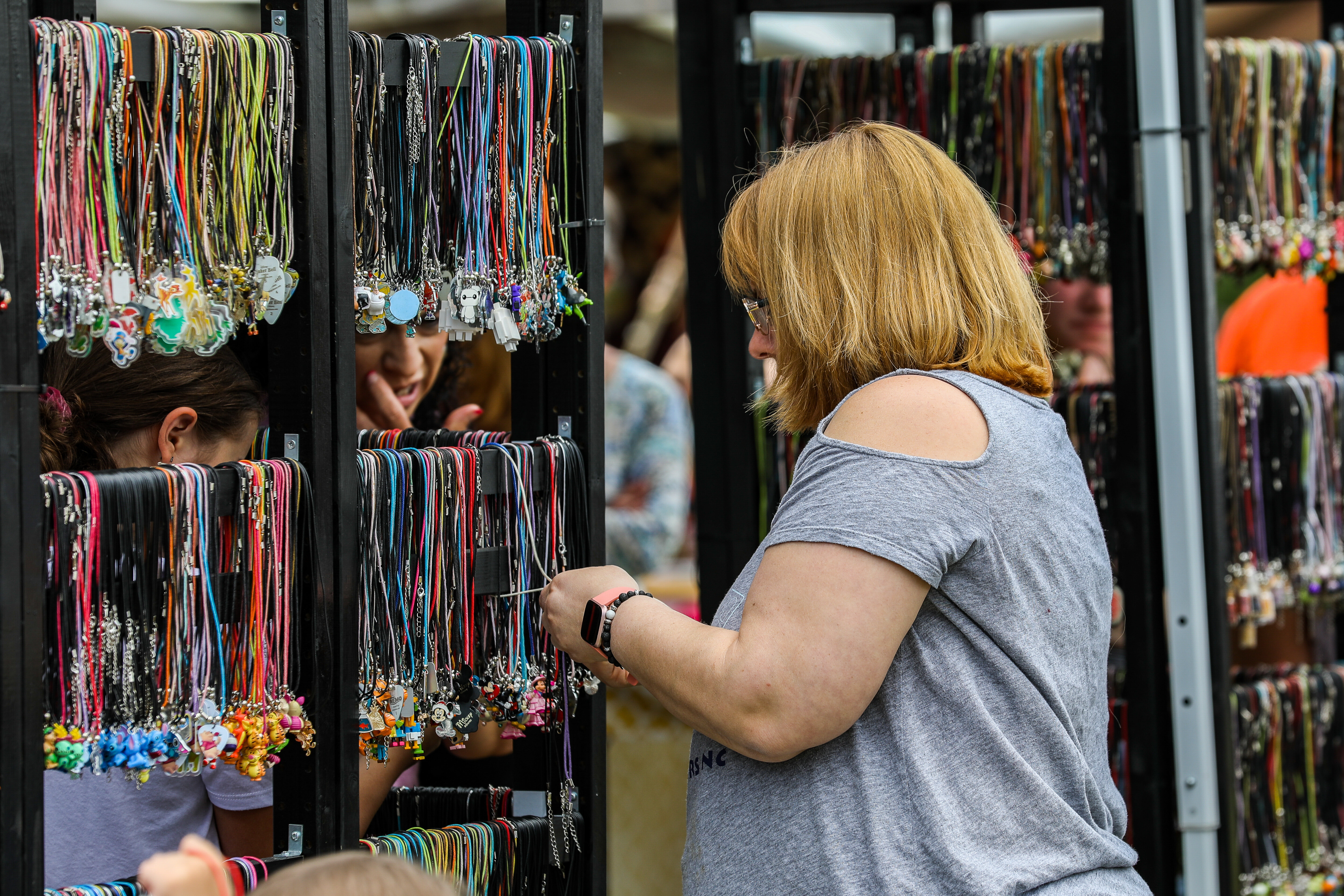 Sights from the 99th Annual Flower Market held May 9th -11th at Rockford Park in WIlmington, DE
"Wilmington is such a special area. With Delaware being the first state, this is one of the oldest parts of the United States and people have a lot of pride in its history," Russell-Payne continued.  "Our parks are exceptional, and the people of Delaware recognize that, so there's a lot of support with making sure that the community feels very much in tune and apart of the park. We want the public to appreciate its historic monuments, and feel welcome to use them instead of just looking at them from a distance," she said. As the 7pm approached, and the third and final day of the Market came to an end, Russell-Payne left us with these parting words; "We love being able to offer gems to the residents of Wilmington, and its successful events like the Flower Market that remind us that we're doing right by our community!"