8th Annual "Chess On The Square" Tournament Set for Wilmington Library
September 6, 2023
Mayor Purzycki thanks Lisa Flowers, Council President Trippi Congo, local business owner Terrone Warren for sponsoring this FREE yearly event; chess players of all skill levels are urged to sign-up now!
Chess players of all skill levels are invited to participate in the 8th Annual "Chess on the Square" event, which will be held Saturday, September 23 from 10 a.m. to 5 p.m. at the Wilmington Library, 10 East 10th Street. This FREE chess tournament and chess learning event is sponsored by Lisa Flowers, Council President Trippi Congo, and BVD Barber Salon owner Terrone Warren. Wilmington Mayor Mike Purzycki today thanked the organizers for staging this annual event, which is popular with chess players of all ages. The Mayor also thanked Council President Congo for his sponsorship of the annual event.
Warren owns the BVD Barber Salon at 223 West 8th Street in Wilmington and organizes the tournament each year with Lisa Flowers. Flowers and Warren said this year's FREE tournament will again feature multiple chess tables and simultaneous games the Wilmington Library. To register for the FREE chess tournament, visit www.chessonthesquare.org, email chessonthesquarewilm@gmail.com or call 302.420.2152. The deadline for registration is Thursday, September 21, 2023.
Chess on the Square is a chess tournament mixed with a day of fun for people of all ages and all levels of chess experience. Flowers and Warren said chess players with varying skills are invited to compete and that less experienced players are especially welcome so they can learn more about the game and increase their ability to become a chess expert.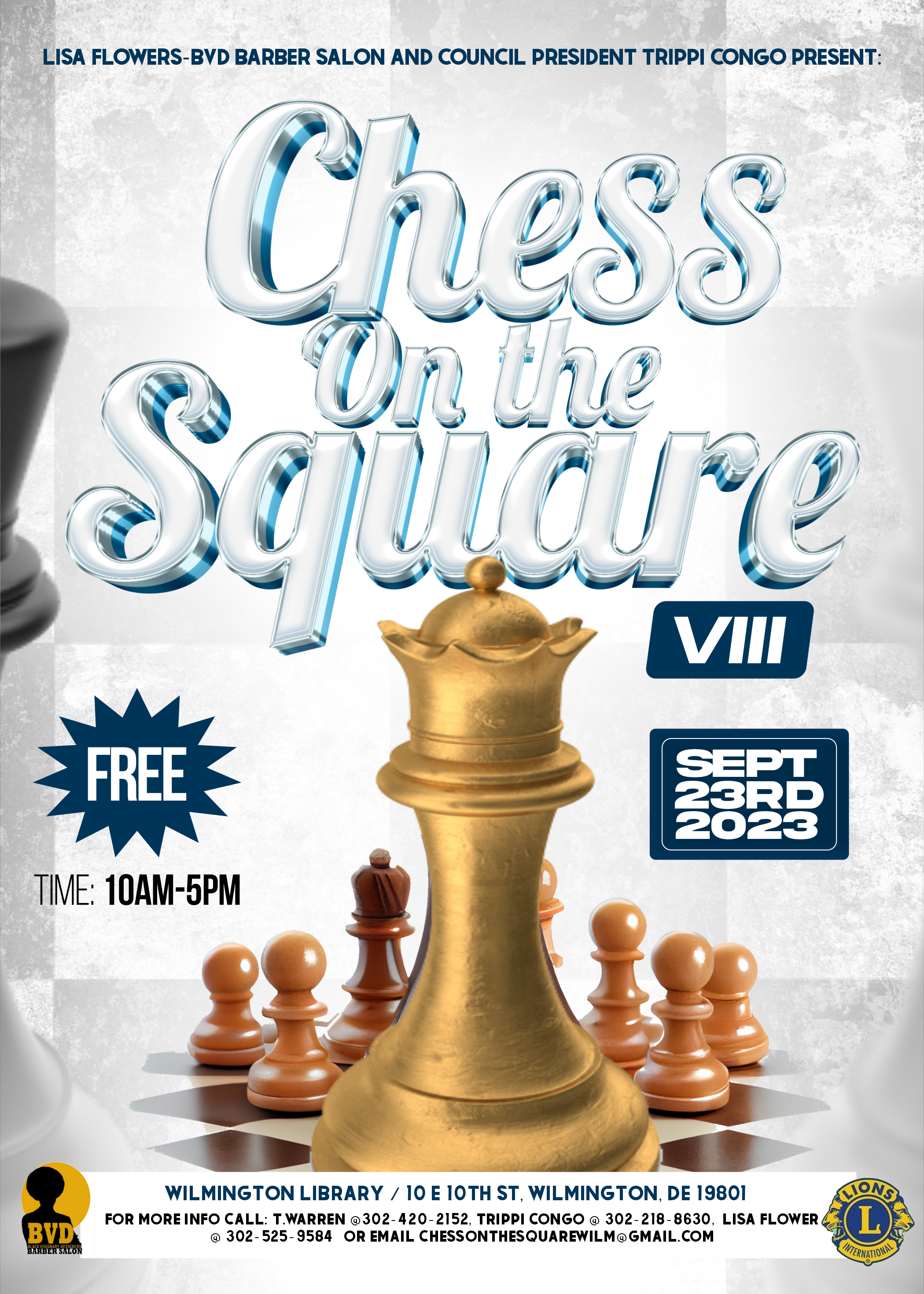 The event will operate under the Swiss Chess tournament system, meaning players are never eliminated. Instead, players are paired in each single round and the winner is the player who earns the most points at the end of the tournament. Players typically earn a single point for a win, and a half-point for a draw. In each round, a player will be paired against an opponent who has the same number of points. The tournament will be divided into four sections. The first section will be for grades K to 5, or for those with a chess rating below 600; the second section will be for grades 6 through 8, or for those with a rating below 1000; the third section is for high school students and adults with a chess rating over 100; and the final section is the Grand Master level, for those with a rating over 2000 or high-level player.
All registered participants will receive a medal to commemorate their participation, while the 1st place winners and 2nd place runners-up in each category will receive a trophy. The tournament will also feature an open chess session for beginners or less-experienced players who want to improve their chess game in a non-competitive setting. Organizers will also have beverages and snacks available for all registered participants.