Clifford Brown Year-Round Celebrates International Jazz Day
 With Third Annual Awards Ceremony on Saturday, April 29
April 26, 2023
The Clifford Brown Festival Orchestra will feature the music of Clifford Brown, Count Basie, Duke Ellington, John Coltrane, Dizzy Gillespie, and more!
The Third Annual Clifford Brown International Jazz Day Awards [cityfestwilm.com] will be held on Saturday, April 29, 2023, at 7 p.m. at the Christina Cultural Arts Center [ccacde.org], located at 705 N. Market Street, as part of the City of Wilmington's International Jazz Day Festivities. This year's celebration will feature the Clifford Brown Festival Orchestra under musical director Gerald Chavis on trumpet.
In addition to the concert, four awards will be given out in honor of International Jazz Day. The 2023 awardees are Clifford Brown Advocacy, Volunteerism & Philanthropy in Jazz Award (Monty Alexander, posthumously); the Clifford Brown Young & Swinging Award (Hannah Carter); the Clifford Brown Jazz Presenter Award (Nomad Bar); and the Clifford Brown Legacy Award (Mike Boone). The actual awards are original signed prints by local painter K.O. Simms [k-o-simms-simms.pixels.com], a multi-disciplined artist with more than two decades of experience drawing and painting landscapes, cityscapes, and portraits throughout the Atlantic Coastal Region.
In recognition of International Jazz Appreciation Day, this concert will feature the music of the jazz masters, including Count Basie, Charlie Parker, Clifford Brown, John Coltrane, Quincy Jones, Dizzy Gillespie, and Ray Charles in all the grandeur that only a jazz orchestra can bring.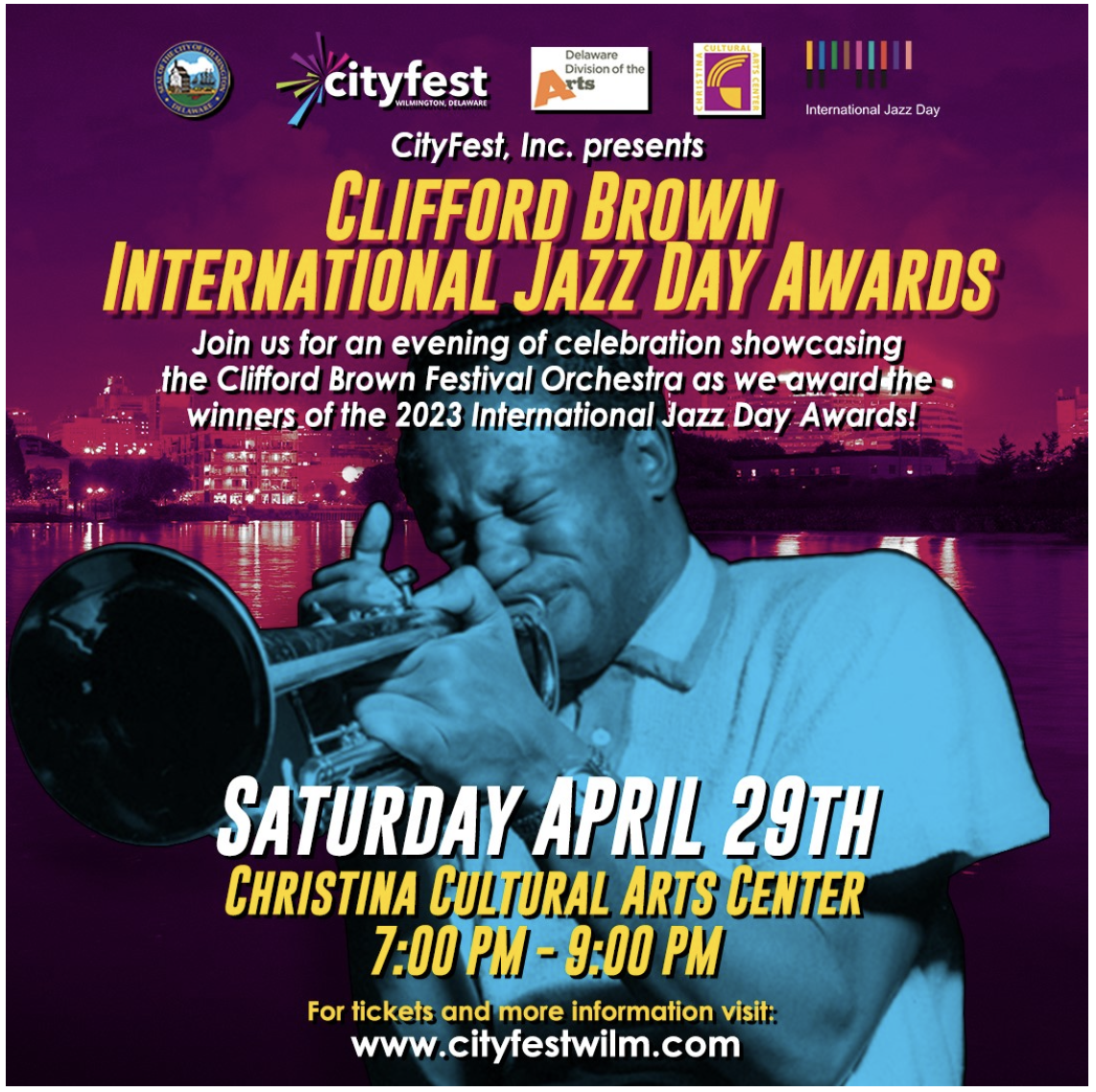 "Big bands originated and began to gain popularity over 100 years ago and are still contributing to the evolution of America's only original art form – jazz," says musical director Gerald Chavis. "From the early '20s until today, large jazz ensembles have brought sophistication, weight, and breadth to jazz through various mediums and live performances."
The concert begins at 7 p.m. and tickets are available at buytickets.at/cityfest [tickettailor.com] are $15 for general admission, $10 for 18 and under or seniors 65+. Proceeds support programs like the Clifford Brown Year-Round Series as well as others produced by Cityfest, Inc., such as the Urban Artist Exchange and the Arts Work Summer Youth Program.
Clifford Brown Year-Round is presented by Cityfest, Inc. and the City of Wilmington Mayor's Office of Cultural Affairs and supported, in part, by a grant from the Delaware Division of the Arts [delawarescene.com], a state agency, in partnership with the National Endowment for the Arts [arts.gov]. The Division promotes Delaware arts events on www.DelawareScene.com [delawarescene.com].
International Jazz Day [jazzday.com] brings communities, schools, artists, historians, academics, and jazz enthusiasts all over the world together to celebrate and learn about jazz and its roots, its future, and its impact; raise awareness of the need for intercultural dialogue and mutual understanding; and reinforce international cooperation and communication.
About Cityfest, Inc.
Cityfest, Inc., a 501(c)(3) tax-exempt corporation, solicits sponsorships and grants that subsidize the City of Wilmington's financial and staffing contributions. It uses funding to improve the quality of life for citizens of Wilmington, primarily through cultural and arts programming; promoting economic development; promoting City life; and all other charitable purposes.