Mayor Purzycki Shares Message from Police Chief Campos
January 13, 2023
It is an honor to have been selected as the 33rd Chief of Police in Wilmington, Delaware, and I look forward to leading this department as we continue to enhance public safety in Delaware's largest city.
I first joined this department more than 26 years ago, following service in the United States Army Reserve. My career with the Wilmington Police Department has included assignments in the Uniformed Services Division, Community Policing Unit, Criminal Investigations Division, and Human Resources Division, as well as with the Federal Bureau of Alcohol, Tobacco, Firearms, and Explosives Task Force.
In my most recent position, I served as the Sector Captain for the west side of Wilmington, where I had the opportunity to work alongside community leaders and residents with whom I grew up after my family came to Wilmington from Puerto Rico when I was eight years old. As a Sector Captain, I was the point of contact for civic and neighborhood associations, and I attended community meetings alongside our patrol officers. I saw firsthand the impact of our department's community engagement philosophy of attending every meeting, and assigning the same officers to the same areas each shift so they can build familiarity and relationships with residents. I was also part of the very same crime strategies that have brought about historic reductions in violence in our city – including CompStat methodology, intelligence-led policing, Group Violence Intervention, and crime gun intelligence.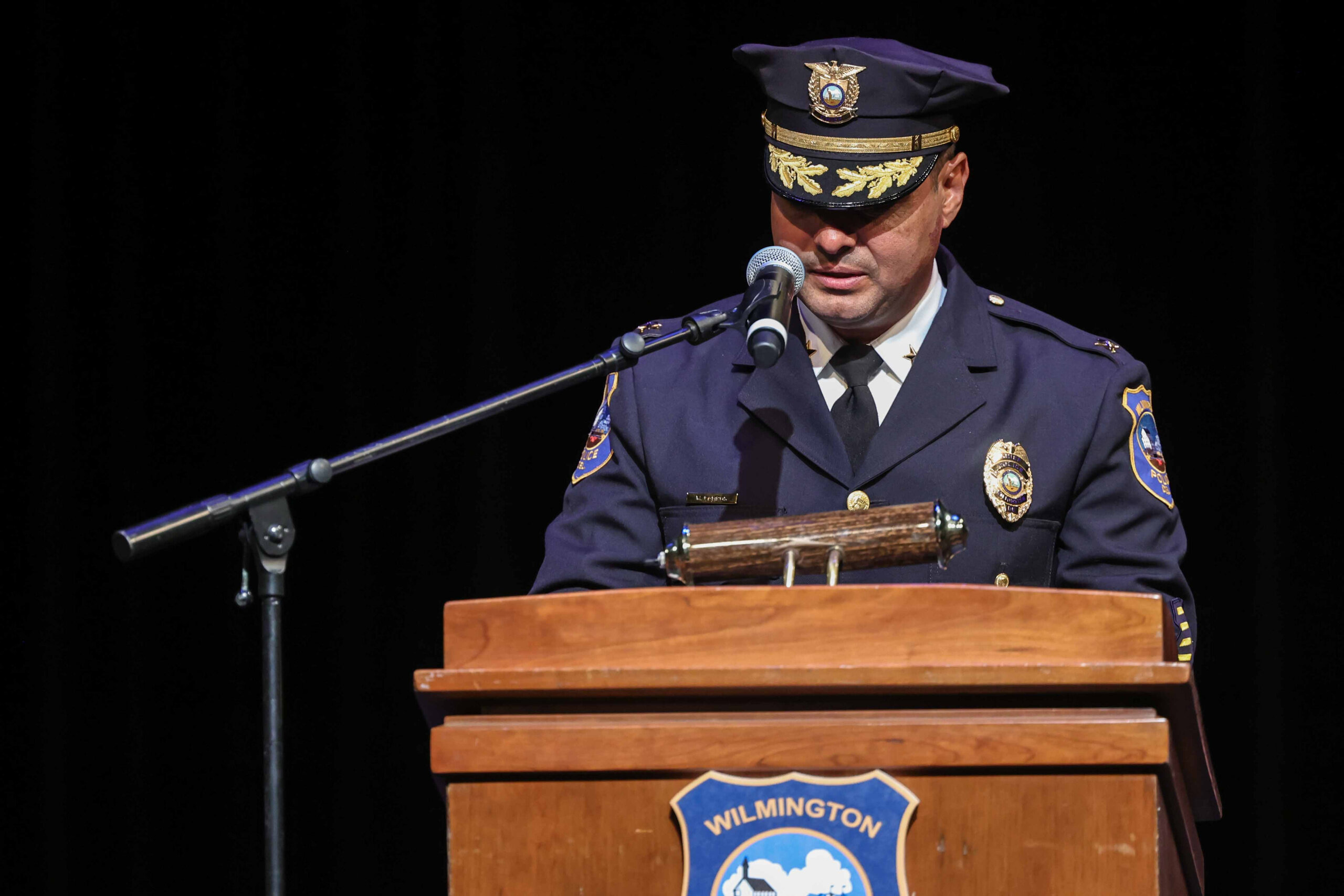 Police Chief Campos gives remarks to the audience during a Promotion and Badge pinning Ceremony Tuesday, Jan. 10, 2023; at The Baby Grand in Wilmington, DE. Photo By Saquan Stimpson
Last year, our department recorded significant reductions in crime compared with 2021, including a 58% reduction in murders, a 30% reduction in shooting incidents, and a 29% reduction in shooting victims. We also saw reductions across the majority of major crime categories, including robberies, burglaries, aggravated assaults, auto theft, and felony theft. Last year's crime statistics are also remarkable, in that we had the lowest number of murders in 15 years and the second-lowest number of shooting incidents in 17 years. My first objective is to build on this success and to continue to employ the evidence-based crime reduction strategies that have fueled our turnaround as a department over the past several years.
Another key objective will be to build on our engagement with the community. Over the course of the past year, we have resumed our Learn to Ride program – with officers providing free bicycle riding and safety lessons to youth – and expanded our Youth Police Academy program, with the largest-ever cohort last summer. We also converted our annual National Night Out program into Community Resource Fairs, which bring together police officers and several dozen partners to extend resources to our residents. This year, we will be holding a Community Resource Fair each month in a different Wilmington neighborhood. Last fall we launched our Wilmington Community Outreach Walks initiative, which includes weekly walks with police officers along with public health and social service providers. Over the course of our first nine walks, these outreach teams have made several hundred contacts, sharing resources, referrals, and overdose response kits that include Narcan and other tools. I look forward to continuing these initiatives, and to building on and expanding our impact.
Throughout my career, I have always felt compelled to reach out to those who are in a time of need. As a young child, my family was displaced after a house fire destroyed our former home at 6th and Broom Streets. We were fortunate to be taken in by a local family, who helped ensure we were never homeless. The kindness of those neighbors and our community has always stuck with me, and I have tried to pay that forward by helping others in my role as a police officer. Throughout our city, there are many who are suffering – whether due to drug or substance abuse or dependency issues, mental health needs, or poverty – and we are in a unique position to be able to reach out and help them. Often, it is not a traditional law enforcement response that can best lift these neighbors, but rather it is helping to connect them with the resources and services that can get them back on their feet. I look forward to exploring more ways that our officers can help make these connections.
It is also important that we support our police officers, who work day and night – through a pandemic, unrest, and a host of other challenges – to protect and serve our city. We have a number of programs that support our dedicated men and women, including our Critical Incident Stress Management (CISM) team. Another priority will be to build on these initiatives to ensure we are doing everything we can to support the well-being of our sworn police officers and professional staff.
As I assume this role, I am filled with gratitude for all those who are supporting and enabling our efforts to make our community safer. There are countless partners across various sectors who help make our success possible – including federal, state, and local law enforcement agencies and prosecutors, as well as elected officials who represent our City. We are also supported each day by governmental agencies like the Department of Health and Social Services, the Department of Services for Children, Youth and Their Families, the Department of Labor, the Department of Education and so many others – too many to name here. That is in addition to our partnerships with community-based organizations and nonprofit entities that assist our residents. I am most grateful for the support of our residents, including formal and informal leaders and the many civic and neighborhood associations across Wilmington. Our community has come together with the shared objective of enhancing public safety, and we work hand-in-hand with our residents to make our city a safer place to live, work and play.
I am humbled by the opportunity to serve as your next Chief of Police, and I look forward to continuing to build on our progress in service to our residents.