UPDATE: Mayor Purzycki Reports on Efforts to Identify New Homes for Residents Displaced from Adams Street Apartments
May 31, 2022
27 apartment units in seven buildings owned by Adolf J. Pokorny were declared unfit for habitation on May 16; Mayor appeals to landlords to help the City identify new housing options for residents
Wilmington Mayor Mike Purzycki said today that the City and numerous partners are working diligently to find permanent housing for individuals and families who were displaced from their homes on May 16. Serious structural issues and other code violations totaling 372 caused the City to declare seven North Adams Street apartment buildings, all of them owned by landlord Adolf J. Pokorny, unfit for habitation.
Most of the residents have been living at either The Hope Center, operated by New Castle County, or at a local motel, while others have stayed with family or friends. Numerous government and community agencies, as well as elected officials and private individuals, have stepped forward to offer various forms of assistance. The Mayor noted with appreciation the special assistance residents have received from the Delaware Department of Health and Social Services, the Delaware State Housing Authority, New Castle County Executive Matt Meyer, and State Representative Sherry Dorsey Walker.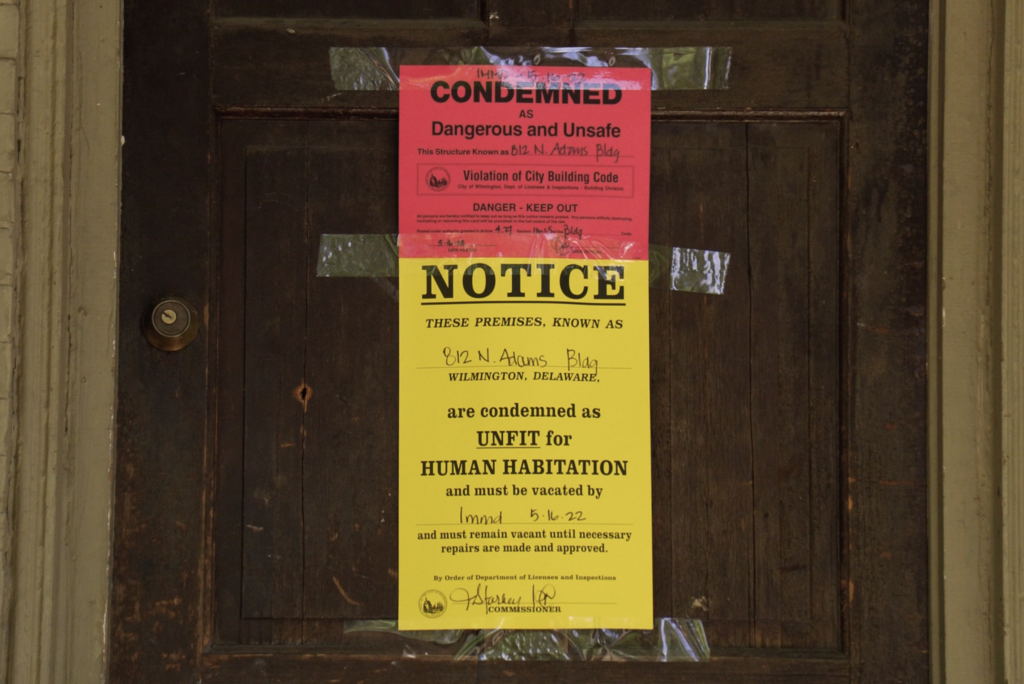 Red and yellow cards are seen on the front door of a condemned apartment building Tuesday, May 17, 2022; in Wilmington, DE. Photo By Saquan Stimpson
Mayor Purzycki said today that the City and its partnering agencies and individuals are searching daily for new and permanent housing for the Adams Street residents as the City awaits progress by the property owner to get the apartment buildings up to code and reopened. Thus far, the City and its partners have identified approximately a dozen currently vacant housing units and another 19 that will be available on July 1.
The Mayor said it is very hard to find available housing, which is confirmed by the fact that the State of Delaware has hundreds of persons awaiting long-term housing. "I am appealing to landlords in the area to contact the City at 302.576.2494 or email Jennifer Prado at jprado@WilmingtonDE.gov if you have a rental unit or units available to assist the Adams Street residents," said Mayor Purzycki. "And, while there is an immediate need to assist these most recently displaced residents," the Mayor continued, "there are residents displaced by Hurricane Ida in September of 2021 who still needs a permanent place to live. Unfortunately, there are simply too few housing options available for the people who need them."
The Mayor today also shared other details of the effort to assist the Adams Street residents:
•The City is continuing to assist the Delaware Department of Justice with its investigation of this matter as the City pursues its own legal remedies.
•Many residents are still receiving food, housing, and legal services from the agencies that participated in a Help Center established by the City.
•The City has assisted some Adams Street residents with gaining access to their belongings in the unfit apartment units, and in some cases, they have been able to move items from their units.
•Once a resident is matched to a new housing unit, there could be State funding available to assist them with a security deposit and the first month's rent if they qualify. The City is working to match residents to available housing units and assist them with financial resources that could be available.
The City will continue to provide updates regarding the status of the Adams Street residents as more information becomes available or as conditions warrant. Mayor Purzycki again thanked all of the elected officials and community members who have offered support for the residents or have assisted in any way in providing resources to help them maneuver through this very difficult situation.