Cities With the Most Pro Sports Championships
May 9, 2022
With the NBA and NHL playoffs in full swing once again, this spring will see new champions crowned in two of the U.S. major sports. And with each title comes bragging rights and a boost to community pride for the cities that the winning teams call home.
A select few U.S. metro areas have enjoyed bursts of success across multiple sports in recent years. In 2021, Tampa saw the NHL's Lightning win their second straight Stanley Cup while the NFL's Buccaneers captured the Super Bowl. Los Angeles has had recent titles from the NFL's Rams (2022), MLB's Dodgers (2020), and NBA's Lakers (2020). And the 2010s saw strong runs in the Bay Area, with MLB'S San Francisco Giants and the NBA's Golden State Warriors each capturing three titles, and in Boston, which has enjoyed three titles for the NFL's Patriots, two for the MLB's Red Sox, and one for the NHL's Bruins since 2010.
But geographic dominance in the major sports in the U.S. is nothing new. Across 421 championships that have been awarded across the MLB, MLS, NBA, NFL, and NHL, nearly half have been won by teams from just six metropolitan areas: New York, Boston, Los Angeles, Chicago, Detroit, and San Francisco. These metros are among the nation's largest and most historic, and in some cases have multiple teams competing in the same sport, which increases the chances of bringing home a title. But each of these locations has also enjoyed sustained excellence over time from one or more of their hometown teams.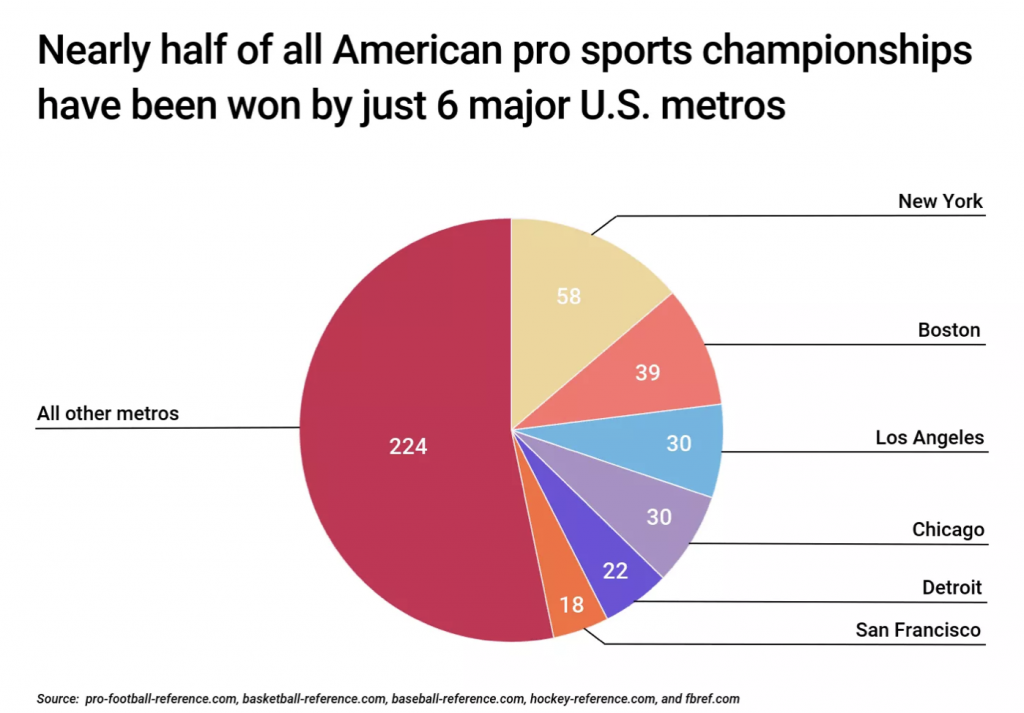 Nowhere is this clearer than in the New York metro. Behind 27 championships from the New York Yankees—more than one-quarter of the World Series titles the MLB has ever awarded—and another two from the New York Mets after the Brooklyn Dodgers and New York Giants combined for six World Series wins before both franchises relocated to California, baseball has helped power the New York metropolitan area to the top of the list of metros with the most titles. In fact, only Boston (39) has more total championships than New York has MLB championships. Only Montreal, with 25 titles from the NHL alone, comes close to New York's single-sport dominance in baseball.
The success of teams in Los Angeles and San Francisco, New York, and Boston have respectively pushed California, New York, and Massachusetts to the top of the list of states with the most titles. Some other sports markets have been less fortunate. For example, Tennessee has four pro sports teams but has never won a championship in a major sport, while North Carolina is home to four teams who have combined for a single title.
Researchers at HotDog.com ranked U.S. and Canadian metropolitan areas according to total professional sports championships. A location has attributed a championship for a championship won by a team that is branded to be from the location at the time that it won the championship. All NFL championships since the NFL was founded in 1920 were included; all NBA championships since the NBA was founded in 1946 were included; all World Series were included, dating back to 1903; all NHL championships since the NHL was founded in 1917 were included, and all MLS championships since MLS's first season in 1996 were included. Only metros with at least one active NFL, NBA, MLB, NHL, or MLS team were considered.
The data was sourced from pro-football-reference.com, basketball-reference.com, baseball-reference.com, hockey-reference.com, and fbref.com. In the event of a tie, the location with the most recent championship was ranked higher.
The analysis found that Philadelphia metro area sports teams have won a total of 17 championships. Out of all U.S. and Canadian metros with at least one active pro sports team, the Philadelphia metro has won the 9th most championships. Here is a summary of the data for the Philadelphia-Camden-Wilmington, PA-NJ-DE-MD metro area:
Total professional sports championships: 17
Total NFL championships: 4
Total NBA championships: 4
Total MLB championships: 7
Total NHL championships: 2
Total MLS championships: 0
Most recent championship: 2017
For reference, here are the championship totals throughout history:
Total professional sports championships: 421
Total NFL championships: 102
Total NBA championships: 75
Total MLB championships: 117
Total NHL championships: 101
Total MLS championships: 26
Most recent championship: 2021