DELAWARE SLAYS THE DRAGONS!
March 28, 2022
Harrington De: The Thunder and the River Dragons met Saturday night at the Thunderdome! The first period flew by with only one goal scored. Austin Daae scored the lone goal with helpers from Parker Moskal and Josh Pietrantonio. That was all she wrote in the scoring department of period one. Babin was 15/16 and MacBurnie was 12/12.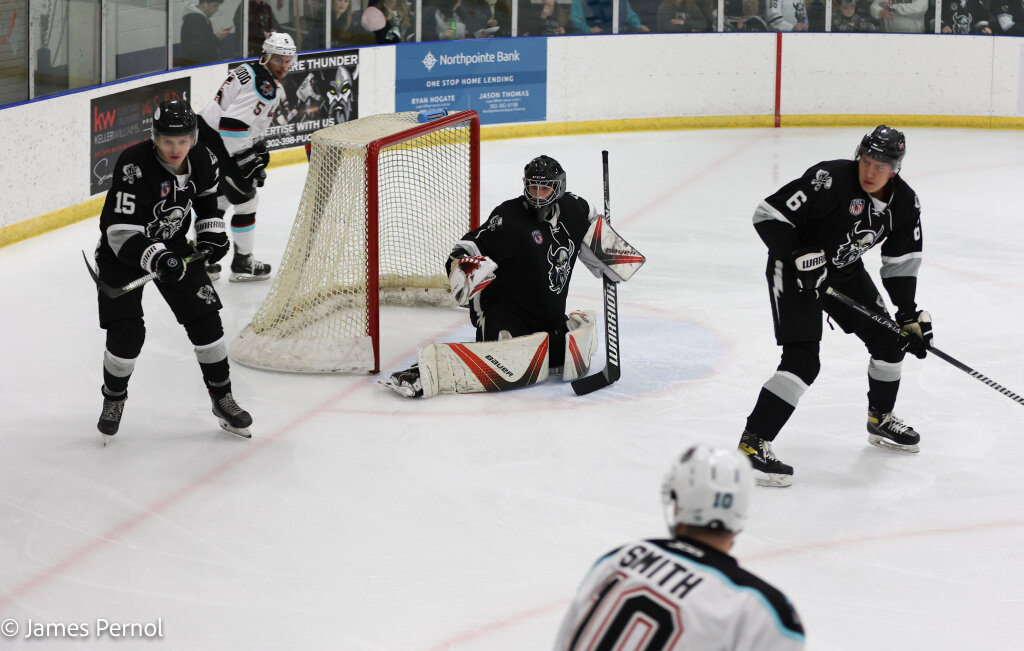 ARRINGTON, Del. – 3/26/22 Goalie Trevor Babin #1 of the Delaware Thunder waits for the puck during the first of two games against Columbus River Dragons at the Thunderdome on 3/26/22 in Harrington, Delaware. Babin stopped 51 of 53 shots. The Thunder defeated the River Dragons 3-2. (Photo by James Pernol, Released)
The Thunder came out furious in period two and tied the contest up on a goal from Justin LaPorte. Just under four minutes later Alex Storjohann scored on the power-play to give Columbus their lead back. Dan Cangelosi would tie things up late in the period to make it 2-2. It felt like just one goal either way in the third would be the difference.
The third period was tight-checking and gritty. Both goalies made a few big saves to bail their teams out. There was only one goal in period three and it was the game-winner. Ryan Marker scored on a breakaway to give Delaware a 3-2 win! Trevor Babin stopped 51/53 during the contest.