Sen. Coons Secures Nearly $90M For Key Delaware Projects Through A Government Appropriations Bill
March 9, 2022
Key Delaware projects—including a new fuel cell hangar for the Delaware Air National Guard, housing relief, health and education, parks improvements, and clean energy projects—slated to advance in annual spending bill thanks to Sen. Coons' role on crucial committee
WASHINGTON — U.S. Senator Chris Coons (D-Del.), the first Delaware Senator in more than 40 years to serve on the Appropriations Committee, today celebrated the announcement of funding for key Delaware projects which he specifically requested that were included in the Fiscal Year (FY) 2022 government spending package. The Appropriations Committee unveiled the legislation early today, and it is expected to receive a vote in the Senate later this week.
"Over the past year, I've spoken with dozens of groups in Delaware to determine what projects the federal government can fund that will make the biggest impact in our communities. As a member of the Appropriations Committee, I'm proud to say today that I've helped advance a transformative series of projects that will make a huge, targeted impact on our state," said Senator Coons. "With nearly $90 million directed toward key Delaware projects, we will soon be building critical infrastructure that Delawareans themselves have told our congressional delegation is needed, creating jobs and opportunity along the way. When we pass this bill and send it to President Biden's desk, we can know that Delaware's future has better services, cleaner parks, and stronger infrastructure."
Background: The series of Delaware-specific projects announced today were identified through congressionally directed spending (CDS) requests, a program run through the Senate Appropriations Committee. In May 2021, Senate Appropriations Committee Chairman Patrick Leahy (D-Vt.) announced a restoration of Congress' constitutional power to approve these requests with enhanced transparency and accountability measures, leading to the new process. Senator Coons, Senator Tom Carper, and Representative Lisa Blunt Rochester (all D-Del.) all submitted requests. Details on the Delaware projects that Senator Coons submitted for CDS requests are provided here. In addition to the CDS requests announced today, the government spending package will also include additional funding for Delaware priorities.
Some of the Delaware projects receiving funding in the Senate's legislation include:
$17.5 Million for Hangar Replacement for the Delaware Air National Guard – This funding will replace the outdated Delaware Air National Guard Fuel Cell/Corrosion Control hangar at New Castle County Airport. The Fuel Cell/Corrosion Control hangar is one of two hangars required for the maintenance of the Delaware Air National Guard's eight C-130 aircraft.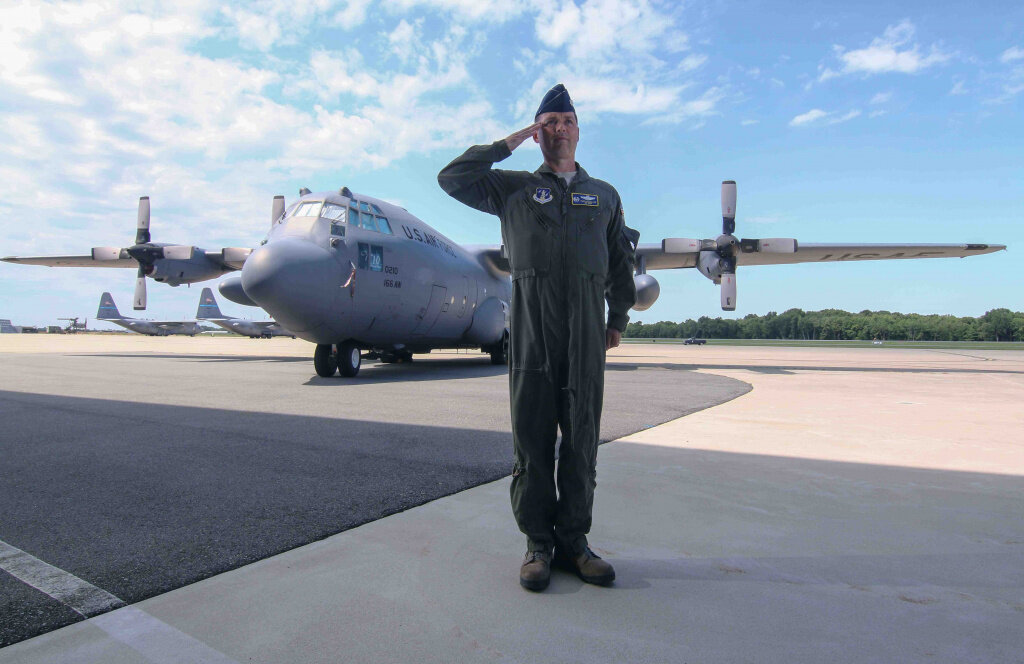 File Photo: Lt. Col Chris Kilcullen salutes while posing for a photo at the Air National Guard Base main hangar in New Castle Delaware. Photo By Saquan Stimpson
$10 Million for the Kingswood Community Center at REACH Riverside – This funding will be used to build a new Kingswood Community Center (KCC) in the Riverside neighborhood of Wilmington. Specifically, this funding will invest in a new, state-of-the-art facility that can support program growth, offer important amenities to residents, and strengthen community resiliency. A new KCC is part of REACH Riverside's effort to transform the Riverside neighborhood into a vibrant and healthy community by implementing the nationally recognized Purpose Built Communities model.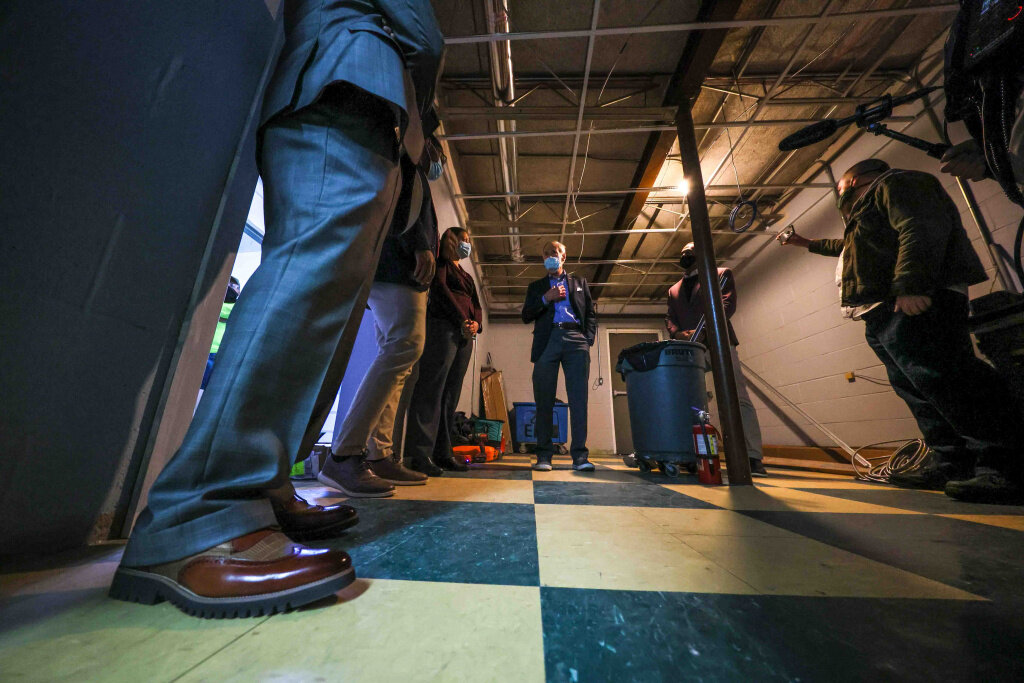 File Photo: U.S. Senator Tom Carper (D-Del.), joined Logan Herring, CEO of Reach Riverside, to discuss the Paycheck Protection Program Extension Act Monday, March. 29, 2021, at Kingswood Community Center in Wilmington, DE. Photo by Saquan Stimpson
$8 Million to National Institute for Innovation in Manufacturing Biopharmaceuticals (NIIMBL) – This funding will initiate a design-build construction effort for a current Good Manufacturing Practices (cGMP) facility at NIIMBL to be located on the UD STAR Campus that will focus on ways to develop and make innovative biopharmaceuticals at the clinical research scale.
$3.5 Million for the Mental Health Therapist Fellowship Initiative at Jewish Family Services of Delaware – The purpose of this project is to establish a workforce development program to address Delaware's growing mental health crisis, rising demand for counseling, and a lack of licensed mental health practitioners by creating paid fellowship positions for master's degree-prepared and license-eligible counselors.
$3 Million for Consolidation of the Aetna Hose, Hook & Ladder Company Station – The requested money would be used to consolidate two stations into a more energy-efficient and environmentally safe facility. This plan reduces Aetna's operating expenses and is compliant with current health and safety regulations.  The money would also be spent to provide living facilities for Aetna's student live-in responder participants. Additionally, Aetna will relocate its administrative and training functions to a separate renovated station, which will increase its internal efficiency as well as bring this facility up to current energy and safety standards.
Aerial view of the Southbridge solar farm. Photo By Saquan Stimpson
$2 Million toward Reducing Inequity in Access to Solar Power – This project at the Delaware Department of Natural Resources and Environmental Control (DNREC) will support the installation of residential solar energy systems in low-and moderate-income households throughout Delaware.
$2 Million for Westside Wilmington Health Center Facility Renovations – The purpose of this funding is to complete phase 3 of a multi-year capital improvement campaign, which will include renovations and a re-design of the center.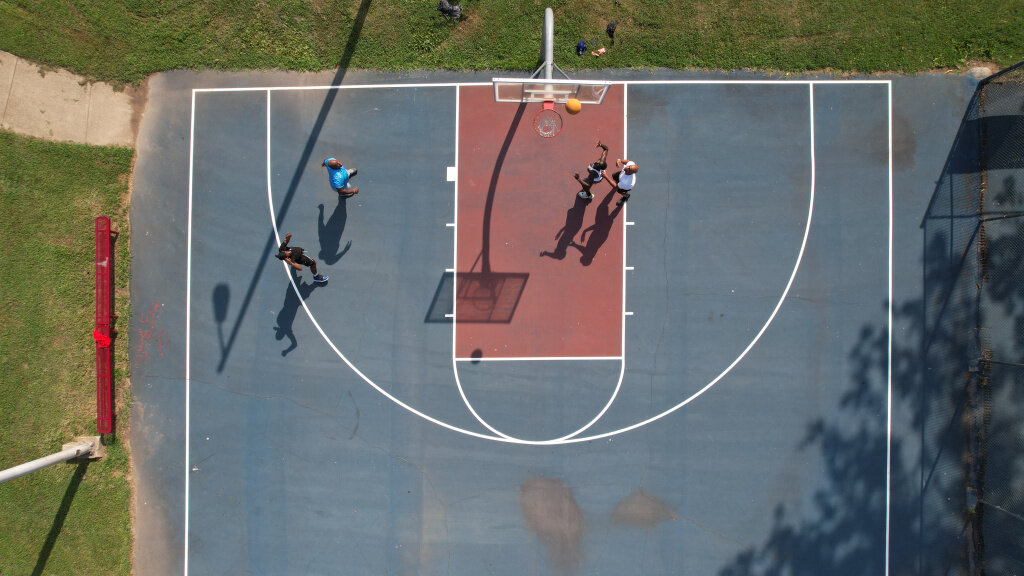 Aerial view of Kirkwood Park basketball courts. Photo By Saquan Stimpson
$1.2 Million for Comprehensive City Parks Improvements in Wilmington – The requested funding would be used to renovate five parks in Wilmington, several of which serve predominately low-income neighborhoods. The Wilmington Parks Department would use the $1.2 million to cover capital projects at Kirkwood Park (East Side, $300,000), Holloway Park (East Side, $300,000), Kosciuszko Park (Hedgesville, $150,000), Woodlawn Park (Hilltop, $300,000), and Tilton Park (Tilton Park/Cool Springs, $150,000).
$750,000 for Capital Improvements to the Nanticoke Indian Association (NIA) Cultural Community Center and Food Bank – The Nanticoke Indian Association currently owns a community center providing programs and services to its 1,200 tribal members who reside on Tribal lands or in the adjacent communities. They would use this funding to modernize the building and then add on an addition to better serve the Tribe and community members, including a childcare center and food bank.
$749,000 for Behavioral Health Crisis Intervention Unit Expansion at New Castle County Police Department (NCCPD) – This funding would allow NCCPD to expand their Behavioral Health Unit. Specifically, the funding would allow NCCPD to (1) add a peer advocate to the Hero Help outreach team who would conduct outreach and education about treatment, and (2) create a new co-responder team in the Mental Health Unit to focus on conducting follow-ups, referrals, and repeat calls for service, allowing the other teams in the unit to focus on crisis response activity.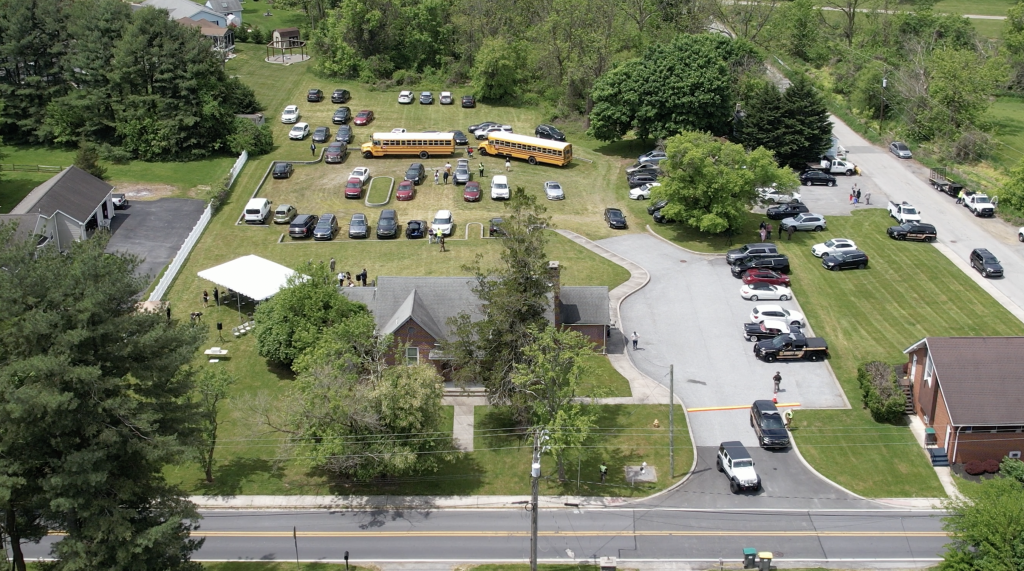 Aerial view of the grounds of the Former Hockessin Colored School #107. Video By Saquan Stimpson
$750,000 for Transforming the Former Hockessin School #107 into a Center for Diversity, Inclusion, and Social Equity – The Hockessin Colored School #107 (HCS) plans to transform the school into a "Center for Diversity, Inclusion, and Social Equity." The center would focus on educational enrichment, diversity training, and the development of social infrastructure strategies to address issues such as health care, housing, and education. This funding would be used for renovation, restoration, and reactivation of the school itself to prepare to welcome community members.
Details on other Delaware projects included in the package are provided here. This hyperlink will be updated with additional projects later today.