DIAA Basketball Tournament Results and Girls Quarterfinals Information
March 8, 2022
Dover, DE – The Delaware Interscholastic Athletic Association (DIAA) Boys Quarterfinals were played on Saturday and the semifinals are set. The Girls Basketball Quarterfinals are tonight and the Unified Basketball Semifinals were played on Friday.
Boys Basketball Championship:
The boy's quarterfinals were on Saturday – Find the updated bracket here. The Boys Basketball Semifinals are set for this Thursday and will be played at the Bob Carpenter Center, at the University of Delaware. The link to purchase tickets is here.
Boys Quarterfinal Scores:
#1 Salesianum def. #9 Dover, 57-51OT
#4 Howard def. #5 Sanford, 46-41
#10 Seaford def. #18 St. Andrew's, 70-46
#3 Tower Hill def. #22 Saint Mark's, 43-41 3OT
Boys Semifinals Schedule – Thursday, March 10, 2022
6:30pm – #3 Tower Hill vs. #10 Seaford
8:10pm – #1 Salesianum vs. #4 Howard
Girls Championship Updated Bracket – link
Round 2 Scores:
#1 Caravel def. #16 Caesar Rodney, 63-44
#9 Woodbridge def. #8 Lake Forest, 47-43
#4 St. Elizabeth def. #13 Dover, 53-41
#5 Tatnall def. #12 AI Dupont, 57-25
#2 Sanford def. #15 Archmere, 58-25
#10 Cape Henlopen def. #7 Delmarva Christian, 58-45
#3 Charter School of Wilmington def. #14 Saint Mark's, 41-39
#6 Ursuline def. #22 Wilmington Friends, 56-22
Girls Quarterfinal Schedule – Monday, March 7, 2022:
#1 Caravel defeated #9 Woodbridge 50-40 Livestream Link
#4 St. Elizabeth falls to #5 Tatnall 48-28 Livestream Link
#2 Sanford defeated #10 Cape Henlopen 53-27 Livestream Link
#3 Charter School of Wilmington fall to #6 Ursuline 57-42 Livestream
Tickets will go on sale Tuesday, March 8 at 7:00 am for the Girls Basketball Semifinals at the University of Delaware.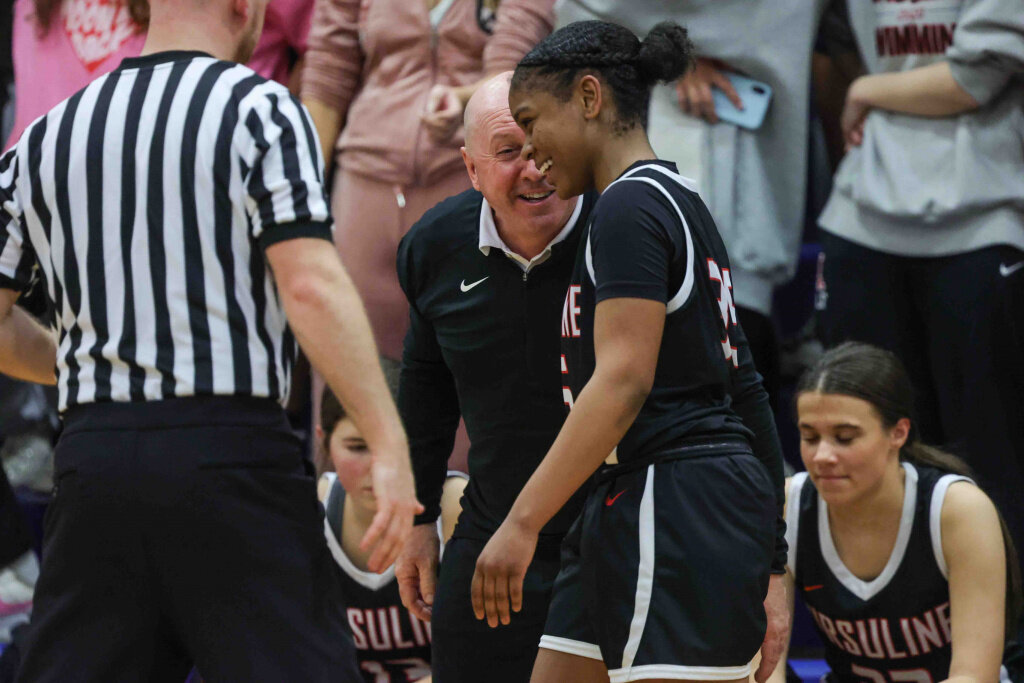 Ursuline Academy head coach John Noonan and Ursuline Academy Chamira Marshall Brothers (35) celebrate near the bench during a DIAA quarterfinal girls basketball game between No. 3 Charter School of Wilmington and No. 6 Ursuline Academy Monday, Mar 7, 2022; at the Charter School of Wilmington in Wilmington, DE. Photo By Saquan Stimpson
Unified Basketball Championship:
The Unified Basketball Finals are set for Friday, March 11th, and tip-off is 5:30 pm before the Girls Basketball Championship game. North #1 Appoquinimink will face South #1 Dover for the 2022 Unified Basketball Championship. The updated bracket can be found here and the link to purchase tickets through the University of Delaware is here.
Unified Basketball Semifinal Scores:
#1 Appoquinimink def. #2 Caesar Rodney, 22-15
#1 Dover def. #3 Indian River, 25-21
Basketball Championship Programs 
Fans can view each participating team's rosters in the 2022 Basketball Championship Programs which are digital and the link can be found here. Programs are free for all fans to view and host sites will have QR codes posted around their facility for fans to access during the event.
Ticket Information 
No cash tickets will be sold onsite at championship events and all tickets for the quarterfinal rounds must be purchased through GoFan. DIAA has created a resource page (click here to visit) to assist with answering frequently asked questions and other troubleshooting issues about digital ticketing fans may have. Fans are encouraged to purchase tickets ahead of time.
Quarterfinal rounds – $5.00 Students (K-12) and Adults
Tickets for the semifinals and finals which will be held at the University of Delaware can be purchased through the University's digital ticket vendor – link to purchase Guests attending any DIAA Championship events at the University of Delaware must complete this health survey the day of the event. An email will be sent once completed to the approved guest and should be shown upon entering the building. Semifinal & Finals – $10.00 Students (K-12) and Adults
Live Streaming
NFHSNetwork is the official partner of the DIAA State Championships. Broadcast fees apply except for live streams by school-owned websites or school-controlled webpages.