Delaware win 6-5 in overtime
January 17, 2022
Harrington DE: The Delaware Thunder and the Carolina Thunderbirds met for the first of three games Friday in Harrington. It was Trevor Babin against Jacob Caffrey. The Delaware Thunderstruck first in this contest about midway through period one. Brandon Lucchesi scored a power-play assisted by Ryan Marker and Yianni Liarakos. Ryan Marker struck just over two minutes later to make it 2-0 Delaware. Justin Laport scored his first with the Thunder to make it 3-0 after 1. The second period was a little quieter, with only one goal scored. Ryan Swain scored his first with the Thunder to make it 4-0 going into the third.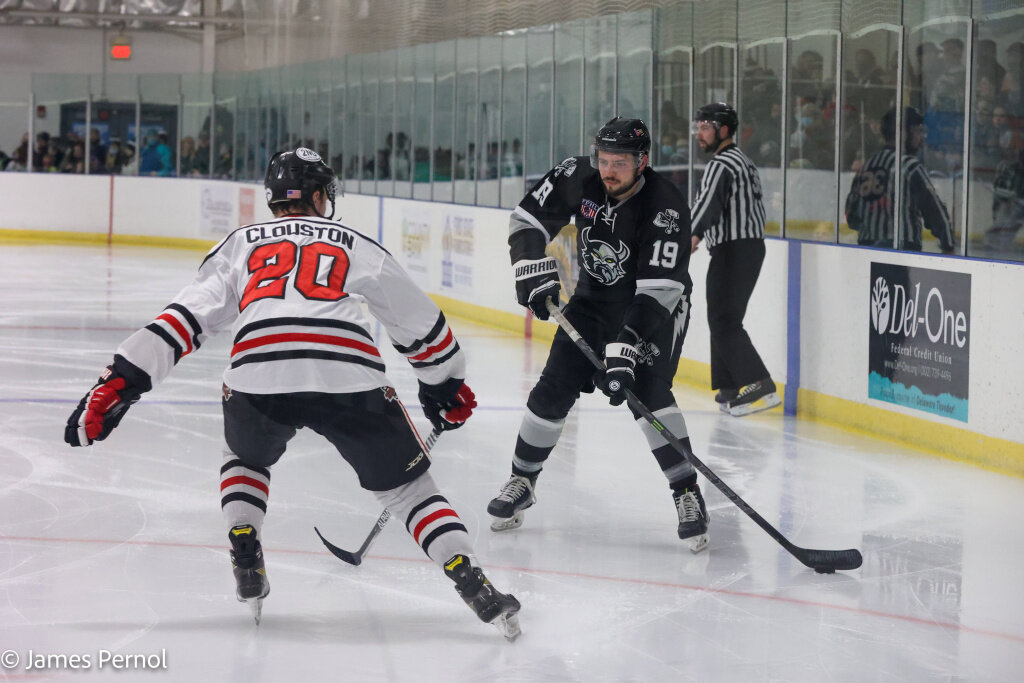 Delaware Thunder forward Yianni Liarakos sets up a pass against the Carolina Thunderbirds, Liarakos ended the game with 5 assists in the win. (photo by James Pernol)
Things got interesting in period 3, Gus Ford scored just 35 seconds into period three. Gus Ford tallied his second of the game at the 3:17 mark to make it 4-2. John Buttitta then scored a power-play goal to make it 4-3 midway through the third. Buttitta then tied things up and broke the tie late in the third and Carolina jumped ahead 5-4. Delaware pulled the goalie and tied things up with under a minute to go thanks to Brandon Lucchesi. We were off overtime! It did not take long for Alex Basey to end the game just 35 seconds into OT. Delaware won 6-5 in overtime.