DIAA 2021 Cross Country Championship Results
November 15, 2021
Dover, DE (November 14, 2020) – The 2021 DIAA Cross County Championships concluded yesterday in chilly temperatures at Brandywine Creek State Park. The Division I Girls race crowned Padua Academy Champions for the 9th straight season. Division I Boys crowned Salesianum as champions for the 44th time since since 1970. Division II Girls crowned Saint Mark's as champions and the Division II Boys Champion was Tatnall.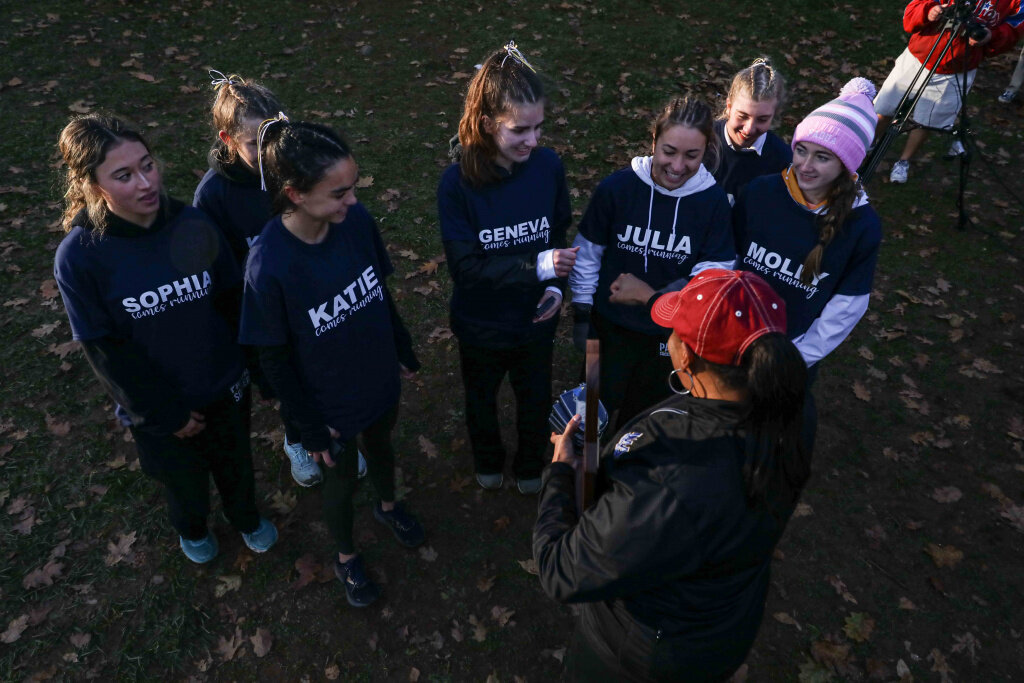 DIAA Executive Director Donna Polk presents Padua Academy with metals and trophy after at the DIAA 2021 Cross Country State Championships. Photo By Saquan Stimpson
The 2021 Division II Girls Champion was Saint Mark's after finishing as runner up in 2020 with a score of 61. Ursuline Academy was the runner up with a score of 90. Brynn Crandell of Indian River was the division's top runner with a time of 19:37. Tiffany Herrera of Saint Mark's was the runner up with a time of 19:46.
Tatnall was crowned the Boys Division II Champion for the 15th time since 2003 with a score of 29. Tatnall had 5 runners place in the top 15 with Nicolas Pizarro running a time of 17:18. Conrad Schools of Science was the Boys Division II Runner Up with a score of 95. Conrad placed two runners in the top 15.
Team Scores:
Division 1 Girls:
Padua – 27
Charter School Wilmington – 76
Caesar Rodney – 104
Cape Henlopen – 110
Middletown – 146
Division 1 Boys:
Salesianum – 56
Cape Henlopen – 72
Middletown – 98
Polytech – 127
Caesar Rodney – 133
Division 2 Girls:
Saint Mark's – 61
Ursuline Academy – 90
Conrad – 120
St. Andrew's – 132
Tatnall – 135
Division 2 Boys:
Tatnall -29
Conrad – 95
Saint Mark's – 141
Newark Charter – 159
Delaware Military Academy – 176