Cityfest, Inc., Announces Return of Year-Round Jazz Concert Series Celebrating Wilmington's Own Clifford Brown
November 15, 2021
The Clifford Brown Festival Orchestra under Director Gerald Chavis will perform at the Christina Cultural Arts Center on November 19
Wilmington Mayor Mike Purzycki and City Cultural Affairs Director Tina Betz are pleased to announce the return of the popular Clifford Brown Year-Round monthly concert series with a special performance by the Clifford Brown Festival Orchestra at the Christina Cultural Arts Center on Friday, November 19 [cityfestwilm.com]. The concert begins at 7:00 p.m. and will have a limited number of in-person tickets available. In-person tickets are $25 while virtual viewing tickets are $10. Both can only be purchased online at www.buytickets.at/cityfest [tickettailor.com]. No tickets will be available at the door.
Proceeds from The Clifford Brown Year-Round Concert Series, which was launched in September 2020, support programs like the Urban Artist Exchange Community Revitalization Project, Arts Work Summer Youth Apprenticeship Program, and the Clifford Brown Jazz Festival. Building on the success of this summer's return of the Clifford Brown Jazz Festival to Rodney Square following a first-ever virtual festival in 2020 during the COVID-19 pandemic, Clifford Brown Year-Round will continue to showcase jazz musicians from around the world each month leading up to June 2022 and the 35th Annual Clifford Brown Jazz Festival – Wilmington's premier music event and the largest FREE jazz festival on the East Coast. Details about future shows in this series will follow shortly.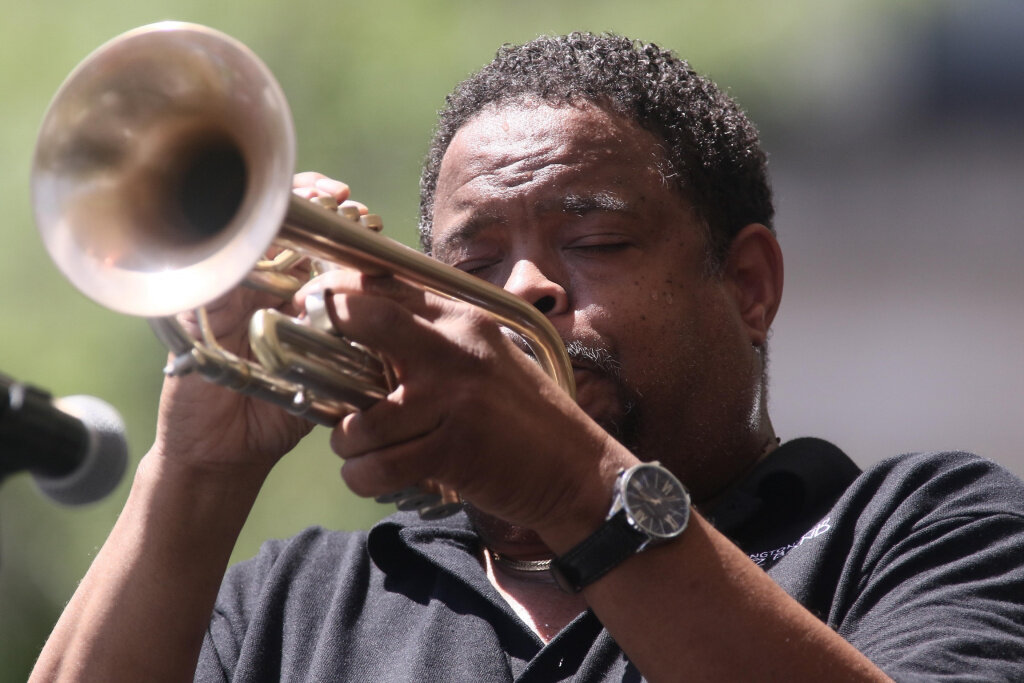 Gerald Chavis and the Wilmington Youth Jazz Band, performs during day four of the 29th Annual Clifford Brown Jazz Festival Saturday, June 24, 2017, at Rodney Square in Wilmington Delaware. Photo By Saquan Stimpson
"As we transition to regathering after a time of separation and uncertainty, there is no better way to reconnect than through music, said Cultural Affairs Director Tina Betz. "The year-round concert series offers the chance to hear live music and interact with our talented artists in person, or to enjoy a high-quality live-streamed arts experience at home. It's an incredible opportunity for all music lovers and a boost for the local arts and music scene."
The live performance at Christina Cultural Arts Center will feature a cash bar and COVID-19 precautions will be in effect. These include:
•Proof of full vaccination or a negative Covid test received within the past 72 hours is required to enter.
•Touchless temperature checks will be performed at the door.
This performance is supported in part by a grant from the Delaware Division of the Arts [arts.delaware.gov], a state agency, in partnership with the National Endowment for the Arts [arts.gov]. The Division promotes Delaware arts events on DelawareScene.com [delawarescene.com]. A special thank you goes to The Christina Cultural Arts Center [ccacde.org], ShopRite and The Kenny Family Foundation [kffde.org], and WRTI 90.1 FM [wrti.org], official media sponsor of the Clifford Brown Year-Round series.
About Cityfest, Inc.
Cityfest, Inc., a 501(c)(3) tax-exempt corporation, solicits sponsorships and grants that subsidize the City of Wilmington's financial and staffing contributions. It uses funding to improve the quality of life for citizens of Wilmington, primarily through cultural and arts programing; promoting economic development; promoting City life; and all other charitable purposes.