Wilmington Commemorates the 5-Year Anniversary of the Line-of-Duty Deaths of Christopher Leach, Jerry Fickes, and Ardythe Hope
September 23, 2021
Flags will fly at half-staff and Lakeview Road Memorial will be dedicated on Friday, September 24th; memorial blood drive is scheduled for Thursday, September 30 
Wilmington Mayor Mike Purzycki and Fire Chief John M. Looney encourage all Wilmington residents to pause this Friday, September 24, 2021, to remember and honor the ultimate sacrifice made by Lieutenants Jerry Fickes and Ardythe Hope, and Captain Christopher Leach, who died in the line of duty five years ago while fighting a Canby Park rowhouse fire that also injured several other firefighters. Flags in the City of Wilmington will fly at half-staff on Friday to mark the occasion.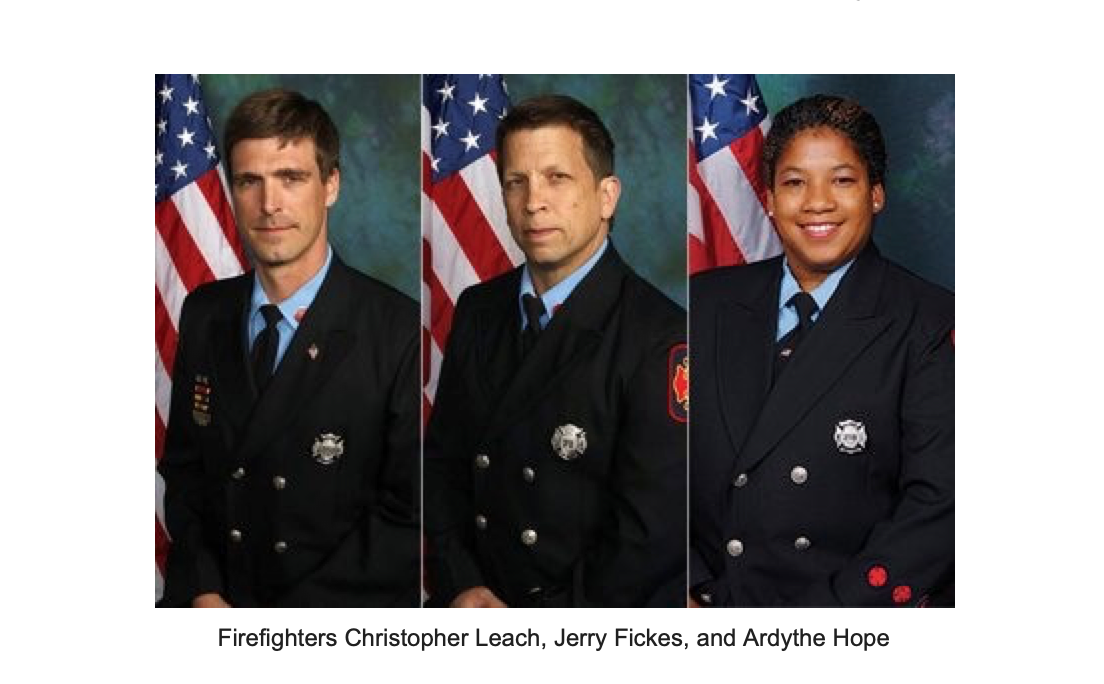 "We are sadly reminded today of the great personal sacrifice that the brave, dedicated men and women of the WFD make when they put on the uniform of a Wilmington firefighter," said Mayor Purzycki. "When we tragically lost Captain Christopher Leach, Lieutenant "Ardy" Hope, and Lieutenant Jerry Fickes five years ago – although it still feels like yesterday – we lost members of our extended Wilmington family, leaving a hole that can never be filled. They paid the ultimate price while doing what each of them loved – what each had been called to do – and we are forever grateful for their sacrifice. We keep them in our hearts today and every day as we continue to move forward. And to their colleagues and friends left behind to perform one of the most demanding yet rewarding jobs there is, know that you have my admiration, my gratitude, my respect, and my full support."
"September 24th, 2016, was a tragic day in the history of the Wilmington Fire Department," said Chief Looney. "The immediate loss of Chris and Jerry was devastating, not only for our department, but was felt throughout the firefighting community.  Firefighters Ardythe Hope and Brad Speakman suffered significant burn injuries requiring intensive treatment.  Unfortunately, Ardy passed away on December 1, 2016, due to her injuries.  Chris, Ardy, and Jerry paid the ultimate sacrifice protecting the citizens of Wilmington.  It's hard to believe the 5th Anniversary is upon us but it's important that we 'Never Forget' their sacrifice.  So many lives were suddenly changed on September 24, 2016.  I ask everyone to take a moment to remember them in a moment of silence."
Lakeview Memorial Dedication
On Friday, September 24, at 1 p.m., Mayor Purzycki will join Chief Looney, friends, colleagues, and family members at a ceremony to dedicate the Lakeview Memorial at the site of the fatal house fire, 1927 Lakeview Road in the Canby Park section of the City.  The memorial, which consists of three stone benches in front of a large American flag, is presented by the Wilmington Firefighters Benevolent Fund, and the ceremony will take place at Canby Park (Union Street and Prospect Road). The ceremony is open to the public and all are encouraged to attend.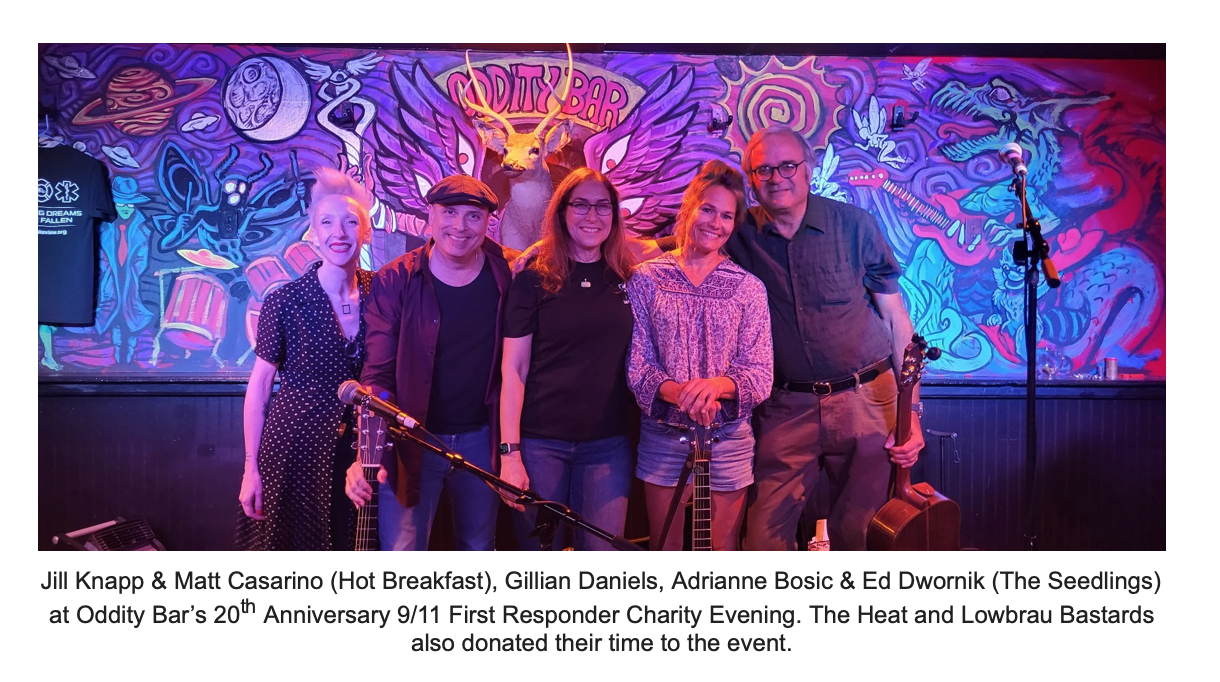 Project Lakeview Check Presentation
At 6 p.m. on Friday, September 24, Gillian Daniels, owner of the Oddity Bar, will present a check for $645 to Wilmington Firefighter Adam Risden, founder of Project Lakeview, Inc., in front of the popular Westside establishment at 500 Greenhill Avenue. On Saturday, September 11, Daniels and Oddity Bar hosted a fundraiser for first responders on the 20th anniversary of 9/11.  The beneficiary of this event was Project Lakeview, founded to honor Christopher Leach, Jerry Fickes, and Ardythe Hope and all police officers, firefighters, and emergency medical technicians killed in the line of duty. The organization assists the families left behind by those first responders killed on the job by creating experiences for them while building a community of support. To learn more about Project Lakeview or to donate, visit www.projectlakeview.org.
Annual Blood Drive
On Thursday, September 30, the Blood Bank of Delmarva will hold its annual blood drive in memory of Christopher Leach, Jerry Fickes, and Ardythe Hope in partnership with the City of Wilmington. The event will take place between 8:30 a.m. and 3 p.m. in the lobby of the Redding City/County Building, at 800 North French Street.  Appointments are strongly encouraged; walk-ins will only be allowed if spots are available and if social distancing can be maintained.  Donors must wear a face covering and temperatures will be taken prior to being allowed to start the donation process. Interested donors can click here and enter sponsor code COW to schedule an appointment, or call 1-888-825-6638.