DELAWARE BLUE COATS ANNOUNCE 2021-22 NBA G LEAGUE SCHEDULE
September 14, 2021
EXCLUSIVE TEAM MERCHANDISE AVAILABLE AT AL'S SPORTING GOODS IN WILMINGTON
SEASON TICKETS ON SALE AT SIXERS.COM/BLUECOATS AND 302-504-7587
WILMINGTON – SEPT. 14, 2021 – The Delaware Blue Coats, NBA G League Affiliate of the Philadelphia 76ers, today announced the team's 2021-22 game schedule. The NBA G League schedule will feature an innovative format this season, including a regional Showcase Cup, regular season, and postseason. The Blue Coats open the Showcase Cup on the team's home court at Chase Fieldhouse (401 Garasches Lane, Wilmington, DE) on Saturday, Nov. 6 at 7 p.m. against the Long Island Nets.
The 14-game Showcase Cup will be followed by a 36-game regular season beginning at Chase Fieldhouse on Tuesday, Dec. 28 at 1 p.m. against the Capital City Go-Go. The G League Playoffs are slated for April 5-16, 2022.
In celebration of the Blue Coats' return to Delaware – following a successful campaign and Finals appearance during the 2021 G League single site season in Orlando, Florida – an exclusive line of team merchandise is now available at Al's Sporting Goods (200 N. Market Street) and online at www.alssportinggoods.net. Al's Sporting Goods first opened its doors in 1935 and the small family business remains an institution in downtown Wilmington.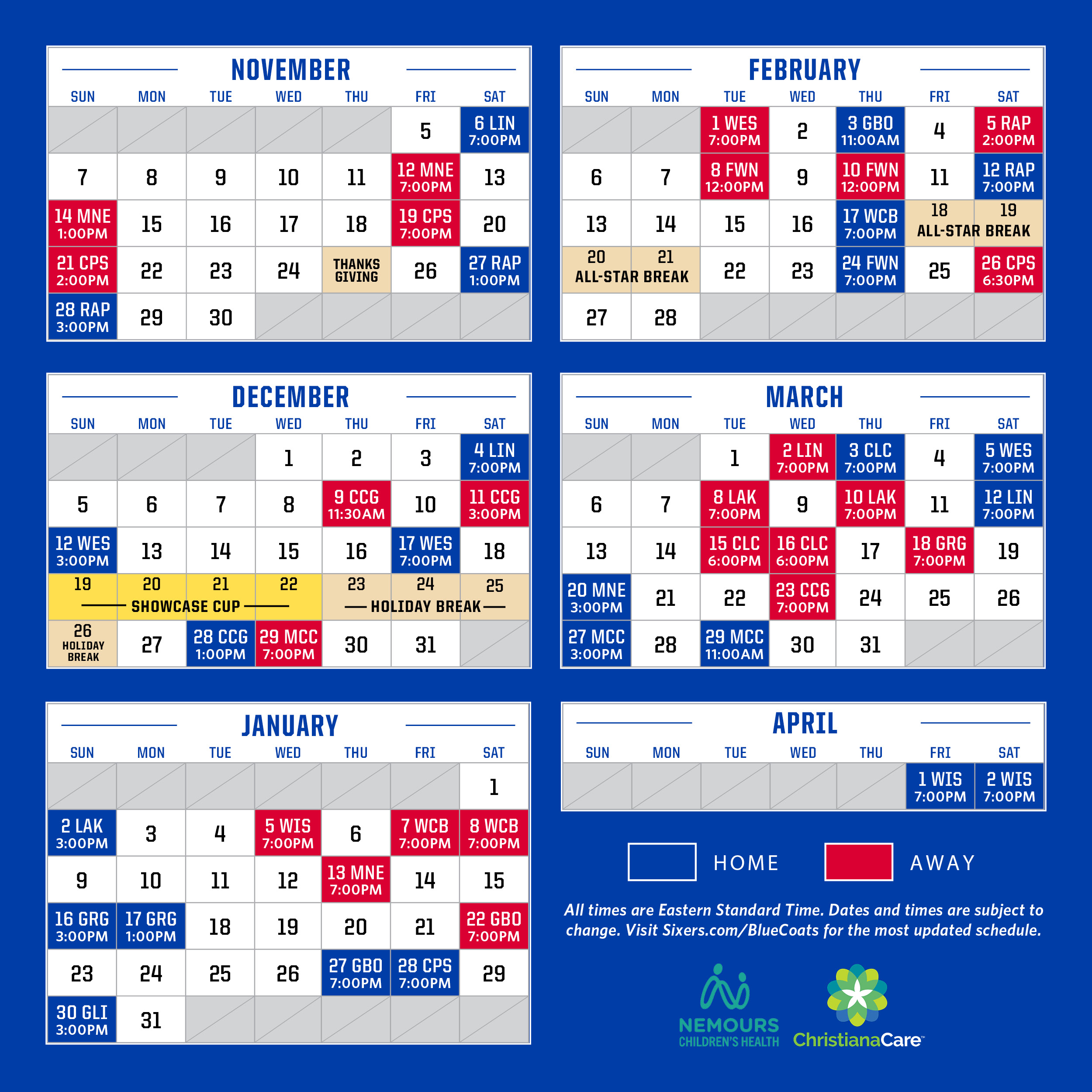 Season tickets are on sale now and start at just $10 a seat per game. A limited number of VIP seats, including courtside and premium locations inclusive of complimentary food and beverage, are currently available. The Blue Coats are also accepting deposits for group outings for all Showcase Cup and regular season games at Chase Fieldhouse. Details on tickets can be found at SIXERS.COM/BlueCoats. Contact the Blue Coats Ticket Sales and Service team at BlueCoatsTickets@76ers.com and 302-504-7587.
This season will mark the franchise's ninth year in Delaware. The team has delivered 18 Gatorade Call-Ups to the NBA and accepted 66 assignment transactions over the course of its history. Recent players now in the NBA include Paul Reed, Shake Milton, and Furkan Korkmaz. The Blue Coats are scheduled to host Open Tryouts for the upcoming season on Sunday, Oct. 3, with two sessions available at Chase Fieldhouse. Registration details for Open Tryouts can be found at SIXERS.COM/BlueCoats.
ABOUT THE DELAWARE BLUE COATS:
The Delaware Blue Coats are the official NBA G League affiliate of the Philadelphia 76ers. The team plays its home games at the all-new Chase Fieldhouse in Wilmington, Delaware. For ticket information, visit SIXERS.COM/BlueCoats. The Delaware Blue Coats organization is a Harris Blitzer Sports & Entertainment property.
ABOUT THE NBA G LEAGUE:
The NBA's official minor league, the NBA G League prepares players, coaches, officials, trainers and front-office staff for the NBA while acting as the league's research and development laboratory.  Featuring 29 teams, 28 with direct affiliations to NBA franchises for 2021-22, the league offers elite professional basketball at an affordable price in a fun, family-friendly atmosphere.  53 percent of all NBA players at the end of the 2020-21 season boasted NBA G League experience.  In fostering the league's connection to the community, its teams, players and staff promote health and wellness, support local needs and interests, and assist in educational development through NBA Cares programs.
Get your Coats on.