DuPont partners with Delaware State University to provide MacBooks to all STEM graduate students
September 9, 2021
Expansion of digital learning, mentoring and professional development programs support ongoing career pathways partnership
Dover, DE – Leaders from Delaware State University and DuPont today gathered in the University's Optical Science Center for Advanced Research (OSCAR) to distribute MacBooks to graduate students in Science, Technology, Engineering, and Mathematics (STEM) programs. DuPont is donating 50 high-end Apple laptops to commemorate HBCU Week and highlight the University's digital learning initiative and the long-standing collaboration the University and DuPont have in preparing students for research careers at the company.
"We've been providing iPads and MacBooks for our undergraduates since 2018," said University President Tony Allen, "as a part of our effort to guarantee technological equity for all and to keep our teaching at the cutting edge. Last year we were able to extend the program to students at the Early College High School during the pandemic, and this Fall we are tackling the needs of our graduate students, thanks to our friends at DuPont."
Allen noted that this semester the DuPont-donated devices will go to all graduate students in the College of Agriculture, Science and Technology. The University is also distributing iPads to graduate students in the new Masters in Occupational Therapy program transitioned from Wesley College; over 90 students received those devices.
In addition to the MacBook donation, DuPont is also sponsoring registration fees for each of the 50 STEM graduate students to attend the National Organization for the Professional Advancement of Black Chemists and Chemical Engineers (NOBCChE) conference held virtually September 15-17, 2021.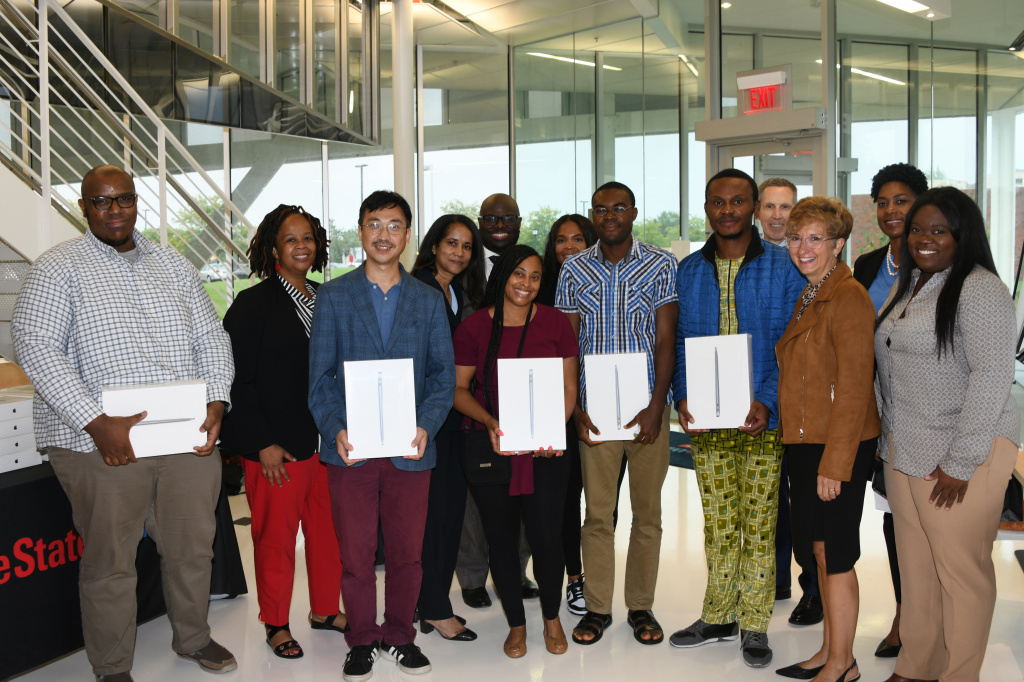 "At DuPont, innovation thrives when diverse perspectives are fostered through a culture of equity and inclusion. That's why and we're committed to ensuring the next generation of scientists that Delaware State University produces has the necessary tools to prepare them for meaningful careers with us," said Alexa Dembek, Chief Technology & Sustainability Officer at DuPont. "We couldn't think of a better way to celebrate HBCU Week by creating pathways for future innovators and help the University extend its digital learning program to all STEM graduate researchers."
"We have a long, positive history with DuPont," said Dr. Cherese Winstead, Dean of the College of Agriculture, Science and Technology. "We've been intensely working together over the past several years with laboratory visits, job shadowing, mentoring, and innovative career pathways. It's a wonderful opportunity for our students, and it built a recognition at DuPont that we needed better individual technology to support these graduate researchers at the very beginning of their careers."
Jamie Holmes, a Ph.D. student in Applied Chemistry, was thrilled to receive the new laptop, saying, "For me, and for dozens of other students this is a game-changer. Knowing that I've got my own, high-end laptop for classes, in the lab, and when I visit places like DuPont research facilities not only improves my work but also helps me project a more professional appearance. All of us are very grateful to DuPont for taking this step."
"This is a critical step forward for graduate studies," observed Dr. Patrice Gilliam-Johnson, Dean of the School of Graduate, Adult, and Continuing Education. "We are being as creative as possible in figuring out ways to ultimately put this technology in the hands of all graduate students."
Delaware State University initiated its digital learning initiative in Fall 2018 by providing iPads and/or MacBooks to all incoming Freshmen and transfer students, as well as issuing the devices to all faculty. In Fall 2020 the initiative expanded to all undergraduates to the students at the Early College High School taking courses on the University campus. Over 140 graduate students in Occupational Therapy and all STEM disciplines are now eligible for the program