Updated Information Issued for Residents and 
Businesses Affected By Hurricane Ida
September 4, 2021
Updated information is being issued tonight that can be of assistance to residents and businesses affected by the remnants of Hurricane Ida. The information is being issued in partnership with the Governor's office and the Department of Health and Social Services (DHSS). Mayor Purzycki expressed his appreciation to the State for assisting with resources and information for those affected by the storm.
Mayor Purzycki also announced tonight that the William "Hicks" Anderson Community Center Emergency Shelter, at 501 North Madison Street, will reopen at 9:30 p.m. tonight to assist those individuals who have not been able to arrange temporary housing.
Wilmington residents in need of assistance or help with social services this weekend can call the Social Services Call Center at 302-571-4900. The call center will be open this Saturday-Monday, 8 a.m. to 4 p.m. during the holiday weekend. Services available through the Call Center include: 
• emergency shelter,
• food replacement,
• food benefit replacement, and
• referrals for furniture, clothing, or emergency needs. 
Residents should continue to call 9-1-1 in an emergency.
Mayor Mike Purzycki and Emergency Management Director Willie J. Patrick, Jr. spent several hours today surveying affected City neighborhoods. Some 200 people have rescued by the Wilmington Fire Department and partner agencies since the storm passed. Department of Public Works personnel spent the day clearing mud, muck, and debris from City streets, some of which remain flooded.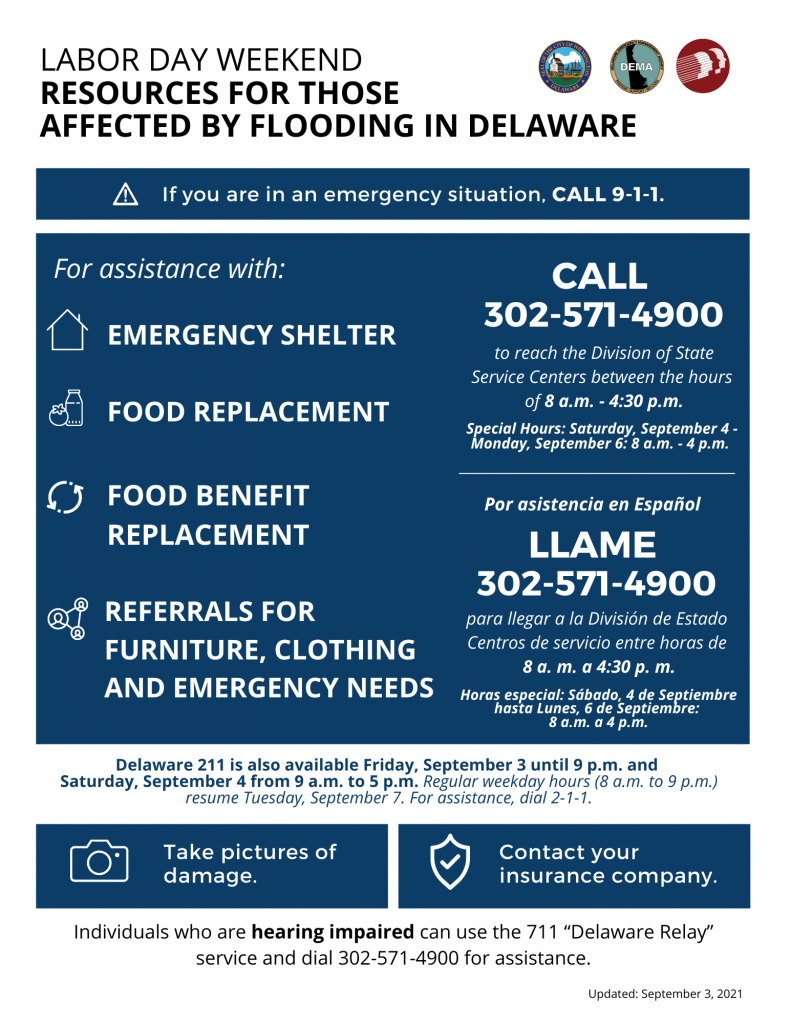 "As the cleanup moves forward we continue to be appreciative of our dedicated first responders and Public Works personnel and all who are working so diligently to keep our residents safe," said Mayor Purzycki. "I also thank our partners at DEMA and DHSS who are assisting us tremendously as we recover from this disaster and direct residents and businesses to the resources they need right now."
"As difficult as it may be, we ask for everyone's continued patience as the damage is assessed and we determine the true magnitude of this catastrophe," the Mayor continued. "We understand this historic weather event has been very disruptive on lives and neighborhoods, and we will do everything we can to focus available resources to assist with the recovery."
The Governor's Office tonight announced that a Disaster Reception Center for Hurricane Ida Flooding will open on Tuesday, September 7, 2021, from 8:30 a.m. to 4:30 p.m. at The Warehouse, 1121 Thatcher Street. Representatives will be on site from agencies that can provide recovery resources for those impacted by the recent flooding event. If possible, residents should bring:
• a valid government issued form of identification
• proof of residency
• insurance documents
• proof of income
Currently, Delaware residents displaced by Hurricane Ida may search for available housing and disaster recovery related resources using www.DelawareHousingSearch.org [delawarehousingsearch.org], or call toll-free 1-877-428-8844