Mayor Purzycki Issues Executive Order Declaring State of Emergency in Wilmington
September 2, 2021
State emergency shelter is open in Wilmington; many roads and bridges remain closed due to flooding as City moves into Damage Assessment Phase
Mayor Mike Purzycki today announced that he has signed an Executive Order (No. 2021-5) activating his authority under a City state of emergency to take action to protect the residents of Wilmington when there is a risk to the citizenry due to a pending or active emergency. The Mayor signed the Order given the "flooding, property damage, and dangerous conditions" that resulted when the remnants of Hurricane Ida swept through the City overnight. The Executive Order is included at the end of this release. The broad authority granted to a Mayor of Wilmington during an emergency has been used during previous weather-related incidents such as snowstorms, tornadoes, and hurricanes, as well as the COVID-19 public health emergency beginning in March 2020.
"Obviously this terrible storm has caused extensive flooding damage throughout the City," said the Mayor. "The Brandywine River rose to levels not seen in a hundred years, and our first responders did a marvelous job today of ensuring that everybody was safe and protected. Our Police, Fire, and Emergency Management personnel, working alongside County and State partners and with teams from Public Works, Licenses and Inspections, and Parks and Recreation, all responded heroically to assist those in need throughout a long and difficult day. We all owe them all a debt of gratitude."
"I am pleased to report that not a single death or traumatic injury was recorded following one of the most severe storms to hit Wilmington in recent memory," the Mayor continued, "though there were a number of medical emergencies that resulted in people being transported to the hospital. Now we must address the aftermath of this event so that get things back to normal again."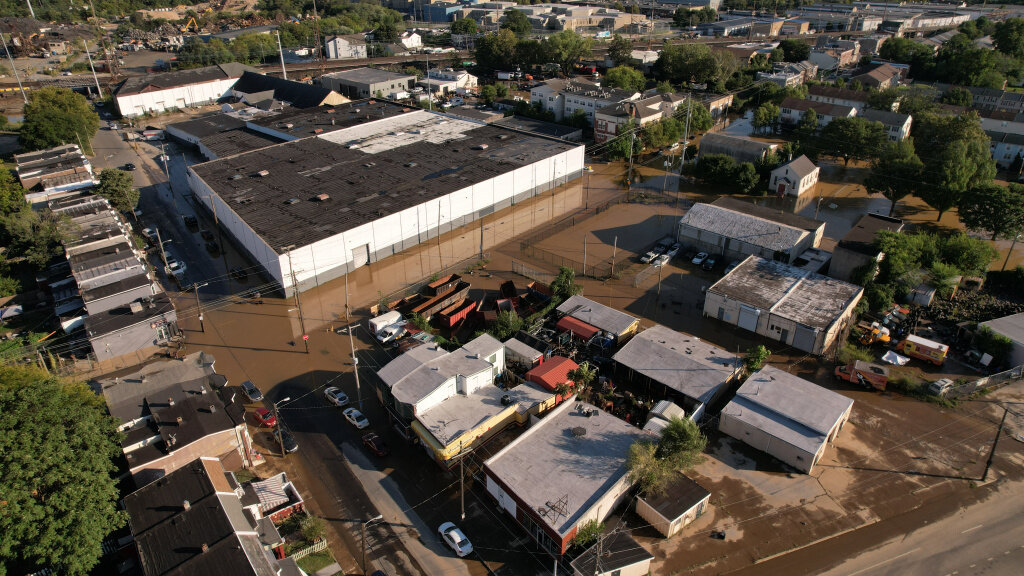 Aerial view of flooded street on the East Side of Wilmington Thursday, September 2, 2021, in Wilmington, DE. Photo By Saquan Stimpson
Mayor Purzycki spent the morning overseeing operations and surveying damage in various parts of the City. In all, more than 200 people were rescued by the Wilmington Fire Department and partner agencies during the course of the day. Residents displaced by flooding and in need of overnight shelter, estimated to be several dozen at most, can go to the State Emergency Shelter that has been opened at the Police Athletic League (P.A.L.) at 3707 North Market Street. Shelter operations are being coordinated by the City of Wilmington, Delaware Department of Health and Social Services (DHSS), and the American Red Cross. For health and safety, people in need of shelter will be tested for COVID-19 by the Division of Public Health prior to entry and face coverings will be required. Food and water will be provided along with additional services as needed. Pets, however, will NOT be allowed at this shelter.
What to Bring:
•Face coverings are required for anyone over the age of 2
•Medications and any medical devices
•Changes of clothing
•Electronics chargers
•Important documents
Wilmington residents in need of additional services can call 2-1-1 or text their zip code to 898-211 Monday through Friday from 8:00 a.m. to 9:00 p.m. Residents should continue to call 9-1-1 in an emergency.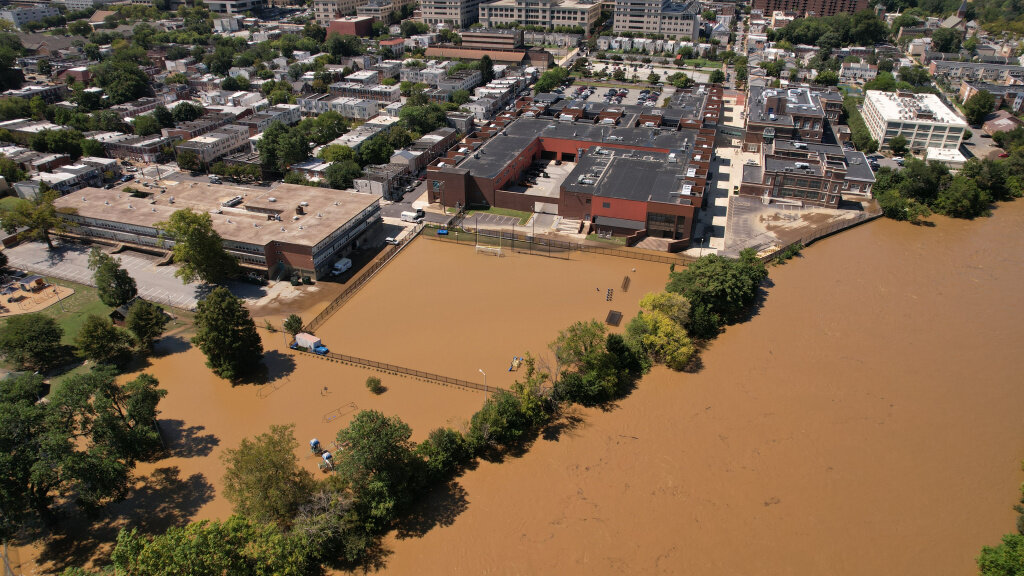 Howard high school of technology practice football field submerged Thursday, September 2, 2021, on the Eastside of Wilmington, DE. Photo By Saquan Stimpson
According to Emergency Management Director Willie J. Patrick, Jr., starting tomorrow the City will move from a Rescue and Recovery Operation to the Damage Assessment and Debris Management phase, working in conjunction with the Delaware Emergency Management Agency (DEMA).
Streets and bridges that remain closed at this time are:
•South Park Drive, between Market Street and Van Buren Street
•North Park Drive, between Van Buren Street and the Swinging Bridge
•North Market Street Bridge
•300 block of East 15th Street
•Clifford Brown Walk, between East 14th Street and East 16th Street
•East 7th Street/7th Street Peninsula
•Vandever Avenue in the area of Claymont Street and Bowers Street
The Mayor reminds residents to continue to take all necessary precautions, including:
•Do NOT attempt to drive through any high water.
•If you are in a flooded area, remain in place and call 9-1-1 for assistance.
•If wires come down, call 9-1-1 to report it. Do NOT go near downed wires!
•If a tree is down in a public street or right of way, contact 3-1-1.
•Listen to guidance from first responders.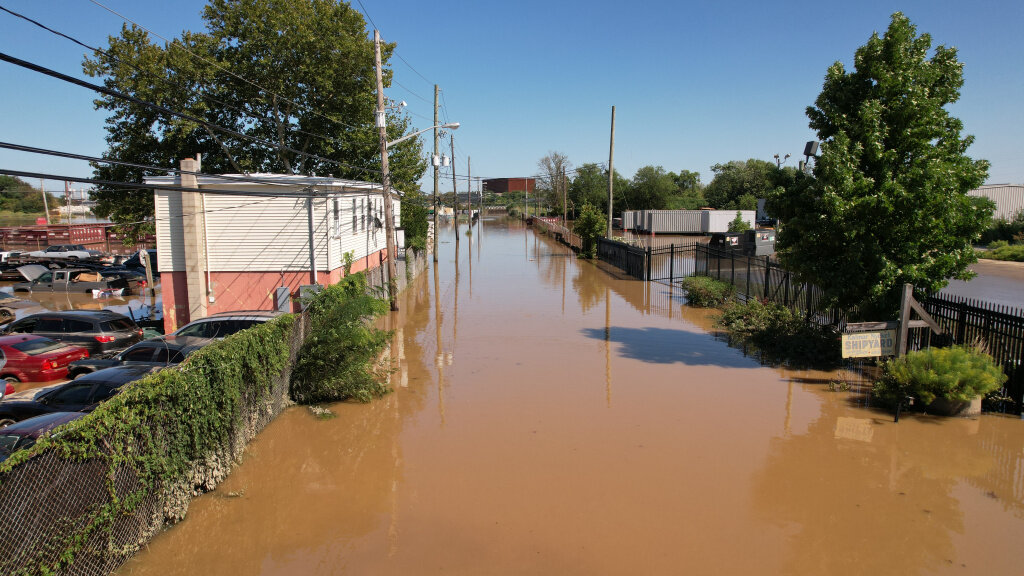 E. 7th St. submerged Thursday, September 2, 2021, on the Eastside of Wilmington, DE. Photo By Saquan Stimpson
EXECUTIVE ORDER -2021-5
September 2, 2021
PROCLAMATION OF A STATE OF EMERGENCY FOR THE CITY OF WILMINGTON
WHEREAS, Hurricane Ida passed through Delaware on September 1, 2021; and
WHEREAS, Hurricane Ida caused significant flooding, property damage, and dangerous conditions (the "aftermath") for Delaware residents, including residents of the City of Wilmington; and
WHEREAS, Hurricane Ida's aftermath has created an emergency situation in the City of Wilmington; and
WHEREAS, it is in the best interests of the City of Wilmington to protect its residents from Hurricane Ida's aftermath; and
WHEREAS, Wilm C. § 7-39 authorizes the Mayor, having found the existence of an emergency within the City of Wilmington that affects life, health, property, or the public peace, to proclaim a state of emergency:
NOW, THEREFORE, I, MICHAEL S. PURZYCKI, Mayor of the City of Wilmington DO HEREBY DIRECT AND ORDER, pursuant to the emergency provisions of Chapter 7 of the Wilmington City Code, that a State of Emergency exists in the City of Wilmington in connection with Hurricane Ida passing through Delaware on September 1, 2021, and the resulting flooding, property damage, and dangerous conditions, and assume the authority to impose all necessary restrictions and orders authorized by Wilm. C. § 7-40 and other applicable law.
This Executive Order shall become effective immediately upon its execution by the Mayor and shall continue until further proclamation of its termination pursuant to Wilm. C. §7-41.
Signed this 2nd day of September 2021.