Delaware State University launches partnership with Investor Cash Management
August 30, 2021
Exclusive new cash management account (CMA) combines the ability to save, invest, and spend in a unique, integrated, wealth-building product
Dover, Delaware / August 30, 2021 / Delaware State University has partnered with Investor Cash Management (ICM) to offer a new cash management account (CMA) for students, faculty, staff, and alumni that uniquely combines the convenience of a bank account with the investment returns of a brokerage account. The program is available immediately to all members of the University community.
The Delaware State University CMA combines investment options with the convenient access and immediate liquidity of a Visa contactless debit card. Notably, it unites best-in-class technology, focused education, and quality investment products to promote financial wellness and inclusion.  The CMA features significantly higher rates than traditional bank accounts, far exceeding the national FDIC average. 
ICM's patent-pending technology combines immediate access to cash and invested funds for in-store and online purchases, surcharge-free ATM withdrawals at over 55,000 locations nationwide, convenient bill payments, and direct deposits. Users can manage their accounts via a Delaware State University CMA Apple/Android app and corresponding web portal.
Calling the CMA initiative one of the missing components in traditional higher education, President Tony Allen said, "87% of our graduates enter their career of choice or enroll in graduate school within six months of graduation. But they need more than their degree to change the economic trajectory for themselves, their families, and their communities.  They need to know how to build wealth." He continued, "That takes planning, time, and tools.  We are already committed to comprehensive financial literacy training, and the new Delaware State University CMA provides our entire University community with a responsible financial product built just for us.  We hope many of our sister institutions will join us as well."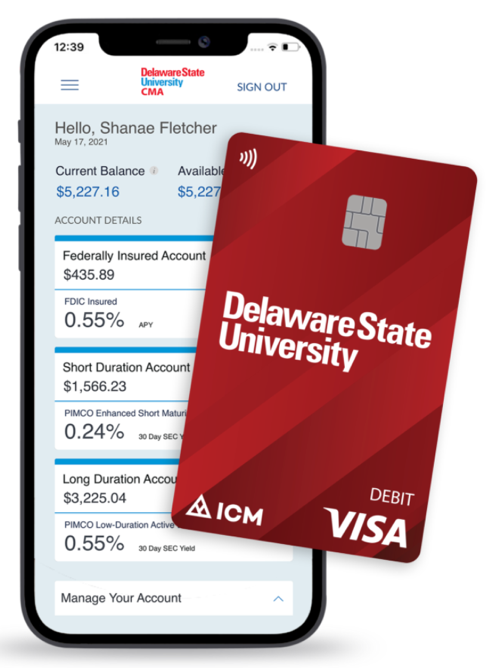 Tolan Steele, Visa Global Head of Core Products, commented, "One of Visa's driving purposes is to build a global economy that serves everyone, everywhere. We're proud our technology and products, through Investor Cash Management's unique platform, will make an impact within Delaware State University's community – and beyond."
Fred Phillips, CEO of Investor Cash Management, said, "Investor Cash Management is proud to provide the technology that empowers Delaware State University to deliver actionable financial education and reduce persistent, pernicious gender and racial investment gaps. Through our mission-driven partnership to democratize investment, Delaware State University's program provides access to innovative financial services and a foundation to develop products that address important needs of the broader community."
John W. Rogers, Jr., Chairman and Co-CEO of Ariel Investments and Investor Cash Management board member, added, "The ability to patiently build wealth is a crucial skill and requires access to responsible financial tools and educational resources. Delaware State University is making a focused effort to promote financial wellness and help close the racial and gender wealth gaps." 
The Investor Cash Management CMA provides Delaware State University the necessary tool to augment the institution's commitment to financial literacy training for all members of the community, noted Dr. Michael Casson, Dean of the College of Business. "We've spent the past few years developing a seamless, integrated system of financial literacy training that reaches out to high school students as we are recruiting them, to our students, and also to our alumni," Casson said. "The CMA Account now allows us to provide a critical tool to implement what they've learned in their own lives."
Members of the Delaware State University community can learn more about the CMA and enroll in the program by visiting www.desu.edu/about/alumni-relations/delaware-state-university-cma.
About Delaware State University
Established in 1891 as a Land Grant Historically Black College or University (HBCU), Delaware State University has grown over the past 130 years into one of the nation's premier public HBCUs, serving over 5,000 students. The University's vision is to be the most substantively diverse, contemporary unapologetic HBCU in the nation. An R2 Doctoral-granting Research Institution, the University is nationally known for signature programs in Aviation, Life Sciences, Optics, Business, Nursing, and Education and has educational partnerships with other institutions in 23 countries around the globe. The University is known for its commitment to technological equity, wraparound student support, and high-quality, personalized instruction at the lowest cost in Delaware. Learn more at desu.edu.
About Investor Cash Management
Investor Cash Management (ICM) has developed unique technology to create investor cash management accounts (CMAs) that link directly to high-yield FDIC insured accounts and specified SEC-registered securities (e.g., government money market funds, mutual funds, and/or ETFs).  All investment products contain risk and may lose value. ICM supports its distribution partners by providing them with turnkey, customized CMAs, including a branded Apple and Android app, web portal, and investment debit card. For more information, visit www.InvestorCashManagement.com.