Cityfest and Delaware Art Museum Bring World-Class Hip Hop 
Dancer Raphael Xavier to Rodney Square for First Ever 
Performance in His Hometown
August 4, 2021
The Wilmington native comes home to perform on the final day of the 34th Annual Clifford Brown Jazz Festival, Sunday, August 8
Cityfest, in partnership with the Delaware Art Museum, will present dancer Raphael Xavier [raphaelxavier.org]'s work The Musician & The Mover on the final day of the City of Wilmington's 34th Annual Clifford Brown Jazz Festival [cliffordbrownjazzfest.org] at 5:30 PM on Sunday, August 8. Mr. Xavier's performance – an exploration of freestyle and improvisation in two forms: break dancing and Jazz music – will follow a full day of dance featuring local performers. The Clifford Brown Jazz Festival, which opens tonight at 5:30 p.m. in Rodney Square, is Wilmington's premier music event and the largest free jazz festival on the East Coast.
This is Raphael Xavier's first ever performance in Wilmington, Delaware. Xavier, a Wilmington native, has gone on to achieve national success for his artistic achievements: a 2013 Pew Fellowship, a 2014 MacDowell Fellowship, a 2016 Guggenheim Fellowship, and a 2018/19 Caroline Hearst choreographic residency. Formerly a member of Rennie Harris Puremovement, he now lectures on dance at Princeton's Lewis Center. Not only a consummate choreographer, Xavier is also a talented artist of spoken word.
In addition to his performance on August 8, Xavier will be at the Late-Night Jam Session on August 6th performing. Jam Sessions will be held each night of the festival from 10:00 p.m. – 1:00 a.m. with each night featuring a different house band. Wednesday August 4th and Saturday August 7th will take place at Chelsea Tavern [chelseatavern.com] and Thursday August 5th and Friday August 6th will take place at Le Cavalier [lecavalierde.com] located on the ground floor of The Hotel duPont.
The Musician & The Mover closes out the 34th Annual Clifford Brown Jazz Festival. Sunday's performances begin with a 1 p.m. concert by The Boysie Lowery Living Jazz Residency 2021 graduates followed by an afternoon of dance featuring Dara Maredith, Wilmington Ballet, and Pieces of a Dream Dance Theatre.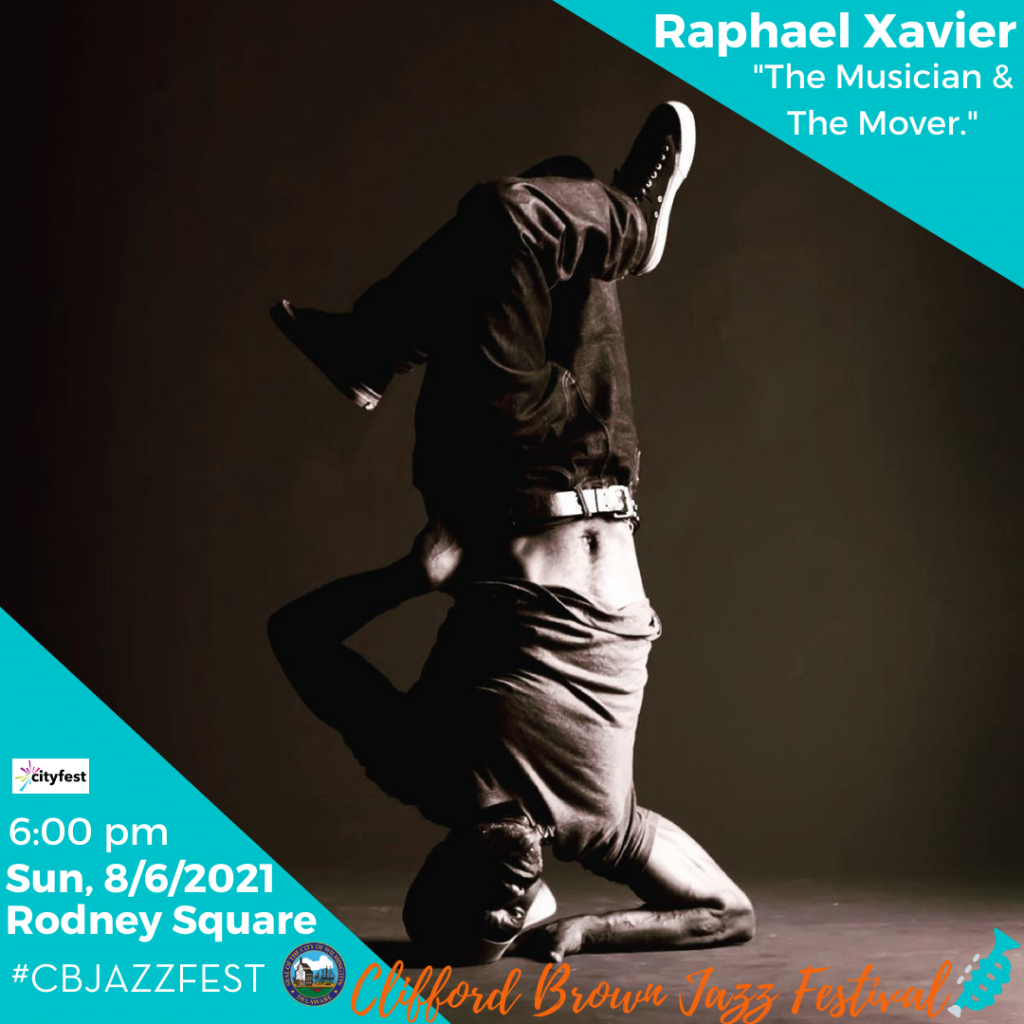 Mr. Xavier's The Musician & The Mover is made possible through a partnership between the Delaware Art Museum [delart.org], Cityfest, Inc and the City of Wilmington. These organizations are supported, in part, by a grant from the Delaware Division of the Arts [arts.delaware.gov], a state agency, in partnership with the National Endowment for the Arts [arts.gov]. The Division promotes Delaware arts events on DelawareScene.com [delawarescene.com]. The presentation of Raphael Xavier was made possible by the New England Foundation for the Arts' National Dance Project, with lead funding from the Doris Duke Charitable Foundation and The Andrew W. Mellon Foundation.
The lineup for Sunday, August 8 is as follows:
Sunday, August 8
1 p.m. to 2:15 p.m.
Boysie Graduate Concert
2:45 p.m. to 3:25 p.m.
Pieces of a Dream Dance Theatre
3:45 p.m. to 4:15 p.m.
Wilmington Ballet
4:30 p.m. to 5:00 p.m.
Dara Meredith, "Bridge of our Roots"
5:30 p.m. to 6:45 p.m.
Raphael Xavier – The Musician and the Mover
A complete list of performers for the 2021 jazz festival are available at www.cliffordbrownjazzfest.org [cliffordbrownjazzfest.org] along with artist bios. Visit the festival Facebook page at www.facebook.com/cliffordbrownjazzfest/ [facebook.com] and cityfestwilm.com [cityfestwilm.com] for more information.