DELAWARE BLUE COATS ANNOUNCE SELECT HOME GAMES FOR 2021-22 SEASON 
June 25, 2021
SEASON TICKET MEMBERSHIPS ON SALE NOW AT SIXERS.COM/BLUECOATS OR 302-504-7587
WILMINGTON – JUNE 25, 2021—The Delaware Blue Coats, the NBA G League Affiliate of the Philadelphia 76ers, today released an advance preview of the 2021-22 season schedule, including six select game dates at Chase Fieldhouse.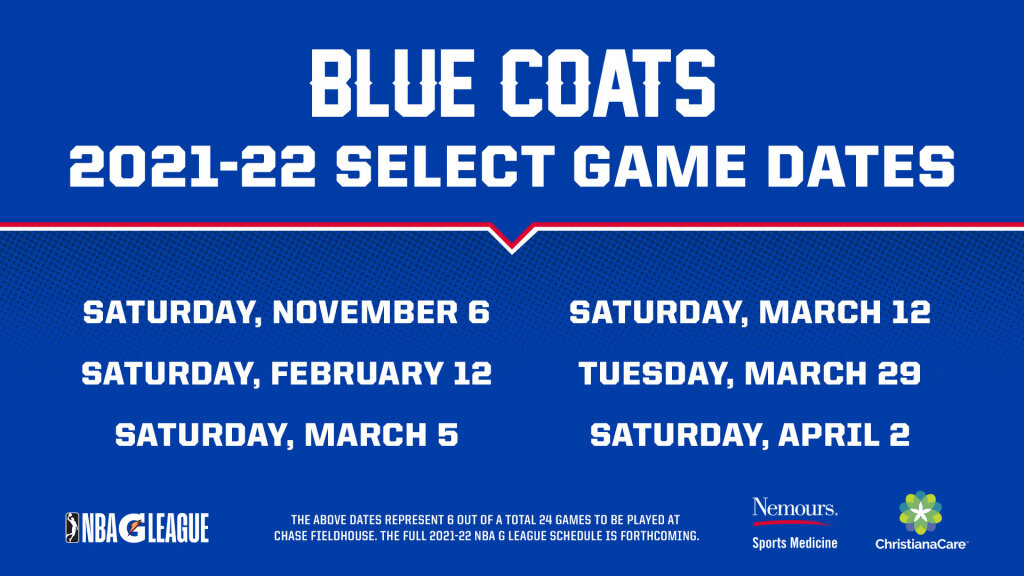 The Blue Coats are set to return to Chase Fieldhouse after a successful 2021 campaign at the NBA G League Single Site at Walt Disney World Resort in Orlando, Florida, highlighted by a trip to the NBA G League Finals. Delaware reached the postseason for the first time in franchise history with a regular season record of 10-5. The 76ers' Paul Reed, who signed a standard NBA contract following the Blue Coats season, was named league MVP and Rookie of the Year with averages of 22.3 points, 11.8 rebounds, 2.3 assists, 1.9 steals and 1.8 blocks per game. "Bball Paul" was also named to the All-NBA G League First Team, All-Rookie Team and All-Defensive Team.
Blue Coats season tickets are on sale now and start at just $10 a seat per game. Membership benefits include invitations to exclusive team events, merchandise discounts, unique membership gifts, access to 76ers ticket presale campaigns and more. Dedicated member account managers are available with more information at 302-504-7587 or BlueCoatsTickets@76ers.com.
The standard NBA G League schedule consists of 50 regular season games – 24 home, 24 away and two neutral site showcase games. The remaining 18 home games and full 2021-22 Delaware Blue Coats schedule will be announced later this summer.