New Brandywine Valley Adventure Pass Offers Savings to Northern Delaware Attractions
June 3, 2021
WILMINGTON, Delaware – The Greater Wilmington Convention and Visitors Bureau recently introduced the Brandywine Valley Adventure Pass, a build-your-own pass to Northern Delaware attractions that offers discounts on regular admission fees.
Jen Boes, executive director of the Bureau, said, "The pass lets you map your own path through the history, culture and gardens of Greater Wilmington and the Brandywine Valley. You can select from as many participating attractions as you would like."
Visitors can choose from a menu of 13 attractions. Some are also offering additional bonuses, in addition to discounted pricing, as part of the pass. For example, the Delaware Art Museum and the Delaware History Museum are both offering a 10 percent discount at their museum stores. Historic Houses of Odessa is offering pass users a complimentary drink (up to an $8 value) at Cantwell's Tavern. Hagley Museum, Garden and Library is offering a complimentary watercolor print of Eleutherian Mills and the Hagley Barn (while supplies last).
The Brandywine Valley Adventure Pass can be purchased from the Bureau's website, www.VisitWilmingtonDE.com. The pass's all-digital format enables users to download it to their smartphones for easy use. Passes are valid from May 29 to October 31, 2021. Visits to individual attractions included on a pass do not have to occur on the same day. Passes are valid for general admission only and may not be used for special events. Check with the individual attractions for operating hours and details.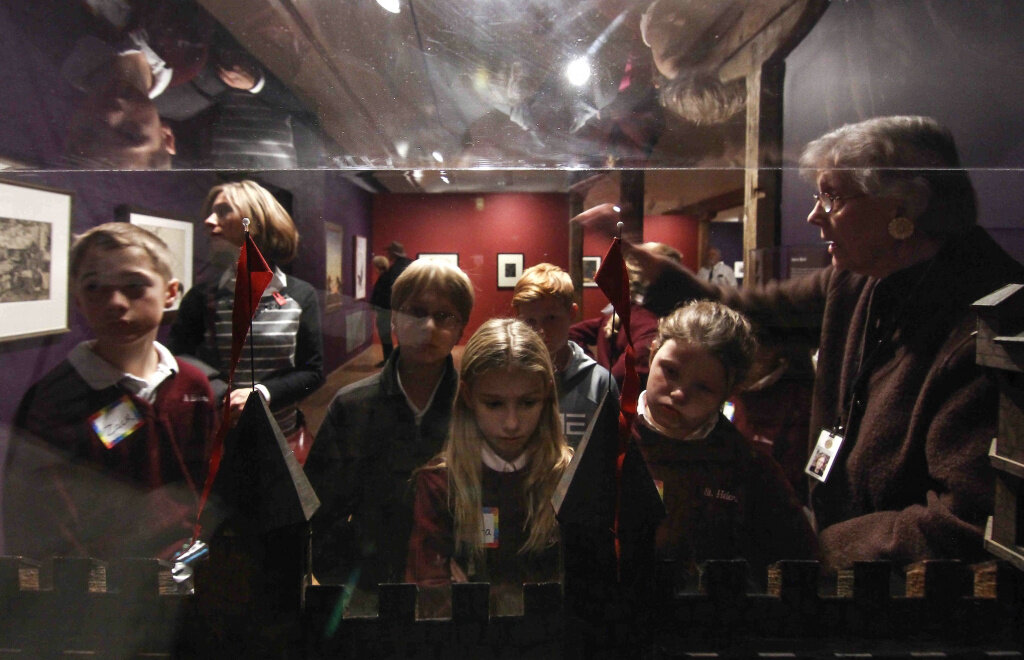 FILE PHOTO: Museum guide Nonie Knight (RIGHT) reviews Andrew Wyeth's Castle with a group of St. Helena fifth graders during a tour of the new castle exhibit at Brandywine River Museum of Art in Chads Ford, PA. Photo By Saquan Stimpson
Visitors can also access hotel information and reservations from the Bureau's website to round out their itineraries. Boes added that a number of Northern Delaware hotels are offering special rates, particularly for mid-week stays.
Participating attractions include: Brandywine River Museum of Art (in nearby Pennsylvania), The Brandywine Zoo, Delaware Art Museum, the Delaware Contemporary, Delaware History Museum & Mitchell Center for African American Heritage, Hagley Museum and Library, Historic Odessa, Marshall Steam Museum, Mt. Cuba Center, Nemours Estate, Read House and Gardens, Rockwood Museum and Park, and Winterthur Museum, Garden and Library.
About the Region
The Greater Wilmington & the Brandywine Valley region is in the heart of the Mid-Atlantic and less than a two-hour drive from both New York City and Washington D.C. Steeped in American history and the legacy of the famed du Pont family, Greater Wilmington is a destination marked by sharp contrasts – town and garden, past and present, historic and hip. From renowned gardens, world-class museums, colonial towns, outdoor adventure, festivals and an ever-growing craft beer and restaurant scene, each experience is more vibrant, more unique and more authentic than the last. Learn more at VisitWilmingtonDE.com