FIRST LUXURY LIVING EXPERIENCE OPENS IN THE CENTURY-OLD DUPONT BUILDING
June 3, 2021
The Buccini/Pollin Group celebrates the Grand Opening of 101 dupont place.
 WILMINGTON, DE – June 2, 2021 –Wilmington-based developer, The Buccini/Pollin Group, Inc . (BPG), BPGS Construction , and ResideBPG are proud to celebrate the grand opening of 101 dupont place [lowercase]. Located at 101 W 10th Street, 101 dupont place brings the first luxury living experience to the iconic DuPont Building in Downtown Wilmington with 198 apartment homes spanning all 13 floors.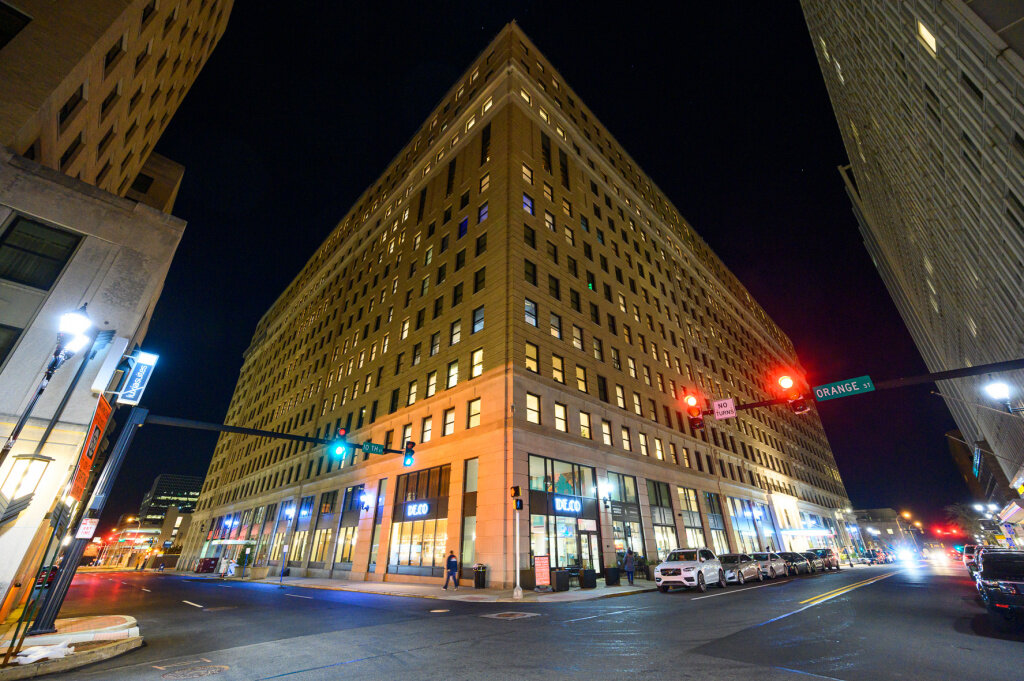 Photo By: Moonloop Photography
Governor John Carney, City of Wilmington Mayor Mike Purzycki, and 4th District Council Member Michelle Harlee joined BPG executives Rob Buccini, Co-President and Co-Founder, and Mike Hare, Executive Vice President of Development, to celebrate the grand opening of 101 dupont place on Wednesday, June 2nd, at 4:00 PM. Following the ribbon cutting ceremony, guests enjoyed a grand opening party featuring tours of the impressive community, an array of offerings from neighboring business DECO Food Hall, craft beverages from Makers Alley, and a wine tasting orchestrated by Girard Craft & Cork and Ouro Wine Selections.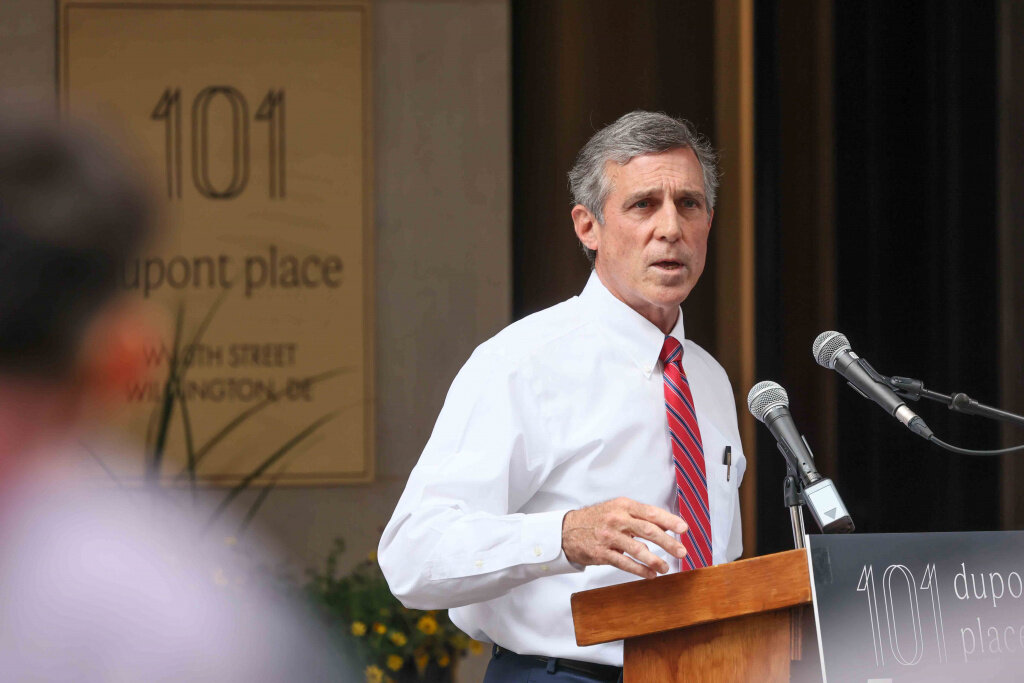 Governor Carney gives remarks prior a ribbon cutting ceremony at 101 dupont place Wednesday. June 2nd, 2021, in Wilmington, DE. Photo By Saquan Stimpson
Governor Carney gives remarks prior a ribbon cutting ceremony at 101 dupont place Wednesday. June 2nd, 2021, in Wilmington, DE. Photo By Saquan Stimpson
101 dupont place offers studio, one, two, and three bedroom apartment homes with state-of-the-art features that embrace sophistication and style, including smudge-free stainless-steel appliances available in traditional or matte black, wifi-enabled smart thermostats, backlit vanity mirrors, and Latch Keyless Access. Amenities at 101 dupont place encourage residents to make the most of everyday living, like a rooftop deck that is ideal for entertaining with a BBQ grill and fireplace, coworking space perfect for working from home, and fitness center with Peleton equipment essential for staying active. The community also features a resident lounge in the historically-preserved DuPont Company boardroom, a movie theater room, and a pet washing station.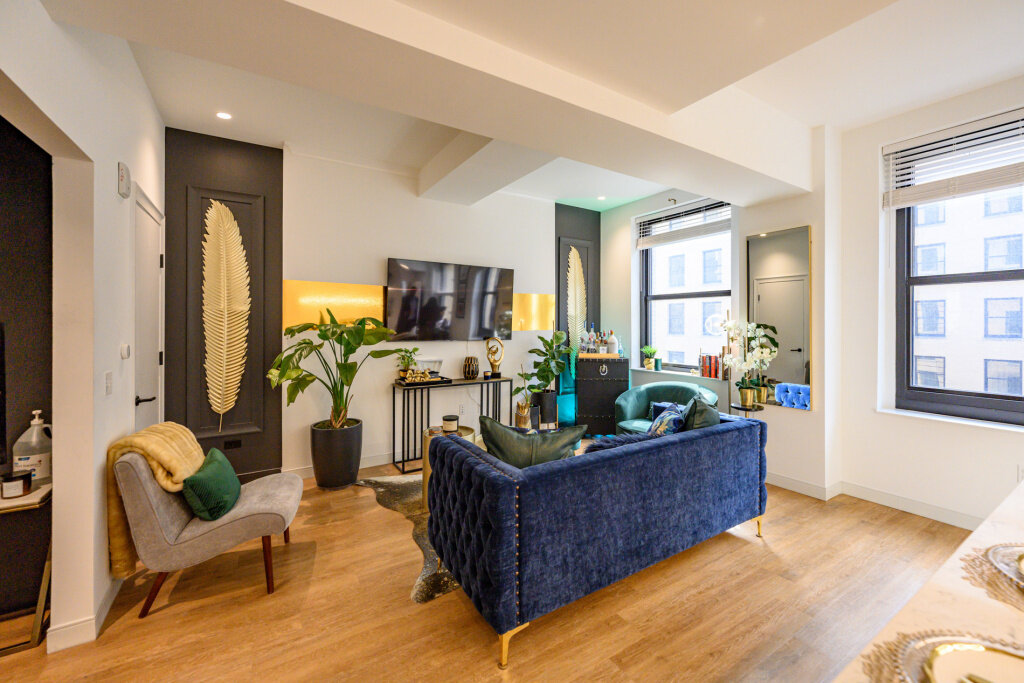 Photo By: Moonloop Photography
The grand opening of 101 dupont place signifies a turning point for this storied building. For over a century, the DuPont Building has stood as a symbol of prosperity in the heart of Downtown Wilmington. It's an iconic landmark where visitors and locals alike have celebrated momentous occasions. The addition of this brand-new apartment community creates the first luxury living experience within the DuPont Building. For the first time in its 113-year history, residents are invited to make history of their own and call the DuPont Building home, ensuring the lasting legacy of this property for generations to come.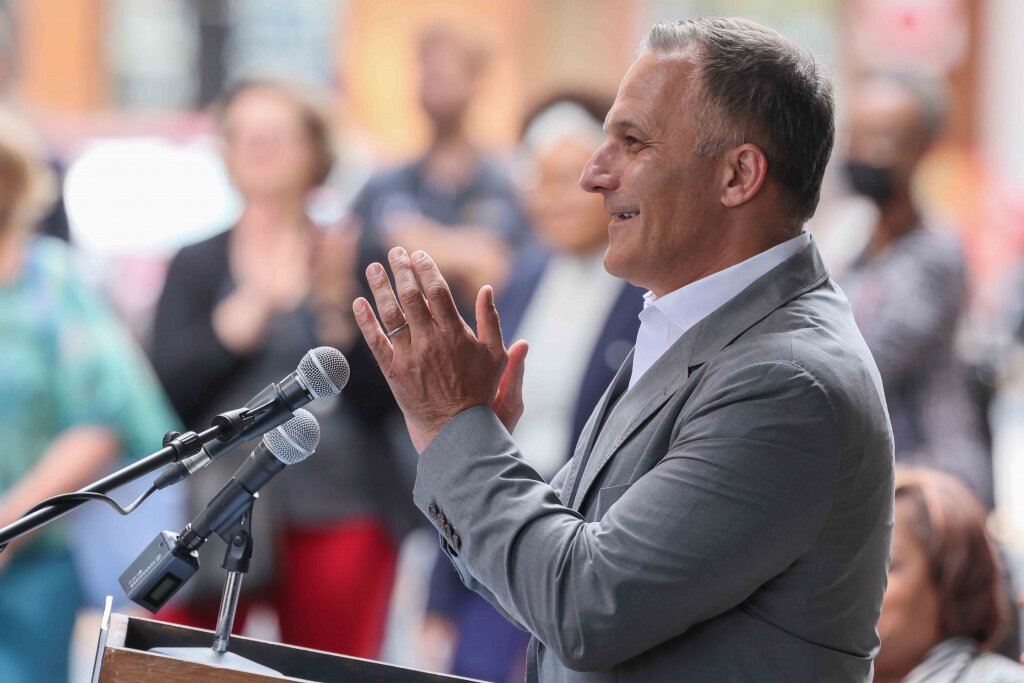 Rob Buccini of Pollin Group gives remarks prior a ribbon cutting ceremony at 101 dupont place Wednesday. June 2nd, 2021, in Wilmington, DE. Photo By Saquan Stimpson
"Wilmington is the heart and soul of our business, and the DuPont Building is the metaphorical heart of Downtown Wilmington. It makes sense that we seized the opportunity to purchase this iconic building," said Rob Buccini, Co-Founder of The Buccini/Pollin Group. "There is no better way for us to honor the rich mixed-use history of this space than to reimagine the building as a modern version of what it has always been: a lifestyle center for the City of Wilmington and the surrounding Mid-Atlantic region."
"For the first time in history, people are now calling the DuPont Building home, and we couldn't be prouder to make that happen for our community," continued Buccini. "Thank you to our incredible partners who helped turn our vision into a reality, including PNC Bank, Delaware State Housing Authority, Delaware State Historic Preservation Office, National Park Service, MSR Architects, BPGS Construction, and ResideBPG."
Buccini/Pollin acquired the property in 2017 and has spent the last 4 years enhancing the building to once again become a hub in Wilmington. The renovations span from the ground floor to the 13th floor and bring new life into this historic space. Including 101 dupont place, the renovations to the DuPont Building totaled over $60 Million in 2020 alone. The iconic restaurant inside the HOTEL DU PONT was historically renovated to introduce the progressive French brasserie Le Cavalier at The Green Room. Currie Hair Skin & Nails opened its flagship location in the building, elevating the guest experience through salon and spa offerings. Not to be overlooked, the HOTEL DU PONT refreshed the carpeting and wall coverings throughout guest hallways; and underutilized space on the ground floor of the Dupont Building was converted to amenity space and common area for all tenants to utilize. Behind the scenes, a $4 million project was completed to update the infrastructure of the building to separate utilities for each of the tenants, and a security command center was built to monitor the entire building. In addition, prior to this year, BPG completed an $80 million office renovation in the DuPont Building to make way for Chemours Company and added DECO, an 8-stall food hall.
"This investment in the City of Wilmington will help attract businesses by providing additional options for employees to live downtown," said Governor John Carney. "These new apartments provide modern living in a historic building—a unique experience for current and future Wilmingtonians."
From 101 dupont place to Le Cavalier at The Green Room, DE.CO Food Hall to Currie Salon & Spa, The Playhouse on Rodney Square to Hotel Dupont, Chemours Worldwide Headquarters to M&T Bank, the DuPont Building is so much more than the original DuPont offices. It has once again become the "City Within Four Walls", as previously described in an issue of the DuPont Company magazine.
To date, BPG has brought over 1,900 units to the residential market in Wilmington and has another 500 units under development or construction, including Crosby Hill, which we announced last month at 517 Shipley Street and The Cooper, which we celebrated the Grand Opening of last week at 210 N Market Street. Despite the pandemic, BPG's residential portfolio is stabilized above 98% occupancy across the board, reinforcing the company's unwavering confidence in the Wilmington residential market.
For a limited time, 101 dupont place is offering one month rent free. For apartment availability, please visit 101dupontplace.com 
About The Buccini/Pollin Group
The Buccini/Pollin Group, Inc. (Buccini/Pollin) is a privately held, integrated real estate acquisition, development and management company co-headquartered in Wilmington, Delaware and Chevy Chase, Maryland. For over 25 years, Buccini/Pollin has developed and acquired hotel, office, residential, retail, and parking properties throughout the United States.
Buccini/Pollin has acquired, developed and owns real estate assets having a value in excess of $5.0 billion, including over 40 hotels, 7 million square feet of office and retail space, 15 major residential communities, and multiple entertainment venues, including Subaru Park Stadium, home of the Philadelphia Union Major League Soccer team and the Chase Fieldhouse, home of the 76ers G-League affiliate the Delaware Blue Coats. Buccini/Pollin has third-party experience in multiple markets with adaptive re-use and mixed-use development, most recently, the 28-acre Lower Hill redevelopment in Pittsburgh, Pennsylvania.
The principals of Buccini/Pollin, along with PM Hotel Group (hotel operating company), BPG | 360 (office property management and leasing), ResideBPG (residential property management and leasing), BPGS Construction, LLC (construction management), and BPG | Sports (sports management) oversee all aspects of project acquisition, finance, development, construction, leasing, operations, and disposition for its portfolio properties. The Buccini/Pollin Group has over 3,500 employees in 12 states. For more information, please visit www.bpgroup.net