Reach for the Stars Summer Camp
May 6, 2021
NEW COLLABORATION COMBINES ACADEMICS AND MUSIC TO PROVIDE STUDENTS WITH UNFORGETTABLE SUMMER EXPERIENCE
Serviam Girls Academy and The Choir School of Delaware Present Five-Week Summer Camp Rich in Academic Support, Summer Fun, and a Musical Production: "Sister Act" the Musical! Serviam Girls Academy and The Choir School of Delaware offer a robust summer program to combat learning loss as a result of the pandemic and socioeconomic disparities in Wilmington, DE. Summer options often mean deep inequality in the daily experiences of higher‐ and lower‐income youth. 
Youth access to enrichment activities outside of the classroom is highly dependent upon family income:
research shows that by age 12, higher-income students have received 6,000 more hours of out-of-school enrichment than their low-income counterparts. Serviam Girls Academy and The Choir School of Delaware seek to close the opportunity gap by providing affordable summer programming to any student in the Greater Wilmington area, regardless of income.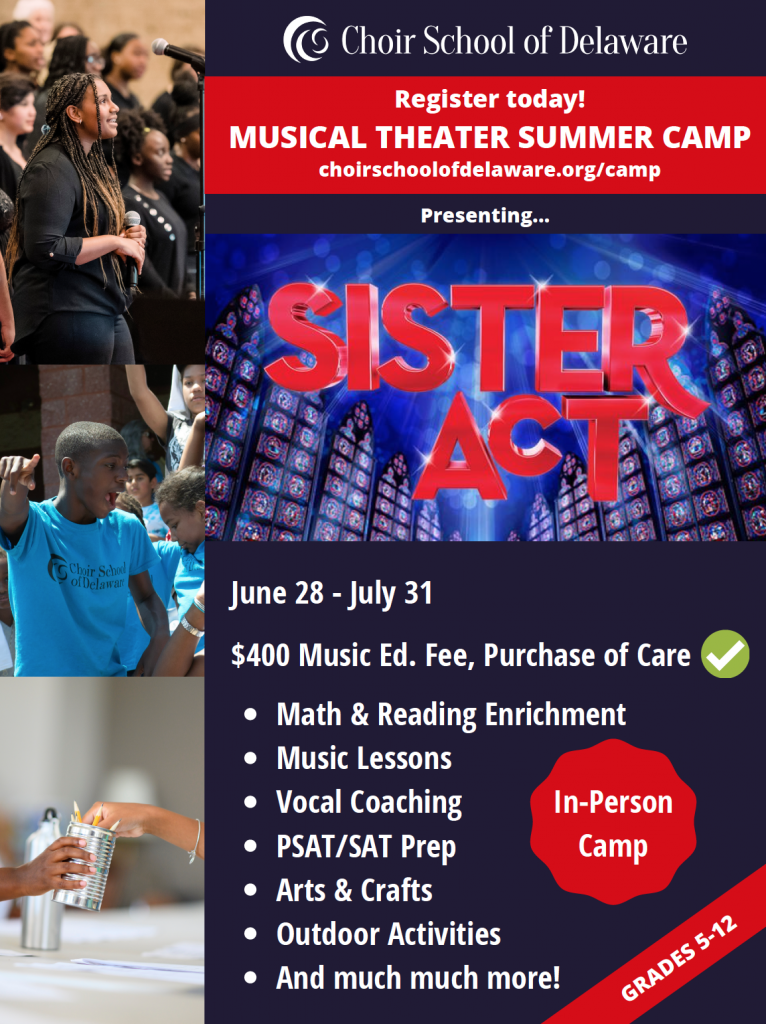 Serviam Girls Academy and The Choir School of Delaware will co-host an in-person summer camp experience June 28-July 31 for students entering grades 5-12. Programming includes:
● Academic enrichment provided by Serviam Academy
● PSAT and SAT Prep facilitated by Back to Basics Learning Dynamics, Inc.
● Superior choral and musical theater training provided by the Choir School of Delaware
● Field trips, swimming, arts & crafts, games, and activities
When students are with Serivam and the Choir School this summer, they will be educated, engaged, inspired, and safe. Both organizations take commitment to family seriously and have done the planning and preparation necessary to ensure a well-rounded camp experience that you expect and that students deserve at an affordable price.
In addition to great academic programming this summer, the Choir School of Delaware will be putting on their first-ever camp musical, Sister Act. Students will have the opportunity to work with the region's most accomplished musicians, theater directors, and choreographers while putting together this production. Informal auditions are required.
Due to the pandemic and social distancing precautions, space is limited. Purchase of Care is also accepted for eligible families. Serviam Girls Academy and The Choir School of Delaware will work with families that demonstrate financial need and we will not allow financial barriers to exclude students from this opportunity for growth and development.
Sister Act Camp Details
DATES & TIMES: Mon, Jun 28 – Sat, Jul 31
PERFORMANCE DATES: Thur Jul 29, Fri July 30, and Sat Jul 31
REGISTRATION. Sign up at https://choirschoolofdelaware.org/camp
About Serviam Girls Academy
Serviam Girls Academy's roots date back to 1971 and the all-boys, Jesuit middle school, Nativity Mission, founded on the lower east side of Manhattan. The inspiration for the NativityMiguel Network of schools, Nativity Mission offered its students a uniquely structured program which included: small class sizes, allowing for meaningful interactions between students and teachers; and, an extended 10 hour school day and 10 month school year, reducing the students' exposure to the difficulties and temptations of inner city life. 
Today, there are over 50 NativityMiguel schools across the United States and Canada, each with the mission of providing a quality, faith-based education to low-income students in order to prepare them for admission into competitive high schools and ultimately, to college. Serviam Girls Academy is one of those schools. Having opened its doors in 2008 to a group of pioneering 5th and 6th grade students, Serviam is proudly educating 60-65 girls in grades 5 through 8, and supporting 88 alumnae.
Serviam Girls Academy is also rooted in the rich tradition of Ursuline education. Inspired by the vision of St. Angela Merici and the traditions of the Ursuline Order, the Ursuline heritage emphasized the education of women and girls for close to 475 years and has spread to six continents. St. Angela lived a life of prayer and love of neighbor, dedicating herself to both, especially to the education of girls. Following her lead, Ursuline sisters throughout the world continue to empower others through education and service. https://serviamgirlsacademy.org/
About The Choir School of Delaware
The Choir School of Delaware combines a rich program of professional-level choral training and performance with homework help, academic tutoring, and one-on-one adult mentoring. Children from all backgrounds are given skills and gain confidence, as well as competence, to achieve their potential as they prepare for life after high school. 
The Choir School of Delaware provides a lifeline for Wilmington students and their families. More than just a choir, the Choir School serves as a "community center that sings. We create a more equitable Wilmington by providing year-round academic support, opportunities for personal development, superior music education, and access to community resources. CSD's programming addresses the systemic, root causes of generational poverty and socioeconomic disparities.
"Since becoming an after-school program nearly three decades ago, Choir School students have earned a 100% high school graduation rate, with all going on to higher education or the services," said Peter D. Gordon, President, Board of Directors. www.choirschoolofdelaware.org