DELAWARE BLUE COATS TO PLAY FIRST-EVER PLAYOFF GAME ON MONDAY AT 8:15 P.M. ET AGAINST AUSTIN SPURS
March 7, 2021
BLUE COATS TOOK ONLY MEETING BETWEEN THE TWO TEAMS ON FEB. 21 GAME WILL AIR NATIONALLY ON ESPNews
ORLANDO — MAR. 6, 2021 — The Delaware Blue Coats (10-5), the NBA G League affiliate of the Philadelphia 76ers, will play the first playoff game in franchise history on Monday at 8:15 p.m. ET against the Austin Spurs (10-5). Delaware is the No. 4 seed in the NBA G League playoffs, while Austin is the No. 5 seed. It is a single-elimination format.
On Feb. 21, the Blue Coats defeated the Spurs, 122-107, in the only regular season meeting between the two teams. Seven Blue Coats reached double figures scoring, as the team tied the franchise record for consecutive wins with its seventh straight victory.
76ers two-way contract player Paul Reed delivered his seventh straight double-double to begin the season with 15 points (7-14 FG), a game-high 14 rebounds (six offensive) and a pair of steals in 31 minutes of action. Fellow 76ers two-way contract player Rayjon Tucker posted 23 points (7-13 FG, 5-6 FT), five rebounds and a game-high three steals in a game-high 35 minutes.
Delaware's Michael Frazier II came off the bench to net a season-high 24 points (9-18 FG, 3-8 3FG, 2-2 FT) along with five rebounds, one steal and two blocks. Frazier II posted a game-high plus-17 rating in 28 minutes of play. Justin Robinson notched his first double-double of the campaign with a season-high 19 points (7-14 FG, 3-8 3FG, 1-1 FT) and a career-high 13 assists for the Blue Coats.
Monday night's game can be seen nationally on ESPNews and heard on Rowan Radio 89.7 WGLS-FM.
On Saturday afternoon, the Blue Coats fell to the Memphis Hustle, 106-95, at the ESPN Wide World of Sports Complex near Orlando, Florida to conclude their regular season. Paul Reed posted his league-leading 12th double-double of the season with a game-high 27 points and season-high-tying 16 rebounds. Reed added a rookie career-high six assists, three steals and two blocks. 76ers assignment player Isaiah Joe scored 12 points, including a pair of three-pointers for the Blue Coats.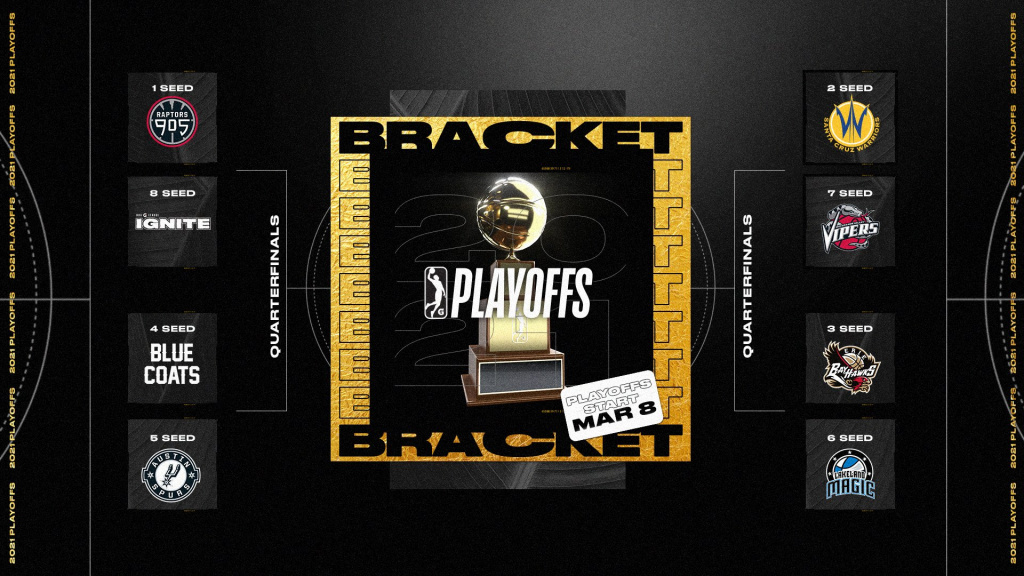 NBA G league playoff brackets

ABOUT THE DELAWARE BLUE COATS:
The Delaware Blue Coats are the official NBA G League affiliate of the Philadelphia 76ers. The team plays its home games at the all-new Chase Fieldhouse in Wilmington, Delaware. For ticket information, visit SIXERS.COM/BLUECOATS [bluecoats.gleague.nba.com]. The Delaware Blue Coats organization is a Harris Blitzer Sports & Entertainment property.