Coons visits USPS distribution center discovers discarded letter-handling machinery removed during late-night shenanigans
August 20, 2020
Postal Service employees alert senator to overnight dismantling operation, removal of mail sorting equipment at New Castle USPS Mail Processing and Distribution Center in Delaware.
NEW CASTLE, Del. – Yesterday, U.S. Sen. Chris Coons (D-Del.), ranking member of the Senate Appropriations Subcommittee on Financial Services and General Government, which has jurisdiction over the U.S. Postal Service, discovered dismantled mail processing machinery during an impromptu visit to the USPS Mail Processing and Distribution Center here.
"Right behind me is a sophisticated barcode sorter; this is the sort of automated mail handling equipment that U.S. Post Master General Louis DeJoy has had removed," Sen. Coons said in a video message [youtu.be] released today. "This was just removed from this facility Sunday night and put outside, so it's been here for days in the rain. I think it's important that the postmaster general has said he is going to put the brakes on any further changes to service delivery standards to the equipment or handling of mail, but this is physical proof that reversing those changes is going to be expensive and difficult because this equipment isn't serviceable again.
So, I'm going to demand in the United States Senate that we get a firm and written commitment from the postmaster general that he will reverse the changes he's made to the delivery standards for our mail. Two-thousand Delawareans have reached out to me to express their concerns about late delivery of medications, late delivery of Social Security checks, and late delivery of mail. The mail isn't a business; it's a treasured service and a critical part of our nation, and with an election coming up soon, this fall, we cannot afford to put at risk the delivery of every mail-in ballot."
The surprise visit by Coons to the New Castle-based facility comes amid allegations that the postmaster general is purposely sabotaging his own agency, causing delays in the delivery of letters and packages throughout the country.
On Sunday, Aug. 16, Coons was alerted by several USPS frontline workers exercising "the right of government employees to petition or furnish information to Congress or a Member." The employees there reported on a late-night operation to dismantle and remove various types of letter-handling machinery [about.usps.com] at Quigley Boulevard. The USPS employees asked Coons to come posthaste to see firsthand the destruction of government property there.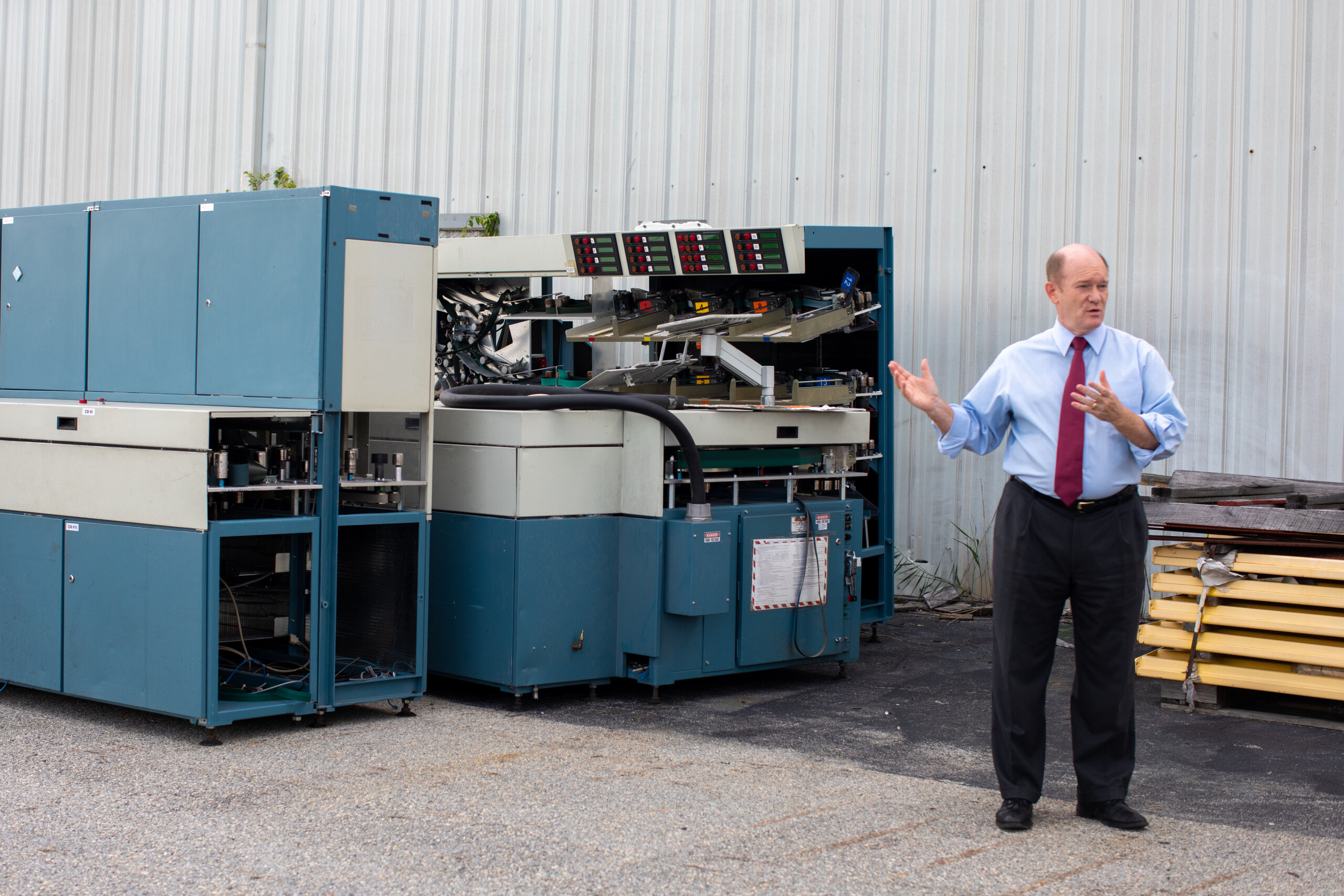 U.S. Sen. Chris Coons (D-Del.) stands by a dismantled barcode mail processing machinery at the USPS Mail Processing and Distribution Center in New Castle, Del., Aug. 19, 2020. Photo by Tacy Cresson/Office of U.S. Sen. Chris Coons)
"We would like to invite you to visit our facility to see for yourself what is happening here in Delaware," said a USPS employee who asked to remain anonymous. "By coming to visit, you will see how the Postal Service is being destroyed from the inside out. The major problem is the amount of working mail processing machines that are being dismantled and set out in the rain as trash."
The employee further wrote that "there have also been delays in the mail since Postmaster General DeJoy has given the order of 'no late trucks.' If the mail is not processed in enough time for dispatch, then the mail is held until the next delivery day. This is causing delays in the mail being delivered to our customers."
On Monday, Aug. 17, Sen. Coons, through members of his staff, contacted leadership with the USPS Southern New Jersey District to alert them about the invite and request a quick tour of the New Castle distribution center. After stating they would check with the district manager, a district liaison said that a next-day visit would not be possible.
"Thank you for sharing the invitation," the liaison's email stated. "Unfortunately, this invitation is outside of the official process. The district would be happy to work with the Senator's office to schedule a visit at a later date. The request will have to go through our official process."
"I am sure your request was shot down because of the amount of mail delayed in the building," texted a postal employee to a member of the senator's staff. "They don't have time to prepare and clean it up with such short notice."
After these emails and text messages, a Senate staffer asked the district liaison – since a full visit wasn't possible – whether it was feasible for the senator "just to quickly peek on the sorting room floor."
"The Senator's office is not on the schedule of visitors today and will be unable to tour the facility," replied the district liaison. "If you provide some dates and times that work for the Senator, I will share with the district leadership and get back to you." The liaison clarified that USPS employees "cannot extend an invitation to the senator's office to visit a postal facility. This has to be arranged by management."
In a message received immediately after the email exchange, a USPS employee told Senate staffers about an abrupt shift in activity at the New Castle location. "Management is attempting to clean up the building," the employee, who spoke on condition of anonymity, wrote. "They have told our maintenance people to rush to remove the remaining machines that they are taking apart. Telling them to tape up the floor where the broken tiles are exposing possible asbestos."
Senator CHRIS COONS (D-Del.) gives remarks during a press conference on the topic of the Postal Service being sabotage Tuesday, Aug 18, 2020, at the Wilmington Post Office at 500 Delaware Ave in Wilmington, DE. The House of Representatives plans to vote later this week on legislation to save the Postal Service from sabotage. Photo By Saquan Stimpson
Later that afternoon, Sen. Chris Coons joined Sen. Tom Carper, Rep. Lisa Blunt Rochester, and Attorney General Kathy Jennings for a nationwide "Day of Action [speaker.gov]," speaking outside of a post office in Wilmington to underscore the Postal Service as an essential service to the people of the United States.
Citing widespread delays in mail deliveries, President Trump's intent to use the Postal Service to suppress the vote, and reports of deliberate disruptions in daily postal operations amid a global pandemic, Jennings announced that Delaware and other states are suing [news.delaware.gov] the Postal Service to stop their practices.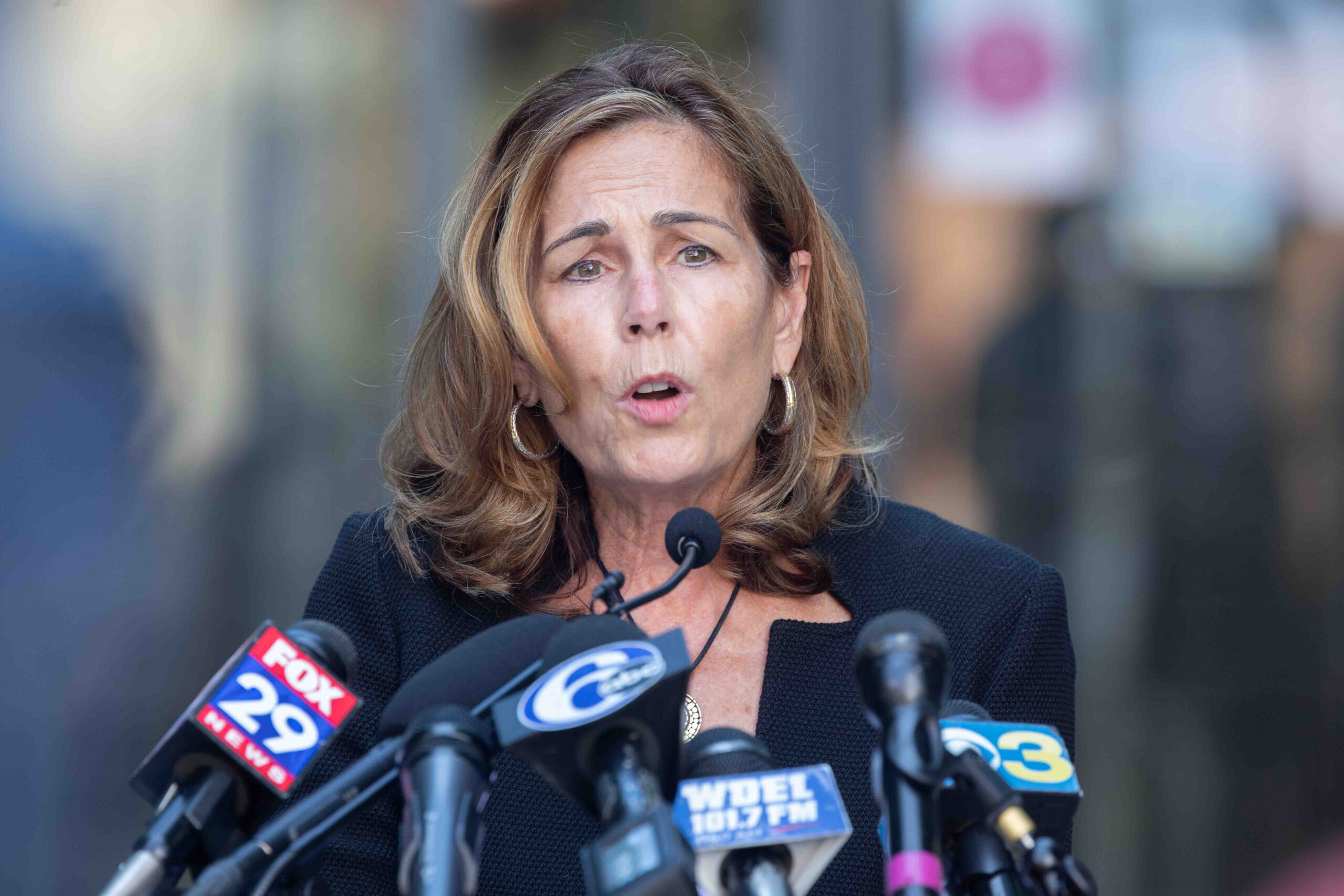 Delaware Attorney General KATHY JENNINGS gives remarks during a press conference on the topic of the Postal Service being sabotage Tuesday, Aug 18, 2020, at the Wilmington Post Office at 500 Delaware Ave in Wilmington, DE. Photo By Saquan Stimpson
During the press event, Blunt Rochester reported that the House of Representatives would return to Washington to vote on Oversight and Reform Committee Chairwoman Maloney's Delivering for America Act, which would prohibit USPS from implementing any changes to operations or level of service it had in place on Jan. 1, 2020.
All of these events came after Coons and Carper requested [coons.senate.gov] that USPS fix delays and avoid cost increases for election mail. The Senators joined another letter [hsgac.senate.gov] that broadens the call for oversight on the issue of interruptions amid changes made by the recently appointed postmaster general.