CAMILLE DECKER TO REPRESENT DELAWARE IN 2020 POETRY OUT LOUD NATIONAL FINALS
February 26, 2020
Sanford School senior to advance to National Finals in Washington, DC
 Smyrna, Del. (February 26, 2020) – From a field of 15 Delaware high school students, Camille Decker, a senior from Sanford School, earned the title of 2020 Poetry Out Loud Delaware State Champion at the state finals held in Smyrna, Del. on Feb. 25. The first runner-up was senior Sarah Zhu, from Wilmington Christian School and the second runner-up was Daniel Patrick Johnson, a senior from Mount Sophia Academy.
Decker's dynamic performances of "Double Dutch" by Gregory Pardlo and "Mingus at the Showplace" by William Matthews earned her a spot in the third and final round of six contestants where she recited William Blake's "The Chimney Sweeper." Her sense of humor, range of tone and confident style came through in the poem by Matthews, which can be found at the Poetry Foundation's website.
For her winning presentation, Decker will receive $200 and an all-expense-paid trip to Washington with a chaperone to compete at the National Semifinals which will be held at Lisner Auditorium on Tuesday, April 28. The National Finals will be held at the Terrace Theater at the John F. Kennedy Center for the Performing Arts on Wednesday, April 29 at 7 pm. Sanford School will receive a $500 stipend for the purchase of poetry materials. Sarah Zhu, the first runner-up will receive $100, and Wilmington Christian School will receive $200 for its school library.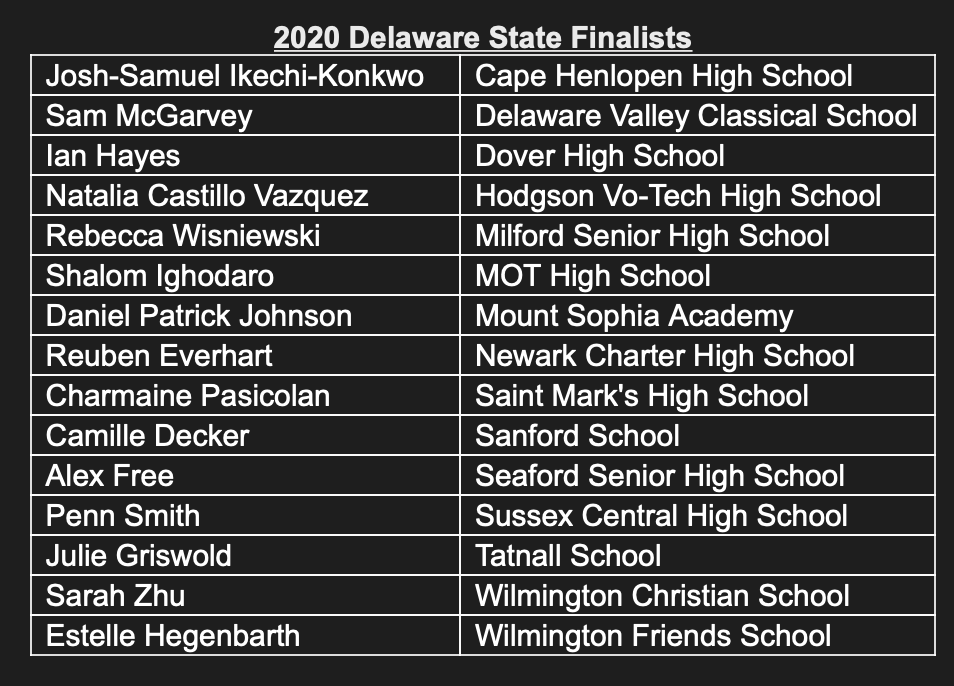 The Poetry Out Loud state competition, sponsored by the Delaware Division of the Arts in partnership with the National Endowment for the Arts and the Poetry Foundation, is part of a national program that encourages high school students to learn about great poetry through memorization, performance, and competition.