MARIAL SHAYOK NAMED TO EASTERN CONFERENCE MIDSEASON ALL-NBA G LEAGUE TEAM
February 10, 2020
PHILADELPHIA 76ERS TWO-WAY CONTRACT PLAYER RANKS THIRD IN G LEAGUE IN SCORING WITH 23.3 POINTS PER GAME FOR BLUE COATS
WILMINGTON – FEB. 10, 2020 – The NBA G League announced today that Philadelphia 76ers two-way contract player Marial Shayok has been named to the Eastern Conference Midseason All-NBA G League Team. The rookie was one of 12 Eastern Conference players selected by NBA G League coaches and general managers.
In 25 games played with the Delaware Blue Coats, Shayok holds averages of 23.3 points, 5.4 rebounds and 3.3 assists in 29.4 minutes per game. The Ottawa native currently ranks third in the G League in scoring average, while shooting .459 from the field, .364 from beyond the arc and .855 from the free-throw line. Shayok's 224 field goals made are the sixth-most in the G League this season. His .855 free-throw percentage puts him in a tie for 10th in the league and matches the fourth-best mark among players with at least 50 free throws attempted.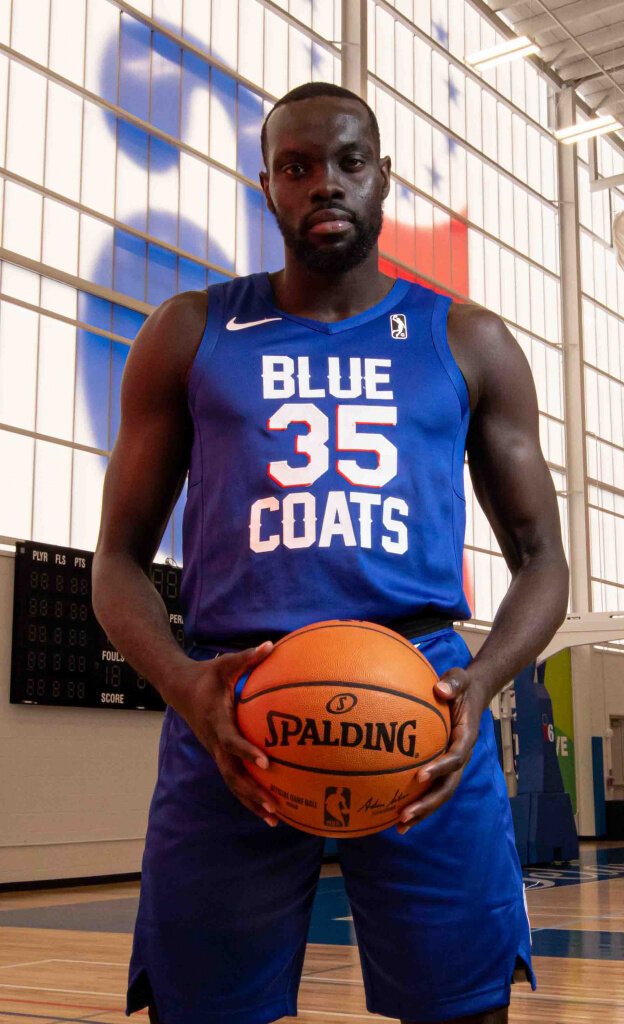 Delaware Bluecoats Guard MARIAL SHAYOK (35) pose for a photo during Bluecoats media day activities Wednesday, Nov. 06, 2019, at the 76ers Fieldhouse in Wilmington, DE. Photo By Saquan Stimpson
On Nov. 18, it was announced that Shayok earned NBA G League Player of the Week honors for games played between Friday, Nov. 8 and Sunday, Nov. 17. It was the first Player of the Week honor of the 2019-20 G League season. For the week, Shayok averaged 35.0 points, 9.3 rebounds, and 3.7 assists in 32.7 minutes per game, including a 42-point performance against the Greensboro Swarm on Nov. 11.
Shayok recently scored the first points of his NBA career on a three-point field goal for the 76ers last Thursday night in Milwaukee.
ABOUT THE DELAWARE BLUE COATS:
The Delaware Blue Coats are the official NBA G League affiliate of the Philadelphia 76ers. The Blue Coats are named for the legendary 1st Delaware Regiment, which was known for its signature blue combat uniforms and courageous participation in the American Revolution of 1776. The team plays its home games at the all-new 76ers Fieldhouse in Wilmington, Delaware. For ticket information, visit SIXERS.COM/BlueCoats. The Delaware Blue Coats organization is a Harris Blitzer Sports & Entertainment property.
ABOUT THE NBA G LEAGUE:
The NBA's official minor league, the NBA G League prepares players, coaches, officials, trainers and front-office staff for the NBA while acting as the league's research and development laboratory. Featuring 28 teams with direct affiliations with NBA franchises for the 2019-20 season, the league offers elite professional basketball at an affordable price in a fun, family-friendly atmosphere. Fifty-two percent of all NBA players at the end of the 2018-19 season boasted NBA G League experience. In fostering the league's connection to the community, its teams, players and staff promote health and wellness, support local needs and interests, and assist in educational development through NBA Cares programs.