SIXERS RECAP: 76ERS 120 DEFEATED OKLAHOMA CITY THUNDER 113
January 7, 2020
The Philadelphia 76ers defeated the Oklahoma City Thunder, 120-113, at The Center on Monday night. The win snapped a 10-game home losing streak to the Thunder, dating back to Nov. 15, 2008.
Philadelphia is now 17-2 at The Center this season, the third-best home record in the NBA, behind only Miami (18-1) and Milwaukee (18-2), per NBA.com/stats.
The 76ers shot .511 (46-90) from the field and an even .500 (13-26) from beyond the three-point line. This is the 13th time this season Philadelphia has shot 50-percent-or-better from the field. They post an 11-2 record in such games (Basketball-Reference).
It is the fourth time this season the 76ers have shot 50-percent-or-better from three-point land and they post a 3-1 record when doing so. Combined, it is just the second time this season that the 76ers have shot 50-percent-or-better from both the field and beyond the arc. The previous time was a Dec. 12 win at Boston (Basketball-Reference).
Philadelphia handed out 31 assists against the Thunder. It is the 10th time this season they have dished 30-or-more dimes and the team posts a 9-1 record in such games. The 76ers join Memphis and Phoenix as the only three NBA teams to have 10-or-more games with at least 30 assists (Basketball-Reference).
Philadelphia, Memphis, and Phoenix are also the only three teams with 1,000-plus assists this season; the 76ers are third in the league with 1,014 (NBA.com/stats).
The 76ers turned the ball over just 10 times compared to the team's 31 assists. It was the fourth time this season that Philadelphia posted 10-or-fewer turnovers, improving to 4-0 when doing so. The 76ers' 1.76 assist-to-turnover ratio for the season ranks fourth in the Eastern Conference and eighth in the NBA (NBA.com/stats).
All five of Philadelphia's starters finished with double-digit points. When this occurs, the team holds a 7-1 record (Basketball-Reference).
JOSH RICHARDSON led the way with a team-high 23 points. It is his seventh 20-point game of the season, which is third on the team behind TOBIAS HARRIS (18) and JOEL EMBIID (22) (Basketball-Reference).
Richardson shot 9-17 (.529) from the field and knocked down two three-pointers. He added four assists and a steal to his stat line. He's now scored 20-plus in two of his last three games.
Embiid and Harris finished the night with 18 points each. They both picked up their 28th game scoring 15-or-more points this season, which is tied for the team lead (Basketball-Reference).
Embiid dished out eight assists, which is a new season-high for the two-time All-Star. This was Embiid's fourth career game with eight-or-more assists (NBA.com/stats).
Harris made a team-high four three-pointers, finished 7-11 (.636) shooting from the field and grabbed six rebounds.
BEN SIMMONS scored 17 points, handed out eight assists and collected a season-high 15 rebounds. Eight of his 15 rebounds came in the first half, which matches his season-high, which he did last game at Houston on Jan. 3.
Simmons picked up his 19th double-double of the season, which places him tied for 11th in the NBA. The 76ers and the L.A. Lakers are the only teams in the NBA that have two players with at least 19 double-doubles this season (NBA.com/stats).
Simmons also snagged a steal on the night, bringing his total to a league-leading 78 (NBA.com/stats).
Off the bench, TREY BURKE led the 76ers' reserves with 12 points on 5-7 (.714) shooting in 16 minutes of action. He has now scored double figures in three of the last four games (Basketball-Reference).
The Thunder were led by STEVEN ADAMS, who scored a season-high 24 points and collected a game-high-tying 15 rebounds. He collected his 14th double-double of the season, which leads the team (NBA.com/stats). DENNIS SCHRÖDER scored 21 points coming off the bench, shooting 8-15 (.533) from the floor.
POSTGAME QUOTES
PHILADELPHIA 76ERS HEAD COACH BRETT BROWN
 On whether he was happy with the amount of three-point attempts the team had…
I stand by what I said. I felt like we could have shot more…I thought that we shot the shots that we should have shot, and I thought that we could have shot more. We made a decent percentage.
On Trey Burke settling into the rotation…
He sure came in and helped us a lot. When we get into early foul trouble [Ben Simmons and Tobias Harris]…my point is, all of a sudden, we needed to reorder the deck. We have Trey there. He can play the one and he can play the two. He really has emerged to be something a little bit different on our team. He has made a significant impact offensively during that spell that I'm talking about.
On what he saw from Joel Embiid…
I haven't spoken to doctors and I haven't spoken to Joel, but originally as the game is playing out, it looked like he hurt his hand…For him to go back in to then come back out and play, I was shocked that he was able to come back out and play. As far as what it means going forward, I don't know that. What I do know is that that is a tough return to the court. That is a competitive statement and I appreciate him. I respect that and we needed to play well here at home. We haven't been on the right side of the win-loss column lately and I respect his motives to come back.
On whether he was more impressed with Josh Richardson's offense or his defense…
I like him coming out aggressive. We need him to find the rim. We need him to be amongst this notion, my desire to shoot more threes…I like Josh. He came out in attack mode and he looked to rise up. On the other side of the ball, I thought that he was really harassing. He was able to navigate stuff…I thought he played hard and was able to not whack them and send them to the line. He was really good tonight.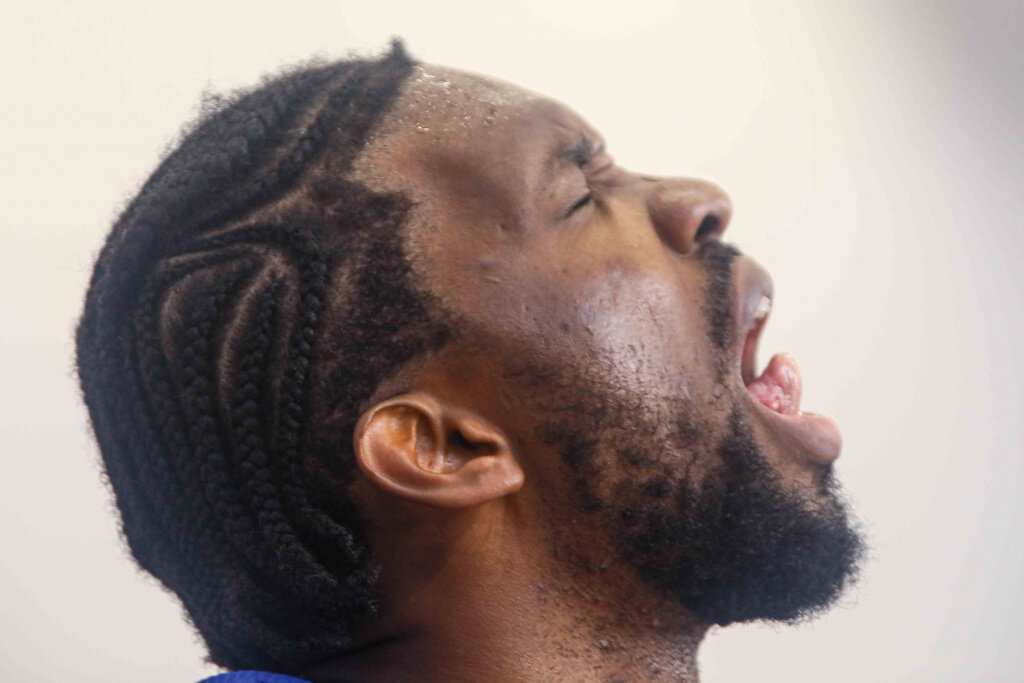 Philadelphia 76ers Forward JOEL EMBIID (21) reaction after contact during the 76ers annual Blue and White scrimmage game Saturday, Oct. 05, 2019, at the 76ers Fieldhouse in Wilmington, DE. Photo By: Saquan Stimpson
PHILADELPHIA 76ERS JOEL EMBIID
On the play where he injured his hand…
I think it happened a couple plays early. I felt my finger-snapping and I thought I fractured it. I went into the locker room and they took some x-rays and said that it was nothing. I just came back and it just happened. It was just unfortunate.
On how much pain he was in…
It was pretty bad. I was basically playing with one hand. In the midst of the losing streak, I just wanted to make sure that I did everything possible to help get us the win. I'm glad that we were able to get the win.
On how important it was for him to come back into the game…
I really wanted to win this game. Consequences, we will see later, but as the leader, I wanted to go out and show my teammates that if you want to win, you have to go out there and do everything possible.
On what side of the ball the injury impacted most…
I would say that mostly offense and rebounding. I couldn't go up with two hands…There were a couple of times that I could have gone up with both hands, but I just couldn't, and I just kept on tapping it. Offensively, not being able to put a hand on the ball or dribble with the left hand, or anything with it, but I'm glad we got the win.
NEXT UP: The 76ers welcome the Boston Celtics to The Center on Thursday, Jan. 9. It will be the third of four matchups between the two teams, with the 76ers winning both previous games. The Celtics are led by KEMBA WALKER, who is averaging a team-high 22.5 points per game and also leads the team with 5.2 assists per contest. Boston played the Washington Wizards tonight and lost, moving to a 25-9 record. Their leading scorer was JAYLEN BROWN, who dropped 23 points and had a game-high 12 rebounds. Tip-off is set for 7:00 p.m. ET and the game can be seen on TNT and NBC Sports Philadelphia and heard on 97.5 The Fanatic.
Source: Philadelphia 76ers