BLUECOATS POST TEAM'S HIGHEST 76ERS FIELDHOUSE-SCORING TOTAL WITH 141 POINTS IN WIN OVER GREENSBORO
November 12, 2019
WILMINGTON – NOV. 11, 2019 – The Delaware Blue Coats (1-1), the NBA G League affiliate of the Philadelphia 76ers, posted the team's highest point total ever at 76ers Fieldhouse in a 141-135 victory over the Greensboro Swarm (1-1) on Monday night. The team previously scored 140 points in a victory over Fort Wayne on Feb. 20, 2019. 76ers two-way contract player Marial Shayok totaled 20-or-more points in both halves of Monday's game, finishing with 42 points (14-27 fg, 3-9 3fg, 9-9 ft), nine rebounds and three assists in 34 minutes, as the Blue Coats picked up their first win of the 2019-20 season.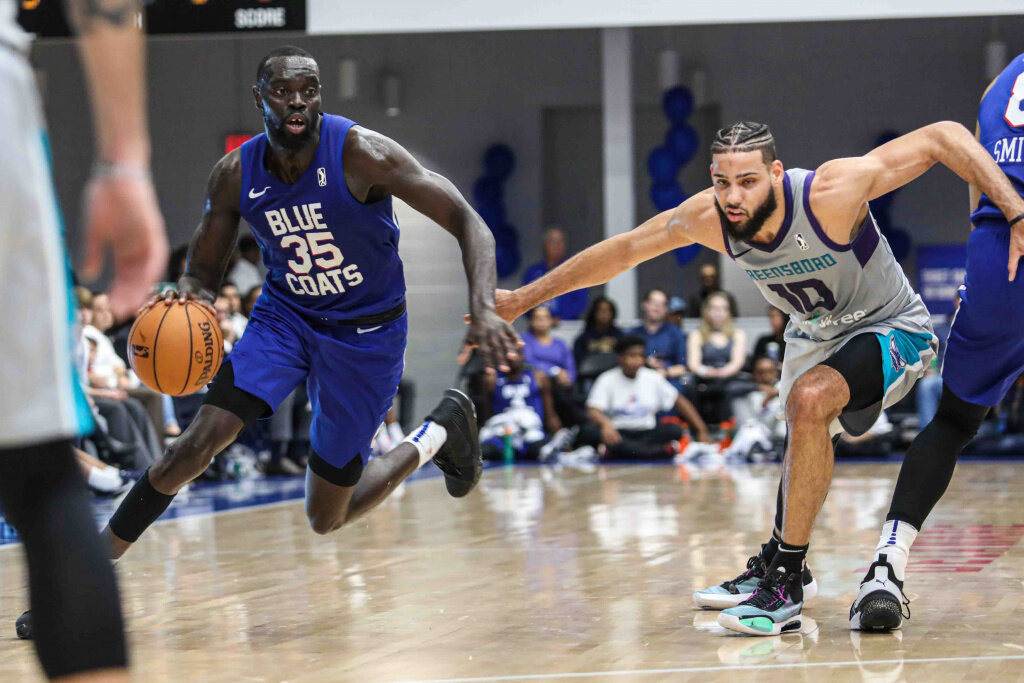 Delaware Bluecoats Guard MARIAL SHAYOK (35) drives to the paint as Greensboro Swarm Forward CALEB MARTIN (10) "on NBA Assignment" defends in the first half of a NBA G-League regular season basketball game between the the Delaware Bluecoats and Greensboro Swarm Monday, Nov. 11, 2019, at the 76ers Fieldhouse in Wilmington, DE Photo By Saquan Stimpson
Shayok has now scored 76 points through Delaware's first two games of the season. Xavier Munford was a game-high plus-16 in tallying 36 points (9-18 fg, 6-10 3fg, 6-7 ft), six rebounds and six assists in 35 minutes for the Blue Coats. Haywood Highsmith (18 points, 10 rebounds) and Christ Koumadje (10 points, 12 rebounds) each registered a double-double, while Julian Washburn added 12 points (5-7 fg, 2-4 3fg) and four rebounds in 25 minutes as a reserve.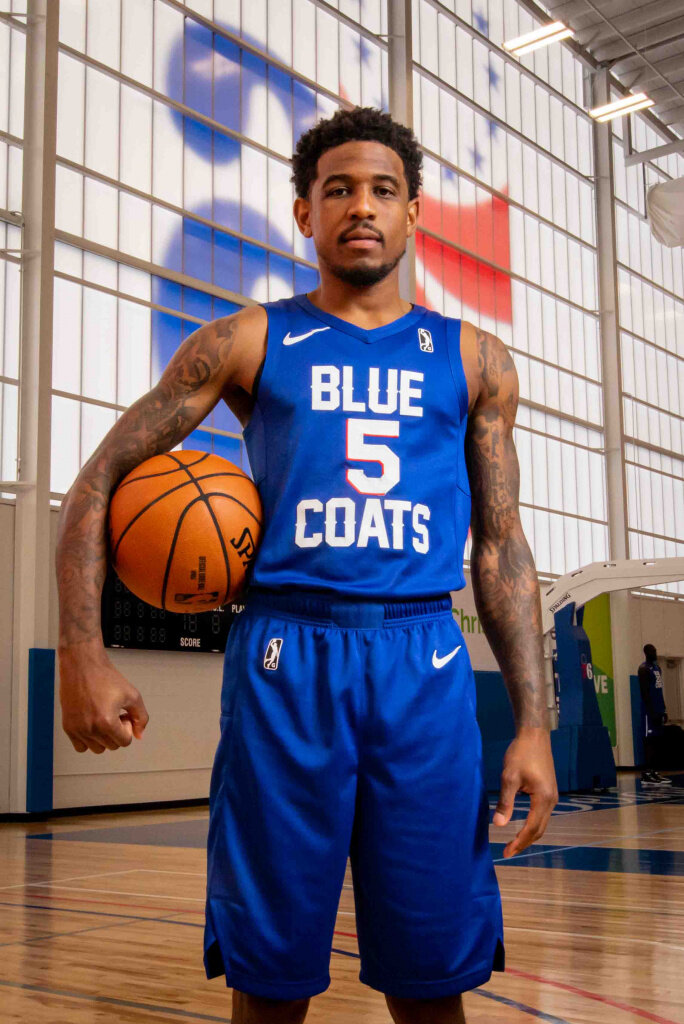 Delaware Bluecoats Guard XAVIER MUNFORD (5) pose for a photo during Bluecoats media day activities Wednesday, Nov. 06, 2019, at the 76ers Fieldhouse in Wilmington, DE Photo By Saquan Stimpson
"We played at a great pace," said Munford. "We kicked the ball ahead and we moved the ball. Our big emphasis coming into the game was more passes per possession, and I feel like we really focused on that tonight."
For Greensboro, both players on assignment from the Charlotte Hornets—Caleb Martin and Jalen McDaniels—scored 30 points in the contest. Martin posted 30 points (10-19 fg, 1-6 3fg, 5-6 ft) with seven rebounds and five assists in 34 minutes, while McDaniels finished with 30 points (9-17 fg, 5-6 3fg, 4-4 ft), eight rebounds and five steals in 31 minutes. All five starters for the Swarm reached double figures scoring, including Hornets two-way contract player Robert Franks, who notched 27 points (10-19 fg, 3-7 3fg, 2-3 ft) and seven rebounds in 35 minutes of action. Fellow two-way contract player Kobi Simmons secured his second-straight double-double with 18 points (7-14 fg, 2-5 3fg, 1-1 ft) and 10 assists in 28 minutes.
The Blue Coats return to action on Friday night when they take on the Long Island Nets on the road at 7:00 p.m.
Source: Delawarecoats #JoinTheRevolution