NCAA FOOTBALL 2019 – SEPT 14 – #1 North Dakota State DEFEATED #18 Delaware 47-22
September 14, 2019
NEWARK, Del. – A strong second half by the University of Delaware football team wasn't enough this week against the #1 ranked North Dakota State Bison, winners of seven of the last eight FCS National Championships. After a fast start, the Bison got it going en route to a 47-22 victory at Delaware Stadium on Saturday afternoon.
The Blue Hens held North Dakota State to a three-and-out to open the game and special teams made an impact early, blocking the Bison punt and having it go through the end zone for a safety. Redshirt sophomore Luke Frederick did the honors to set the tone.
A turnover on the ensuing Delaware possession gave the Bison prime field position to jump out in front and never look back.
Delaware-product redshirt freshman Will Knight was productive on the afternoon, going over the century mark on the ground for the first time in his career with eight carries for 115 yards, including a 59-yard outburst that would eventually set up junior Gene Coleman's first career touchdown reception and redshirt sophomore Nolan Henderson's first career touchdown pass.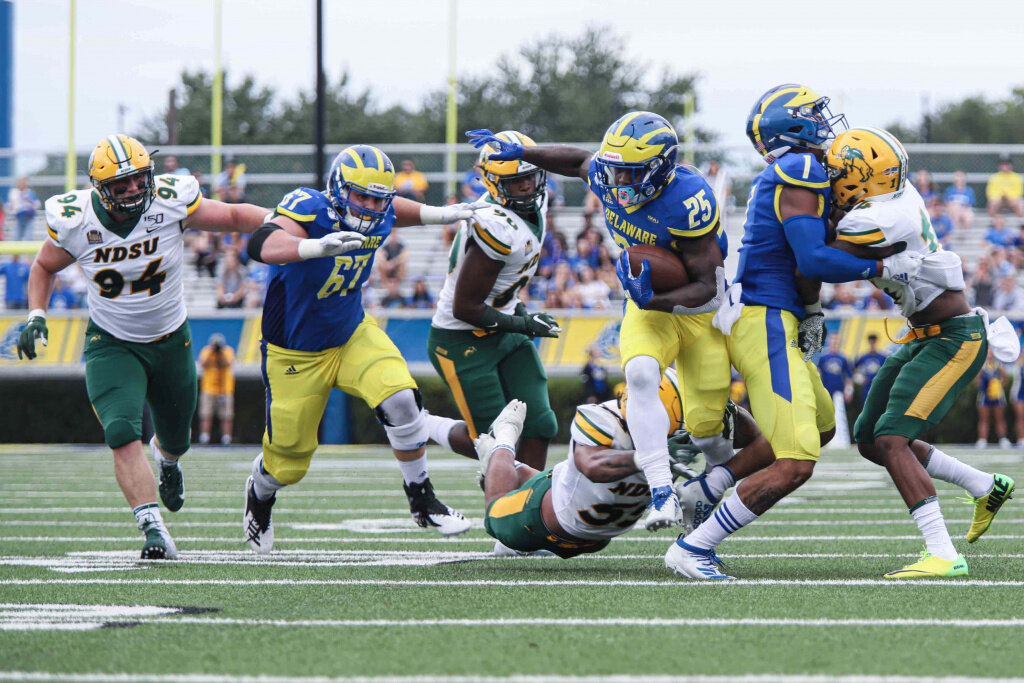 Delaware running back WILL KNIGHT (25) picks up positive yards during a week three game between the Delaware Blue Hens and North Dakota State Bison Saturday, Sept. 14, 2019, at Tubby Raymond Field at Delaware Stadium in Newark, DE. Photo By Saquan Stimpson
The drive was Delaware's best of the day, going 91 yards in eight plays in just under three minutes to start the fourth quarter.
As they have in their first two games, the Blue Hens used both Henderson and redshirt senior Pat Kehoe at quarterback. Henderson took the majority of the second-half snaps and threw for 125 yards and a pair of touchdowns.
After a North Dakota State touchdown, Henderson found Knight out of the back field for 16 yards before firing a strike down field to a diving redshirt junior Chichi Amachi in the end zone who got a knee down in play for the 44-yard touchdown pitch and catch.
Sophomore Kedrick Whitehead and redshirt freshman Noah Plack each made a career-high 10 stops and both were active in the pass and run game and sophomore Drew Nickles matched his career high with six tackles.
Senior Jake Roth connected on both his field goal attempts from 36 and 23 yards and put the Blue Hens within five after his first quarter connection.
Delaware stays home and will look to bounce back next weekend against Ivy League foe Penn at Delaware Stadium at 1 p.m.