Mayor Purzycki Schedules Two Additional Community Meetings on Proposed Housing Code Legislation to Preserve
City Neighborhoods
June 30, 2019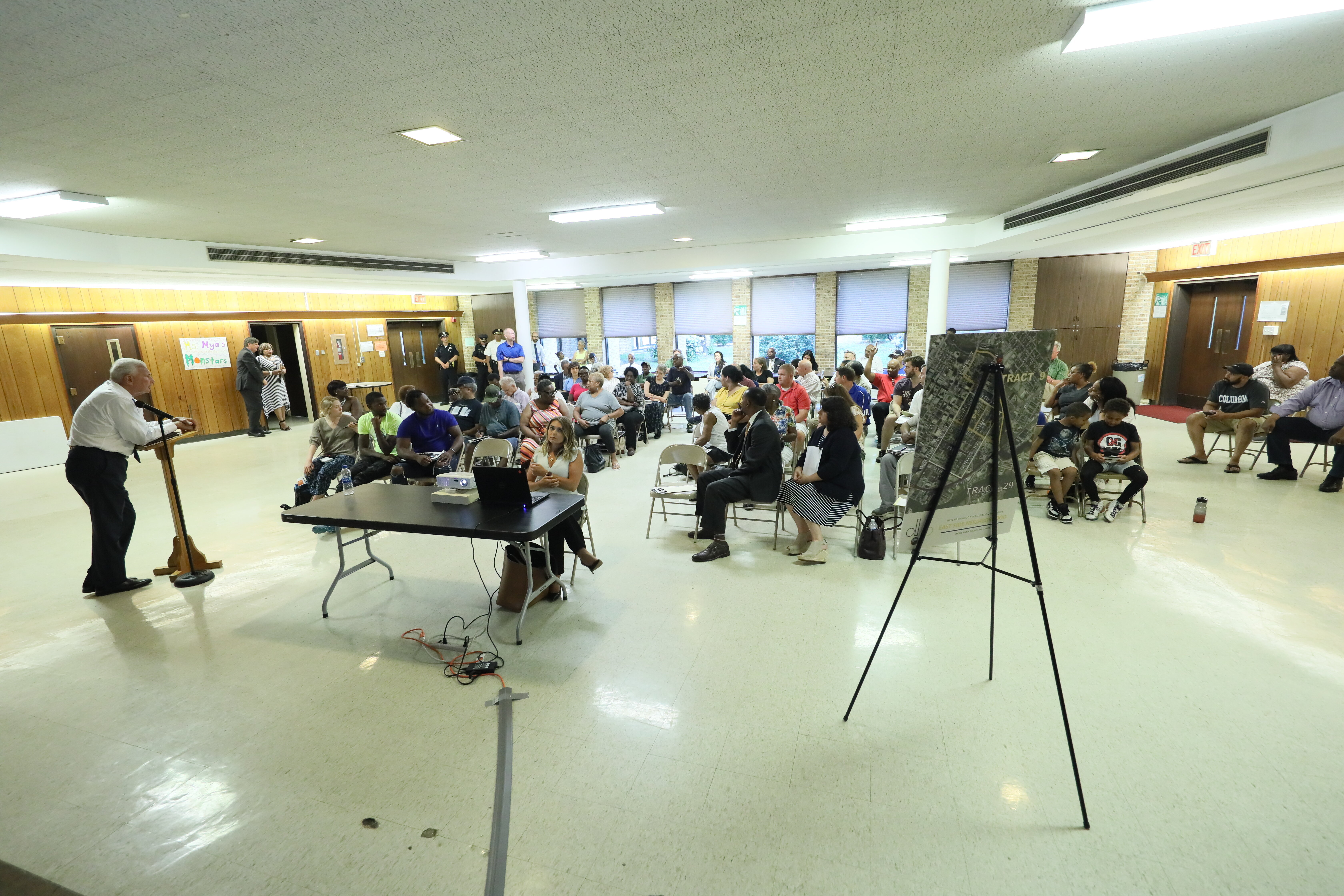 Members of the community came out to discuss a local issue during a Housing code community meeting Wednesday, June. 26, 2019, at Ezion-Mount United Methodist Church in Wilmington, DE. Photo By Saquan Stimpson
The administration has pushed for more than two years to reform the process by which irresponsible landlords are held accountable for property repairs
Mayor Purzycki invites citizens to meet with him at one of two additional upcoming community meetings:
• Monday, July 8, beginning at 6 p.m. at the P.S. Dupont School Auditorium at 701 West 34th Street on the City's east side
• Tuesday, July 9, beginning at 6. p.m. at the Lewis Elementary School cafeteria at 920 North Van Buren Street on the City's westside
The Mayor met this week with citizens at Ezion Mt. Carmel Church on North Walnut Street and at St. Elizabeth School on Cedar Street.
"There have been discussions with interested parties including council members, community leaders, investors and residents over the past two years to promote a better understanding of why changes are needed to the City's housing code," said Mayor Purzycki. "The community meetings we have scheduled have been beneficial to me as Mayor and to the citizens who attended to learn more and offer comments and opinions. I look forward to seeing more people at our next two meetings on July 8 and 9."
Wilmington Mayor Mike Purzycki speaks with Members of the community after a Housing code community meeting Wednesday, June. 26, 2019, at Ezion-Mount United Methodist Church in Wilmington, DE. Photo By Saquan Stimpson
The new ordinance to amend Chapters 4, 5 and 34 of the City Code would:
Change enforcement of the housing code with respect to vacant and rental properties from criminal enforcement to civil enforcement with civil fines for non-compliance.
Establish a target goal of 1,500 rental properties to be inspected annually by L&I and require that all rental dwellings be inspected every three years instead of every two or five years. If no violations are found during a rental inspection, the L&I Commissioner may delay the next required rental inspection one additional year from three years to four years.
Change the fee assessed for a second rental re-inspection from $25 to $125.
Add language reiterating that regular rental inspections are a condition of a City rental business license.
Add a civil fine of $500 per rental unit for failure to register/obtain a rental business license.
Add a civil fine of $250 for each violation of the housing code if the violation relates to a rental property or a vacant property. Each week's failure to comply is a separate offense subject to an additional $250 fine. There is no change to the criminal fine structure for all other types of property, except that the new law would change "each day's failure to comply may result in an additional fine" to "each week's failure to comply may result in a separate offense."
Increase the business license fee for rental properties to $100 per unit, not to exceed a total business license fee of $10,120. It would increase the fee from the current formula which is $50 (for one or two units) or $120 (for three or more units) plus $10 per unit.
Amend the vacant property registration fee program to: (1) increase the registration fees for properties that are vacant three or more years; (2) require registration of buildings vacant for six consecutive months rather than 45 consecutive days; (3) impose a civil fine of $500 for failing to register a vacant building within 30 days of the required time to register; (4) exempt vacant buildings owned by the Wilmington Neighborhood Conservancy Land Bank Corporation ("Land Bank") from registration requirements; (5) provide that purchasers of a vacant building from the Land Bank be billed a vacant registration fee based on the duration of vacancy from the time he or she received the building from the Land Bank, rather than a vacant registration fee based on the complete duration of the vacancy prior to that new owner receiving the building; (6) provide for a vacant registration fee abatement program.
Change the minimum amount of time citizens have to correct a code violation from 45 days to 30 days unless a shorter time period is required to protect public safety.  Dwellings that are unfit for human habitation are provided only three days to comply.
Change the requirement that the City mail notice to the "last known address," to instead, the property address and the tax address, and provide that the time notification period begins to run on the earlier of: five business days from the date of mailing; the date of actual delivery; or the date the notice is posted.
Change the appeal fee charged to citizens who choose to challenge a citation from a non-refundable $50 to a refundable fee if the appeal is successful.
Change the time in which a person may appeal a citation from 10 business days to 20 calendar days.
Amend the code to require distribution of housing and rental program information by the City to owner occupants and tenants during all inspections.
Amend the code to require quarterly reports to City Council providing the results of rental inspections and other information the L&I Commissioner determines should be included.