The Buccini/Pollin Group Teams with Pittsburgh Penguins on Mixed-Use, Sports-Anchored Development in Pittsburgh's Downtown
March 12, 2019
WILMINGTON, Delaware, March 12, 2019 – The Buccini/Pollin Group (BPG), a privately held, full-service real estate acquisition, development, and management company, will expand its $5 billion portfolio by serving as lead commercial developer for a 28-acre, mixed-use development in the heart of Downtown Pittsburgh. Buccini/Pollin has been selected by an affiliate of the Pittsburgh Penguins to create and implement a master plan for the surface parking lots across Centre Avenue from PPG Paints Arena, home to the Penguins and host to 160 entertainment events annually. BPG is working closely with several redevelopment partners on the site of the old Civic Arena including award-winning design firm Gensler and lead residential developer Intergen – a Pittsburgh-based, minority-owned housing developer.
"We are delighted by the opportunity to team with the Penguins and with Intergen on one of the greatest sports and entertainment-anchored, mixed-use projects in America," says Chris Buccini, co-President of The Buccini/Pollin Group.  "This prominent site – with its scale, central location and incredible access – stands out as one of the premier infill development districts in the country."
The Penguins selected BPG to develop the overall master plan and to accelerate commercial development for a project that will attract over $500 million in overall investment. The 28-acre site will feature a mix of residential, commercial/office, retail/entertainment, and food venues. In all, the new master plan calls for over 800,000 square feet of office, 200,000 square feet of retail, 50,000 square feet of entertainment space; a 220-guestroom hotel; and 1,000 new residential units.
"We're gratified to have BPG lead this new team and new thinking, creating a new momentum for this critical project.  We are hopeful that we will continue gaining traction that's already established with the community and with potential business partners," said David Morehouse, president, and CEO of the Penguins.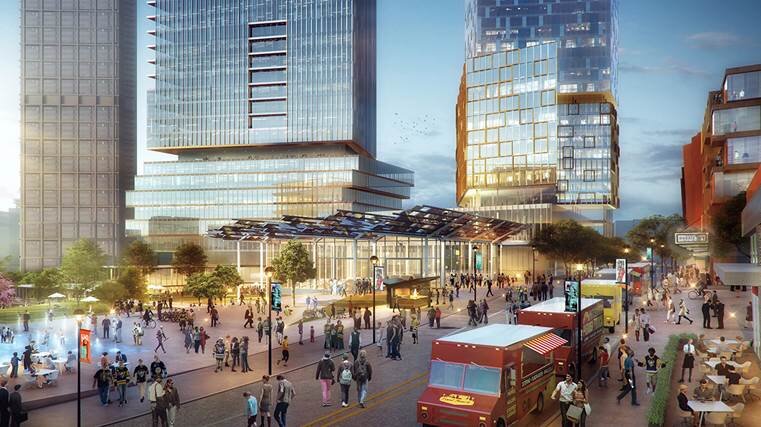 The depth of Buccini/Pollin's in-house professional expertise for construction, management, and leasing has been an integral part of the firm's success and proven an attractive quality to third-party clients like the Penguins.   "We have extended our very successful development, construction management, and operations platforms into markets like Nashville, New York and Philadelphia," noted Wesley Schwandt, president of BPGS Construction. "There is such a great fit between this development opportunity in Pittsburgh and BPG's capabilities and prior project experiences."
BPG's Vice President of Development Boris Kaplan observed that "BPG is working with our local partners and civic leaders to create a transformational mixed-use project on a site with a long tradition for winning championships. Pittsburgh is already recognized as a leading technology hub and a magnet for a booming millennial population. This new district can become a center of energy for the region – a destination where people seek memorable experiences; expanding opportunities for entrepreneurship; and unique entertainment, housing, and hospitality amenities."
A central feature to the Gensler-designed plan is the 8-acre greenway along Wylie Avenue that extends the highway cap and parkland above I-579 into and through the new district. The fully-funded cap project is on track to commence construction this summer and will be complemented by a linear public park that will anchor the redevelopment plan. Each of the development blocks in the Gensler design will feature new buildings with ground floor retail/commercial suites and access to dynamic outdoor areas. The site is well-served by public transit and major traffic arteries and boasts some of the region's best views of the downtown, North Shore and Mount Washington.
"This is going to be a destination development comparable to the very best mixed-use projects across the country," says Chris Buccini.  "My partners and I are excited to expand our presence in Pittsburgh and to help the Penguins and the community realize the tremendous potential for this special location.  We are prepared to invest in the expansion of the urban core at a time when there are so much interest and energy in this market."